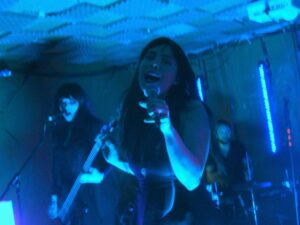 FEATHERS have been called the female DEPECHE MODE since the release of their first single 'Land Of The Innocent' and the parent long player 'If All Now Here' in the first half of 2013.
It has all been predominantly the work of Austin based singer / songwriter Anastasia Dimou, formally of PJ HARVEY inspired rockers CRUEL BLACK DOVE who in their time recorded a cover of THE PSYCHEDLIC FURS' 'Love My Way' for 'The Vampire Diaries' soundtrack.
Featuring a more programmed technological template, FEATHERS impressed immediately and as a result, a live band was recruited from among Dimou's friends in the Texas area. Support slots with ROBYN, SOFT METALS and LITTLE BOOTS followed but after a one-off gig with DEPECHE MODE at SXWS last March, FEATHERS were invited to support Basildon's finest on the first European leg of their 2014 dates.
With the move to arenas and a once in a lifetime opportunity in front of a massive audience, a new band was assembled. So in came occasional FEATHERS guitarist Destiny Montague and Shirley Ho from CRUEL BLACK DOVE on bass. Meanwhile Christine Aprile, who had appeared on the 'Land Of The Innocent' video, joined on keyboards. Only token male Jon Minor on drums remained from the previous live line-up. For FEATHERS, the pressure was now on.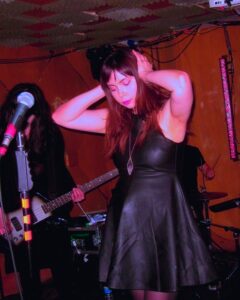 DEPECHE MODE fans have not been known for their sympathy towards support acts; MIRANDA SEX GARDEN for example were pelted with missiles during the 1993 'Devotional' tour but feedback for FEATHERS on this 'Delta Machine' jaunt was generally positive.
At Birmingham's LG Arena, they had to take to the stage early at 7.00pm with only The Devoted hardcore present in the moshpit while caught out punters made their way in.
But from the moment they started, they were greeted with polite and gradually louder applause as the venue began to fill. Interestingly, Birmingham was the city where FEATHERS sold the most CDs so they must have made some kind of impression.
To coincide with the conclusion of their DEPECHE MODE sojourn, FEATHERS played a one-off gig at Birthdays in London's hipster capital Stoke Newington. Repeating their DEPECHE MODE support setlist, they opened with 'Fire In The Night', a surefire 6/8 stomper in the mould of 'Soothe My Soul' carefully chosen to snare The Devoted.
The almost similar sounding but more SUZI QUATRO aping 'Believe' came third but sandwiched between them was the funky electro disco of 'Soft'. Frantic and catchy with its staccato voice and slap samples along the lines of the single mix of 'Behind The Wheel', 'Soft' was a handy card to play with its rich uplifting hooks and inherent danceability.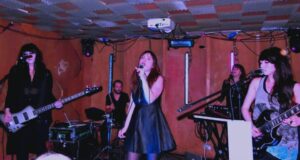 But while the obviously DM friendly material made its appearance earlier on, the more interesting aspects of FEATHERS were still to come. 'Welcome Possession', the last track on 'If All Now Here' strangely appeared midway through the set but slotted in perfectly. A transient epic of moody cinematics, Dimou gave it some lungs like LADY GAGA lost in a desert while the coda veered into expansive NEW ORDER 'True Faith' territory.
Throughout the show, Dimou flexed her larynx in a hushed but brooding manner that was highly seductive. While some of the textures were familiar, FEATHERS revealed their USP when the other three female band members' Trans-Atlantic background voices kicked in alongside Dimou's dreamy lead. With a predominantly electronic lattice, it is this vocal element of FEATHERS that really distinguishes them from any number of DEPECHE MODE influenced acts.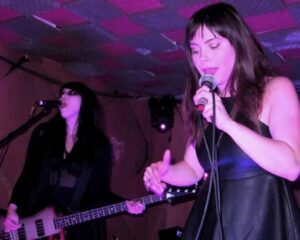 On the elastic groove laden 'Dark Matter', proceedings were bolstered by Destiny Montague's rhythmical six string while the crisp chime sample was mixed so high and sharp that it almost decapitated the first three rows! As heard on the soundtrack of the latest 'Grand Theft Auto' game, its industrialised R'n'B overtones provided a interesting take on contemporary pop music.
Another electronic disco number 'Familiar So Strange' kept the momentum going but it was the new song 'Wild Love' that stole the show.
With its trancey widescreen presence and mighty chorus, Christine Aprile's falsetto counterpoints maintained the otherworldly atmosphere within the club friendly vibe. It is possibly their most accessible song yet with its European dance influences and euphoric hypnotism.
To finish a short but dynamic set, the marvellous 'Land Of The Innocent' with its 'Ice Machine' arpeggio intro held the audience's attention with the artful enigma of AUSTRA and the darker menace of LADYTRON. The three part harmonies from Montague, Ho and Aprile came to the fore and complimented Dimou's gorgeous tones beautifully.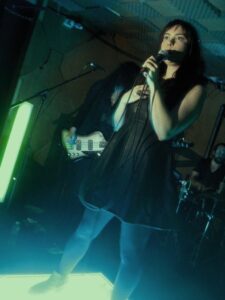 Successfully highlighting the more uptempo and immediate songs in FEATHERS' small catalogue, the set however was not entirely flawless.
A cramped stage and therefore unfamiliar positioning of Dimou's synth meant she missed cues on both verses of 'Soft' but her slip-ups certainly didn't dampen her enthusiasm.
If this lady can survive nine dates on a DEPECHE MODE tour in front of some of the most partisan concert audiences in the world, she can survive just about anything.
Overall, The Sisters Of Night gave a wondrously impressive performance that was full of presence, empowerment, enchantment and vulnerability.
As FEATHERS build on the promise of 'If All Now Here' and gain more experience on the world's stages, they can only get better. Now considering how good their debut actually is, that is one mouth watering prospect.
---
'If All Now Here' can be downloaded via Bandcamp, Amazon or iTunes. CD copies are still available, please check for availability
The 'Only One' EP is available as a download from http://feathers.bandcamp.com/album/only-one and the usual online outlets
https://www.facebook.com/feathersmusic
---
Text by Chi Ming Lai
Photos by Chi Ming Lai and Richard Price
4th February 2014