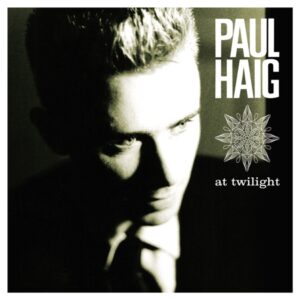 In a feature for NME, PAUL HAIG was labelled "the face and sound of 1982" by Paul Morley who also considered him the "enigmatic fourth man" in a quartet of New Pop saviours comprising Billy Mackenzie, Jim Kerr and Martin Fry.
Indeed Morley held Haig in such high regard that he instigated PROPAGANDA to cover 'Sorry For Laughing' which had been recorded by Haig's former band JOSEF K. Now while Haig is generally only known by the post-punk cognoscenti, during the years between 1981-93 when he released music on the prestigious Belgian label Les Disques du Crépuscule, he produced some of the best electronic pop singles of the period.
And thanks to the intervention of former Crépuscule employee James Nice, not only has the label been resurrected (with synth girls MARNIE and MARSHEAUX being among the first releases), a compilation of Haig's recordings with Crépuscule is now available and has naturally been titled 'At Twilight'. The collection also includes his 1984 'Lost Album'.
PAUL HAIG had been the lead singer of JOSEF K, a guitar band with a frenetic pace who were to influence acts such as THE WEDDING PRESENT and FRANZ FERDINAND. Part of the Glasgow School on Postcard Records alongside ORANGE JUICE and AZTEC CAMERA, JOSEF K spilt after just one album 'The Only Fun in Town' in 1981.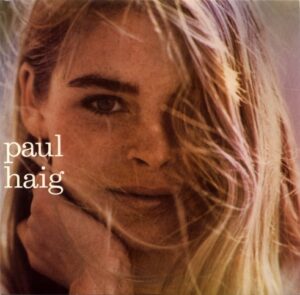 They were typical hipster favourites of their day; their stance of not wanting to be commercially successful and suffering for their art helped them gain a cult following.
But Haig had tired of these ideals and seeing his contemporaries ORANGE JUICE and AZTEC CAMERA sign to majors, he wanted to be part of the action and aspired to make pop records that could gain radio play. Inspired by acts such as NEW ORDER and HEAVEN 17, he began experimenting with electronica. In 1982, Haig signed to Les Disques du Crépuscule. He relocated to Brussels and released his first solo single, a self-produced cover of SLY & THE FAMILY STONE's 'Running Away'.
Although guitar driven, with its drum machine backbone and brassy synth solo, it was a sign of the more accessible direction Haig wanted to head in. These sessions were fruitful. From those, 'Chance' sounded like a mechanically propelled version of THE TEARDROP EXPLODES.
Meanwhile, a planned second self-produced single 'Justice' impressed enough that a distribution deal with Island Records was inked. With it came a sizeable advance to secure the services of a name producer. With ambitions to make a sophisticated album with an electronic dance sheen, the services of the late Alex Sadkin were secured and the release of 'Justice' was scrapped as the debut album 'Rhythm Of Life' was recorded at Sigma Sound in New York.
Sadkin's productions for THOMPSON TWINS and DURAN DURAN from around the same period may have inadvertently thrown Haig into the commercial pop circus ring but prior to that, Sadkin had worked with GRACE JONES and TALKING HEADS so the initial motives had been artistically driven.
However, while Haig wrote the songs, he became very much a puppet on his own solo album as assorted sessioners including Bernie Worrell and even THOMPSON TWINS' very own Tom Bailey added the funky synthesized overtones.
The first fruit of these labours was 'Heaven Sent' released in late 1982. It remains Haig's only UK hit reaching 74 in late 1982 and had originally been written for JOSEF K. Vocally sounding like a growly Jim Kerr crossed with Lou Reed, its sweeping electro sound wasn't unlike SIMPLE MINDS 'I Travel' reworked for The Danceteria. In fact, Kerr and Co's 'Sparkle In The Rain' had been due to be produced by Alex Sadkin… who knows what could have happened had that became reality but whatever, 'Heaven Sent' was a fine introduction to Haig's new instrumental template.
The follow-up 'Never Give Up (Party Party)' was even better, highly percussive and boosted by some sub-ASSOCIATES rhythm guitar and big layered synth riffs fused to a catchy chorus and uplifting middle eight.
It showed great promise yet failed to dent the charts. It certainly deserved to, especially when compared with the less immediate 'Union Of The Snake' with which DURAN DURAN were vying for the No1 spot around the same time. Sadly, this is missing from 'At Twilight' but from the album, the enjoyable 'Adoration' makes an appearance. A third single 'Justice' was lifted from 'Rhythm Of Life' and was supported with a club tour where Alan Rankine from ASSOCIATES joined his backing band along with ORANGE JUICE refugees David McClymont and Malcolm Ross.
Less urgent and dancefloor based than its two predecessors, 'Justice' was full of drama nonetheless. The version on 'At Twilight' is the scrapped original version and although more basic than the Sadkin version, it still has a great keyboard solo.
Undeterred by his experiences in New York, Haig opted for a harder but still electronic sound augmented by more guitars for his next album. Alan Rankine was slotted in as producer but for what was to become the key track of Haig's career, the production services of NEW ORDER's Bernard Sumner were secured. With A CERTAIN RATIO's Donald Johnson also joining them to record 'The Only Truth', the 12" version was seven and a half minutes of magnificent euphoric bliss with its blistering programmed drum box and meaty bass sequence augmented by funk laden slap. The final instrumental section of guitar and synth interplay was an outstanding 180 seconds all on its own!
Combining 'Temptation', '586' and 'Blue Monday', 'The Only Truth' sounded like the best single NEW ORDER never recorded! It was yet another brilliantly catchy song from the pen of the Glaswegian. There were two further versions of 'The Only Truth' including a US Remix and the still strange sounding single edit. Such has been the song's impact, 'At Twilight' features all three… but this is totally unnecessary when 'Never Give Up (Party Party)' is missing from the collection and the original 12" remains the definitive version.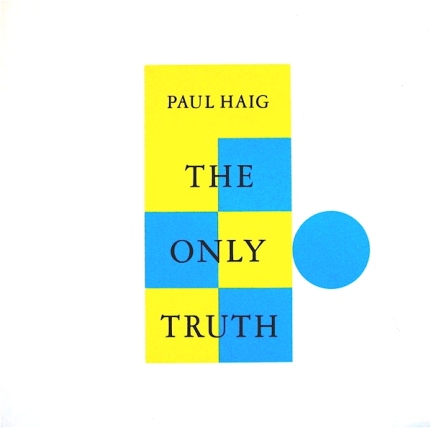 However, 'The Only Truth' also failed to become a hit. Disappointed by the lack of chart action, Island Records took matters in their own hands and the album was denied a release.
At a crossroads, Haig retained half of the recorded album while new material was added.
The second disc of 'At Twilight' features this Lost Album and while much of the material is familiar to Haig followers having been issued as B-sides, the tracklisting is an interesting listening experience. The ballad 'One Lifetime Away' has some wonderful widescreen Morricone-esque overtones.
Meanwhile 'Big Blue World' and the later 'Heaven Help You Now' with their sub-NEW ORDER sequenced vibes remain really good tracks. However, both suffer from comparison with 'The Only Truth'. Among the bonus tracks on this disc, 'The Executioner', an at-the-time unreleased collaboration with CABARET VOLTAIRE is a wondrous gem while another track from the archives 'Change Of Heart' is a great pulsating avant disco tune.
The reconfigured album 'The Warp Of Pure Fun' was finally issued in 1985 but by 1986, Haig had tired of label politics and signed to Virgin offshoot Circa for one last crack at pop stardom with the album 'Chain' in 1989. It yielded an excellent single 'Something Good' which was a minor hit in Germany.
With a follow-up beckoning, Haig took an interest in the dance scene that emerged following the onslaught of acid house. This seeded the recordings 'I Believe In You', 'Flight X' and 'My Kind' with dance producers such as THE CHIMES (featuring drummer James Locke from his 1984 live band), MANTRONIK and LIL LOUIS respectively. These authentic credible tracks of the period gained critical acclaim, but Circa stalled on releasing this fourth album. This led to Haig returning to Crépuscule to issue the resultant collection of songs as 'Coincidence Vs Fate' in 1993.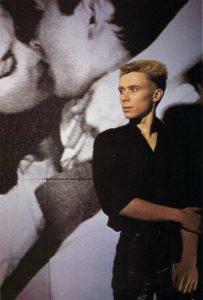 But after that, Haig maintained a lower profile, working with the late Billy Mackenzie on what became the 'Memory Palace' posthumous album and issuing his acclaimed 'Cinematique' series of instrumental works.
Still singing today, more recently, he recorded adventurous covers of THE WALKER BROTHERS 'The Electrician' and JOY DIVISION's 'Atmosphere' as well as issuing a new album 'Kube' last Autumn; but all these are another story…
While there are gaps, 'At Twilight' captures the synthpop prime of one of the UK's forgotten talents. Its release deservedly puts PAUL HAIG and some of the best songs from the post-punk era back into the limelight. So Operation Twilight starts now…
---
Special thanks to James Nice
'At Twilight' is released as a 2CD set by Les Disques du Crépuscule, available from http://lesdisquesducrepuscule.com/at_twilight_twi1154cd.html
https://www.facebook.com/paulhaigmuzik
http://www.ltmrecordings.com/paul_haig.html
---
Text by Chi Ming Lai
6th February 2014