Undo Records are to release 'History 1984-1991', a special compilation box set of the lost French technopop act VIENNA.
Formed sometime in 1984 under the name ACADEMIE, they comprised of vocalist Odile Arias, her brother Dominique and Thierry Martinez.
Impressing with a demo that caught the attention RCA Records, they went on to support noted French band INDOCHINE who had an international hit with 'L'Aventurier'.
Changing their name to VIENNA, their 1984 debut single was the sublime 'Say You Love Me (Tu As Juré)'. Coincidently having named themselves after the ULTRAVOX song, Warren Cann later appeared as a guest drummer on INDOCHINE's album '7000 Danses'!
Influenced by KRAFTWERK and Synth Britannia acts such as DEPECHE MODE and OMD, VIENNA sounded like a dreamy, less industrialised cousin of HARD CORPS who had supported DEPECHE MODE during the 'Music For The Masses' tour. But the DM connections didn't end there for Odile was Martin Gore's girlfriend during this period, having met at a DM show after VIENNA signed to Mute Sonet France in 1987. She can be seen as part of the Mode entourage in the D A Pennebaker documentary '101'.
Another great single 'Pour Ne Pas Me Toucher' produced by Rico Conning (best known for his 'Blind Mix' of DM's 'Strangelove' with Daniel Miller and co-producing Gore's 'Counterfeit' covers EP') was issued shortly after but by 1989, VIENNA were no more. Odile Arias continued briefly as a solo artist, releasing 'Reste Avec Moi' in 1990.
Fast forward to 2014, and those singles plus B-sides like 'Viens Dans La Chambre' have been given a chance to shine again by Undo Records. ACADEMIE material such as 'Push Me Down' and the solo recordings have also been gathered on CD1 of this 4 disc set. CD2 is made up of the 'Lost Mute Album' while CD3-4 comprise of unheard demos including a Karl Bartos produced instrumental of 'Pour Ne Pas Me Toucher'.
As can be expected, the sound quality is variable, ranging from full studio masters to cassette recordings but several numbers like the sparsely chirpy 'Rendez-vous Sur La Mer Noire' and the moodier 'Un Dernier Dimance Avant La Guerre' are wonderfully exquisite diamonds in the mine that have now been unearthed. Odile's exquisite Gallic allure provides much of the enjoyment to the synthesized soundtrack.
In an exclusive interview, Odile Arias answered some questions that ELECTRICITYCLUB.CO.UK put to her about VIENNA and her time in the DEPECHE MODE circle…
When you listened back to the tapes to produce this compilation, what memories did it bring back to you?
Mainly, the first image that came back to me was either the home studio I used to work in or the 'machines' I used to work with for the making of this or that particular song, or the emotions or facts that had inspired it to me.
But then after a moment, it started bringing back this huge patchwork of snapshots from the eighties which I was indeed happy to recall and remember and get drowned in.
It's a bit like the kind of feeling you can have when you bump into a close friend you haven't seen for so many years but you're still attached to. I am not a nostalgic person, so to me it felt nice though a bit strange to feel linked again to this part of my life. It focused on feelings that I am glad to recognize as still being part of me, but that I have other ways to express now.
Which of your songs do you think particularly stand the test of time?
Well, considering the combination of lyrics and melody, I think that the ones from the CD2, which we called the 'Lost Mute Album', remain very interesting and efficient. Even now, I still enjoy listening to 'Naufragés', 'Un Dernier Dimanche Avant La Guerre', 'La Terre Est À Nous', 'Aller Trop Loin' or 'Viens Dans La Chambre', and I'd still be very glad to sing them. But it's quite hard for me to answer, there are so many different fields in music. Some people really like the sound of the eighties, some others definitely hate it.
To me, a good melody by itself, can always stand the test of time. I think its' much harder to make a song where both the lyrics and the melody will stand it, and the lyrics that I wrote were definitely much better later on. For example, I've never really liked 'Say You Love Me'. I don't know why the record company choose this one song for the single? Even then, I had much better ones. The manner of thinking of most artistic directors I have met will always remain a mystery for me.
You had the opportunity to do a version of 'Pour Ne Pas Me Toucher' with Karl Bartos?
We all used to be very fond of KRAFTWERK and Karl Bartos was a friend of our first producer, Maxime Schmidt who had been involved in some KRAFTWERK's promotion or production and with whom he shared the same passion for cycling. After meeting him in Paris, Karl came to visit us in this studio in Belgium while we were working on the first version of this song. He clicked on the melody and once back to Germany he created this own new version of the song with a friend of his, and Maxime gave us the option to release it if we wished to. It was so amazing!
Well on the other hand, working with them on that song implied that I would have to go to Germany alone, not with the band I mean, and then work on our music without the band. It was quite hard to decide, I was really puzzled.
Karl's version also sounded very much "KRAFTWERK" style and not really "VIENNA" anymore. My admiration for KRAFTWERK was so strong that I thought I might not be able to defend my own notion of this "VIENNA" sound, so that in the end, right or wrong… and probably wrong though… I didn't go!
Why did the debut album from VIENNA originally never actually get finished / released?
Our first record company, RCA/BMG, was waiting for a really successful single before investing any money in an album. But we didn't stay long enough with them. Maybe they didn't bet on the right songs also. Very quickly deep disagreements arose between us and Maxime Schmidt.
We then shifted to Mute Sonet France, with more interesting producers and sound engineers, something humanely and musically much closer to our expectations, more stimulating also, but then again they still shared the same marketing approach. That's why the 'Lost Mute Album' is merely a projection of what our first VIENNA album could have been.
Retrospectively, with hindsight, I think we should have given more concerts so as to defend the songs that we wished to use in an album.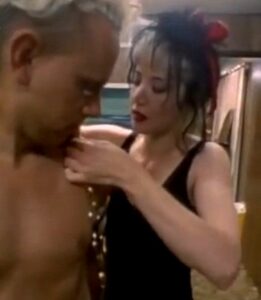 Do you think your close relationship with DEPECHE MODE helped or hindered you?
Neither one nor the other I think, I mean «professionally».
I was very determined not to use my relationship with Martin to obtain benefits for VIENNA. That was really important to me. I didn't feel like boasting or using this nice feeling so as to promote myself or my band and become more famous through it. For example, I never took any pictures of me with Martin… which I regret now, of course, so if anyone still has any of these, I would certainly be very happy to see them and of course have them! Rather hard to believe in the Facebook world! But on the other hand, it certainly helped me in my musical and personal development.
Martin encouraged me a lot to go on and keep working on my own music. With the greatest simplicity and humility, he introduced me to his own way of working, to different practices and approaches. I could just enter the studio while he was recording 'Counterfeit', his first solo album with Rico Coning, and stay with them, listen, learn…
And I've also learned a lot from the DM concerts, from backstage on the '101' tour. Martin also introduced me to the Elvis world and to the country music which was totally unknown to me. Well, it's quite a shame but I've grown up mostly listening to either French songwriters or classical music. I still had lots to learn. Then again, what better music lesson indeed than witnessing the birth of 'Personal Jesus' or 'Enjoy the Silence'?
What did you do after VIENNA dissolved? Are you still doing music?
I've released one single with Mute Sonet France and wrote some of the songs that can now be found in the VIENNA Box. I made a demo with Bertrand Burgalat with a French cover of 'A Letter To A Friend', but we never released it. I took Church Organ lessons at the Conservatoire de Musique of Marseille. Big sound with no plugs and wires, rehearsing alone in a dark and gloomy empty church, (a childhood dream of mine!), and also an introduction to counterpoint, harmony, and a basic ways of writing music on paper.
I followed my Italian fashion photographer boyfriend, Antonio Capa, in Italy and worked with him as a collaborator, but never stopped writing some kind of easy piano sketches to be reused later on, like some kind of intimate musical note book .
After having converted my analogical home studio into a digital one, I wrote a lot of new songs, mostly with just piano, voice, and very light arrangements, giving more importance on the lyrics, with the idea of offering them to French singers who could be interested. I ended up with a very warm response from Michel Coeuriot, a quite famous French producer I had always been very found of, and who used to work with my favourites French songwriters. He was willing to work on the arrangements of my songs and offered me to start doing so immediately.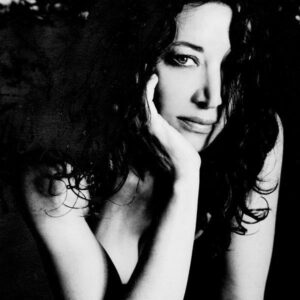 This was the beginning of a very exiting collaboration that finally decided me to try to stay in Paris, where I moved with Antonio.
Unfortunately while working on the final demos, Antonio fell seriously ill, having a cancer, so I suspended the project to just care for him until he died, in Italy.
Then I had to quickly find a new way of living and of supporting my own self, afford a place to stay, find a job, everything. Financially, it was no longer possible for me to go on with the music in Paris. I was in Italy then and I sure preferred to stay there.
Now I live in Italy, by the sea, in this beautiful wild Liguria, were I met a huge diversity of amazing musicians. I am still doing music, of course: giving a hand to the mix for some concerts, playing the accordion with great amatory band, GLI ILLUSTRI CUGNI who play covers of Fabrizio De Andrè (a very famous and important Italian's poetry songwriter I discovered while living here), giving local concerts singing French songs from the sixties with local fellow musicians in my little band ODILE ET SES COPAINS, giving piano lessons also.
Nothing professional, just a different, simpler and more humble approach of music, where I am still learning and discovering things with lot of fun and the freedom that success most of the time… I think… robs you.
---
ELECTRICITYCLUB.CO.UK gives its warmest thanks to Odile Arias
With special thanks to Undo Records
'History 1984-1991' 4CD compilation box set is released by Undo Records and available via https://www.lexermusic.com/vienna-history-1984-1991-4cd-deluxe-boxset
https://www.discogs.com/artist/1376224-Vienna-16
---
Text and Interview by Chi Ming Lai
8th February 2014, updated 16th July 2022