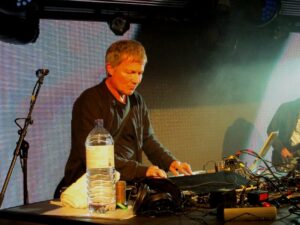 NEU! founder members Michael Rother and Klaus Dinger were pioneering exponents of Kosmische Musik.
They met after being recruited as members of KRAFTWERK in 1971, but both left soon after to start NEU! – working with Conny Plank, the legendary producer acted as mediator between the pair's quite different personalities and artistic aspirations as Dinger and Rother were never easy bedfellows.
While Rother was more laid back, Dinger was a confrontational character who wanted to be more than just the drummer, despite popularising the Motorik beat. But this rhythm was to later reconfigure itself in drum machine form as the backbeat for OMD songs like 'She's Leaving', 'Georgia' and 'Radio Waves', as well as heavily influencing the style of ULTRAVOX's Warren Cann.
Dinger sadly passed away in 2008, but Rother has kept the legacy of NEU! alive playing concerts all over the world. With a sold-out appearance earlier in the year under his belt, Rother returned to perform again to a packed house at London's Under The Bridge.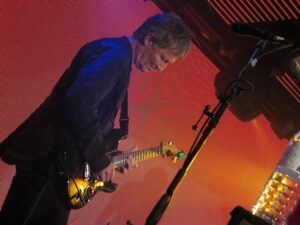 While the NEU! catalogue is comparatively small, their sound has helped shape acts such as ULTRAVOX, OMD, SIMPLE MINDS and VISAGE. Their music also featured on the playlists of The Blitz Club, so it was appropriate that the evening opened with a DJ set from Rusty Egan.
After playing a selection of tracks that included SPARKS, KRAFTWERK, NEW ORDER and YELLO , Egan climaxed his stint by premiering songs from his upcoming solo long player 'Welcome To The Dancefloor'.
'Ballet Dancer', a heartfelt eulogy to the one-time VISAGE percussionist's late ex-wife was written in collaboration with Chris Payne, one of the co-authors of VISAGE's biggest hit 'Fade To Grey'. Concluding the set were full-length playbacks of excellent new songs sung by Tony Hadley and Midge Ure, as well as the reclaimed 'Wonderwerke' featuring live vocals from Egan himself. This slice of classic New York electro has now been given some Sarf London swagger… in Deutsch! Based on this preview, 'Welcome To The Dancefloor' is turning out to be better than many have been expecting.
Michael Rother's headlining set delivered a variety of pieces from his vast career, beginning with 'Neuschee', one of the tracks that was speeded up and slowed down for side two of 'Neu! 2'
. Legend has it that when NEU! ran out of money, Klaus Dinger came up with the idea to fill the second side with versions of 'Neuschnee'
and its B-side 'Super'
played at 16 and 78 RPM, complete with needle drops!
But Rother's version of the story is that Dinger just simply wanted to antagonise their label Brain Records following the perceived lack of promo support for the 'Neuschnee' single. Whatever the story, it was in keeping with the duo's Pop Art aesthetic, presenting their work as variations on a theme as had been demonstrated on their iconic cover artwork.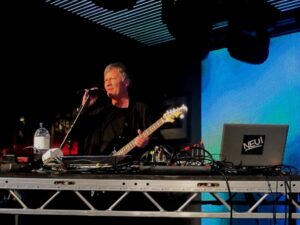 With Rother accompanied by Hans Lampe, formally of LA DÜSSELDORF on drums and Franz Bargmann on guitar, the trio locked in tight unison to procure a trancey cacophony of sound. In particular, Lampe's understated heartbeat was highly effective on 'Hallogallo'
; the NEU! evergreen probably got the biggest cheers of the evening.
The frantic pace took a breather with the elegiac 'Seeland'
from 'Neu! 75'
and this mood continued with welcome inclusions from Rother's magnificent solo catalogue.
Taken from his period working with Conny Plank and CAN drummer Jaki Liebezeit, it was fitting that 'Sonnenrad'
was one of the songs aired, with it being the inspiration for ULTRAVOX's 'Dancing With Tears In My Eyes'. Plank had given Billy Currie a copy of the parent album 'Sterntaler'
while they were recording in Cologne. The distinctive purr of the wonderful 'Katzenmusik'
provided another highlight, but it was a shame that 'Flammende Herzen'
and 'Karussell'
weren't able to be included as well.
Rother's HARMONIA project with Hans-Joachim Roedelius and Dieter Moebius was also represented, first by the hypnotic mechanical jam of 'Veteranissimo'
, where Rother put his guitar aside temporarily to handle a variety of electronic effects. Bass sequences and additional synths also figured pre-programmed via a laptop, but these acted more as embellishment and never dominated proceedings, allowing Rother's drifting layers to come into play.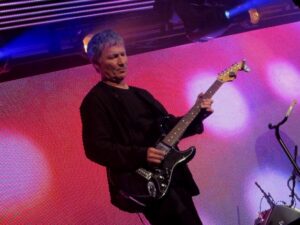 Meanwhile 'Deluxe (Immer Weiter)'
and 'Dino'
were both treated to more NEU! like reworkings. Ending the show with percussive tension of 'E-Musik'
, it was a fine demonstration as to why Rother's infinite six string style has been so admired by fellow musicians.
Indeed, he was David Bowie and Brian Eno's first choice guitarist for the 'Heroes' album. While Rother may not have ended up playing on it, his template clearly helped give a direction for the final recording.
With a recording career spanning over 45 years, Michael Rother is one of the unsung heroes of German popular music. He should be up there and lauded as much as some of his better known contemporaries; quite why he isn't is one of those great anomalies.
---
The NEU! and HARMONIA back catalogue is available via Grönland Records
Michael Rother's back catalogue is available via Random Records
http://www.michaelrother.de/en/
https://www.facebook.com/michaelrother.neu.harmonia/
---
Text by Chi Ming Lai
Photos by Richard Price
2nd October 2016