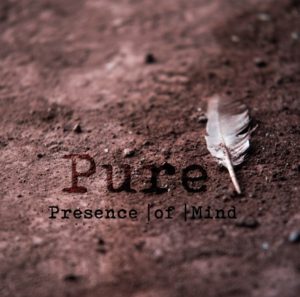 Although PRESENCE OF MIND released recordings as early as 1995, the Swedish trio only released their full length debut album 'Interpersonal' in the summer of 2014.
Their first songs borrowed from the Vince Clarke school of synth programming.
But today, as exemplified by the album's stand-out song 'Queen Of Redemption', PRESENCE OF MIND are a much darker proposition with MESH, DE/VISION and DEPECHE MODE being key elements to their industrial pop sound.
Thankfully, Christoffer Lundström, Johannes Ambros and Anders Wallroth have taken far less time to produce their follow-up album 'Pure'
which develops on the dark, but danceable electronic soundtrack of its predecessor.
The band say it is "about how small events in our surroundings affects our emotions and our vision of how life should be, or could be, depending on whether we just thought a little bit longer before making a decision".
The thrusting electro Schaffel of 'It's Too Quiet' opens the album in a characteristically MESH-like fashion. But the most striking aspect of 'Pure' that emerges is its use of dubstep elements on several songs. 'What's In It for You?' is a melodic treat and dressed with wobbling synth motifs, while the vibrant 'Help Me Help You' places some wonderfully meaty Doepfer bass noises within a hybrid techno backbone. And on 'Brittle Bones', a sparse musical framework is taken into some unusual territory for the industrial pop genre.
Lundström is a charismatic frontman with a great voice and on 'I Am Demon', he even comes over like a Futurepop Sinatra. The trio lock together well on with driving electronic numbers like 'You Behave Sometimes' and 'Black Angel', while the widescreen drama of 'Chasing Waterfalls' adds a further dimension. Unfortunately, 'Welcome Home' plods, but 'Interstate' follows a more classic synthpop vein despite the noisy infiltration of sub-bass.
Two very DEPECHE MODE influenced numbers end 'Pure'
 with 'Slowly' certainly exerting more passion than most of what 'Delta Machine' managed.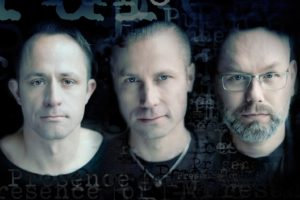 However 'Show Me' is less successful and on occasions, sounds slightly strained. But it is still better than much of the opposition operating in the same theatre.
PRESENCE OF MIND have certainly taken a few risks sonically on 'Pure' and that is commendable. Add in some quality production from Wallroth and Ambros, 'Pure' comes over as a much more accomplished long player than comparable works like SINESTAR's 'Evolve' which came out earlier in the year.
---
'Pure'
is released on CD and download by Cramada on 7th October 2016
https://www.facebook.com/PresenceOfMindSwede
https://twitter.com/POMelectro/
---
Text by Chi Ming Lai
30th September 2016