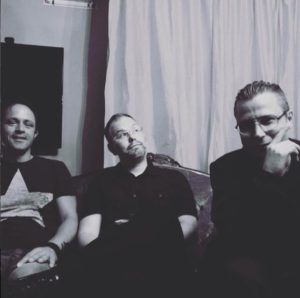 Although PRESENCE OF MIND released recordings as early as 1995 on the cult synth compilation 'Circuit One', the Swedish trio only released their debut album proper in the summer of 2014.
Their first recordings borrowed from the Vince Clarke school of synth programming but today, PRESENCE OF MIND are a much darker but no less song based proposition.
Influenced by the likes of MESH, DE/VISION and inevitably 'Violator'-era DEPECHE MODE, childhood friends Christoffer Lundström, Johannes Ambros and Anders Wallroth have taken their time.
But without the pressure of constant touring, they've utilised a developing songcraft and life experience to pay dividends on the resultant long player entitled 'Interpersonal'. Utilising the crisp production ethos of Wallroth and Ambros, 'One Step I' takes some killer squelch bass and places it alongside the strong, melodic vocals of Lundström.
Just accorded a new promo video, the track is a great bleep forward from their earlier work and the interim 'Between Emotions' EP from 2005. Another good example of their passionate synth rock is 'Queen Of Redemption', an obvious second cousin of 'Enjoy The Silence' but with a Svenske twist.
PRESENCE OF MIND are an enticing live proposition, as proven by their impressive appearance at the pre-party of Electronic Summer 2015 in Gothenburg. Lundström in particular, is a charismatic and engaging frontman with a lively but controlled stage presence that contrasts the dark, but danceable electronic soundtrack.
With excellent uptempo songs such as 'Alive' and sensitive ballads like 'In My Dreams' in their repertoire, the threesome from Mariestad are already at work on a second album to maintain their new-found momentum with tracks such as 'Brittle Bones' already having received public premieres. PRESENCE OF MIND are now finally knocking on the door of Northern Europe and making a positive impression on its independent electronic pop scene.
---
'Interpersonal'
is released as a download and CD via Cramada
https://www.facebook.com/PresenceOfMindSwede
https://twitter.com/POMelectro
---
Text by Chi Ming Lai
Photos by Krichan Wihlborg
15th September 2015