Amidst the flood of superb electronic music from Sweden, which has become the "new Germany" in the realms of synthpopia, few German bands are fighting on to keep their pedestals standing erect, or doing a great job of it.
BEBORN BETON formed in 1989 in Essen, and to date Stefan Tillman, Michael B Wagner and Stefan Netschio have enjoyed great success with numerous studio releases as well as remixes for DE/VISION, CLAN OF XYMOX, CAMOUFLAGE, IN STRICT CONFIDENCE, WOLFSHEIM and many others.
The band have kept everyone waiting since 1999 for the release of their latest album 'A Worthy Compensation', carefully planning, writing, engineering and producing the tracks with the help of celebrated producer Olaf Wollschläger, the very man behind the creations of MESH, YELLO, SEABOUND and IN STRICT CONFIDENCE. BEBORN BETON have immodestly hailed the production as "the best album we will probably ever make", which raises the bar of expectations to the maximum for the "concrete" boys from urban Essen and promises to deliver a hearing experience like no other.
In such a fashion, the release is kicked off with 'Daisy Cutter' with its beefy synth and CAMOUFLAGE-like vocals of Netschio. Haunting and deep, monumental and marked, it is all laced with the "carousel of life" mark that the band want to portray in this production. 'I Believe' bears the stamp of the good old German electronica; untainted, magnificently programmed and produced, it is above all, musical and full of the melancholy so loved by the followers of the genre.
'24-7 Mystery' speeds up into a dance track of the future, while 'Anorexic World' hits with poignant lyrics ("what if Jesus doesn't care", "we don't mind at all this anorexic world is going down") sung Steffen Keth style across the extravaganza of synth.
Taking its lead from CAMOUFLAGE, the title track emerges with futuristic images of a floaty world of tomorrow with an added dose of guitar and perfectly programmed drum patterns. A modern ballad of "the highs and lows, the happy moments", the "carousel" has certainly now begun. 'Last Day On Earth' enters, grooming the listener with sensual male vocals painted on the canvas of consistently ingenious digital action.
A truly perfect electronic dance tune, 'She Cried' follows with a sharp club track feel. But a slightly predictable production can be fully excused, especially when there's no time to stop dancing and getting lost in this uplifting harmony.
The first and only track performed in their native German, 'Was Immer' due to the choice of tongue, sounds as inviting as WOLFSHEIM's gems. The track itself bears strong resemblance to Steve Naghavi's performances on AND ONE's 'Virgin Superstar'; with wonderfully layered vocals, it embraces sensational synths and a skilfully constructed melody.
'Terribly Wrong' opens with the ominous "there's something wrong with the world, I don't know what it is, but it's there, like a splinter in your mind", but although something is "terribly wrong", the track has a positive feel and brings a projection of hope while "standing at the edge of the world".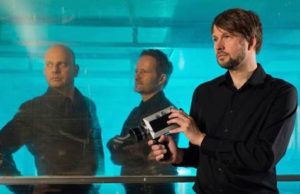 The closing 'Who Watches The Watchman', while bearing a twisted title, promises some eerie content, which it indeed features on the track in bunches.
It has an eloquent musical substance covering a wide symphony of strings, drums, piano and elements of obscure synth interspersed with slight drum and bass. It is definitely a suitable track to round up the production.
There's something earthy in German synth music, something which has been present since bands like CAMOUFLAGE, NEUROTICFISH, DE/VISION and WOLFSHEIM. This elusive element, when used by certain artists, makes them sound timeless and proves that Germany remains "über alles" in the electronic field. It may sound pompous and arrogant to call your creation 'A Worthy Compensation' and risk the obvious critique; however, the trio have hit the spot with this long awaited album.
The production bridges the pause between 1999 and now beautifully, with the songs having been written over many years and perfected to the point, where no more improvements could be made.
So, all in all, it is indeed "a worthy compensation" for the break in the Beton trade.
---
'A Worthy Compensation'
is released by Dependent Records as a CD and download
https://www.facebook.com/bebornbeton
---
Text by Monika Izabela Goss
16th September 2015