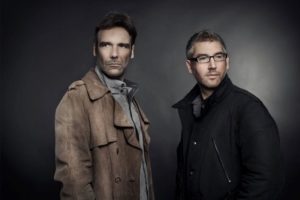 Mönchengladbach is best known for the Borussia football team and F1 driver Heinz-Harald Frentzen.
But the North Rhine-Westphalia city is also the base of electronic duo ARCTIC SUNRISE. Comprising of Torsten Verlinden on vocals and Steve Baltes on synths, the seasoned pairing cite DEPECHE MODE, ULTRAVOX, HEAVEN 17, VISAGE, BLANCMANGE and OMD among their influences.
Opening for DAF's Robert Görl, ARCTIC SUNRISE performed at the 2017 Electri_City_Conference in Düsseldorf. The intuitive crowd warmed to their enjoyable brand of dark synthpop showcased on songs like 'Tell The Truth' and 'When Traces End' which recalled the overtones of fellow German acts such as DE/VISION and CAMOUFLAGE.
ELECTRICITYCLUB.CO.UK caught up with Steve Baltes from the duo to chat about music, synths and stuff…
With two successful albums bagged, are you pleased with how you've been received in the synth circles?
We are actually quite overwhelmed by the extremely warm welcome in the scene, since we pretty much came out of nowhere, with quite different musical careers before ARCTIC SUNRISE. We were very surprised especially by the global reception, worldwide airplays and fantastic reviews – so, yes… we are way more than pleased!
You cite the influences from DEPECHE MODE, HEAVEN 17, ULTRAVOX, VISAGE and BLANCMANGE. All things British then?
Good call! There's some kind of spiritual connection to cities like Sheffield and Manchester. Synthpop-wise, the UK is where it really started and the most amazing and for us most influential music came from.
It's the first thing which blows you away which will stay for you the whole life and that just was the sound of ULTRAVOX, VISAGE, NEW ORDER, HEAVEN 17, OMD and others…
Do you mind being compared to DE/VISION?
It's not a bad thing to be compared to great bands, but to be honest we actually do not know too much of their material and are a bit surprised that we get compared quite often. We do think that they sound a bit more Depeche than us and vocal wise, we also sound quite different. If you do electronic pop music, you just share kind of the same DNA.
Germany mothers many a synth band. How would you say your sound differed from the rest?
We are not following this too closely, but we think that due to the way we work we might have developed our own sound. Part of that is to not use virtual instruments in the studio and the use of old drum machines in a contemporary way as well as making your own sounds. A lot of the bands use the same pool of sounds especially with drums or the more trancey preset lead hook sounds which we are not into too much and this makes a lot of projects sound quite similar. But there's still much interesting stuff out there as well.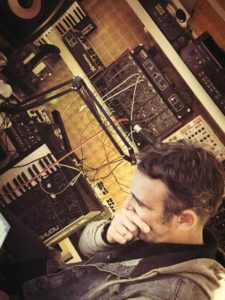 You like your vintage synths and drum machines. Any firm favourites?
If I have to name just one it's probably the Linn Drum, this one really shaped a decade and gives you that warm feeling in your stomach by just switching it on 😉
I really love the fact that there is just one Kick and on Snare instead of gigabytes of Drum Libraries you carry on your computer.
Synth-wise, it would be the Roland System 100M Modular Synthesizer, which we pretty much use on every song – pure synthpop bliss.
What selection of hardware did you predominantly use on 'When Traces End'?
It's quite a long list, to name a few… drum machines like the Linn and Oberheim DMX, Korg DDD-1, Kawai R100, the mighty Simmons SDSV, some weird soviet effects, drum boxes and synthesizers like the fantastic Aelita which is 90% of 'Tell The Truth'.
More synths we used a lot are the Roland System 100M, Akai AX60, Polymoog Keyboard as well as newer analogue stuff from my favourite companies (and friends) like Dreadbox from Greece or Analogue Solutions from the UK, especially the Nyborg12.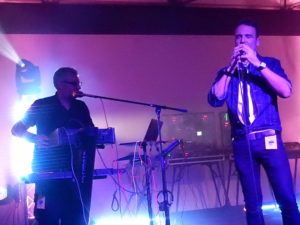 How does the use of vintage synthesizers translate to live gigs?
For gigs we try to keep it quite simple, safe and not too heavy.
Some sounds I play on stage, I recreated on virtual instruments like the U-He Zebra or Alchemy from Camel Phat inside of Ableton Live which also runs the drums and sequencer stuff.
For the analogue vibe, I play a quite rare Korg SB100 Synthesizer which I love a lot and mainly use for bass live. It's small, built into a handy case and adds a really nice low end to the setup. It's also built like a tank and even though it's very old, it's very reliable. Some of the other machines from the studio would be a bit scary on stage, since they have their own life sometimes.
Any plans to visit the UK Soon?
It would be fantastic to actually play in the UK since we feel very connected because of our musical heroes, but unfortunately nothing planned yet … we'll see. From time to time, I go to the UK for some shows of bands like BLANCMANGE who are not playing in Germany since they became active again. Recently I also played with my ambient project BALTES & ERBE near Birmingham which was nice.
After two albums, is there a third one looming?
Yes, absolutely – we are working on it and have a couple of songs written, loads of ideas and so far around 3 songs completely finished. Since we were very pleased especially with the last album, we try really hard to take things even further, which we think we did with a couple of the new ones. We don't have a roadmap for a release yet, but we think maybe around the end of 2018. We just want to make sure it's as good as possible. So please be patient 😉
You mention the influences derived from the pinnacle years of synth, any contemporary artists that take your fancy?
I love the latest stuff by TRENTEMØLLER which has a nice 80s vibe without just being retro. Also I was blown away by the latest BJÖRK album, very innovative and strange in the best way. Also THE XX, WRANGLER and FADER… not sure if you could call this contemporary though 😉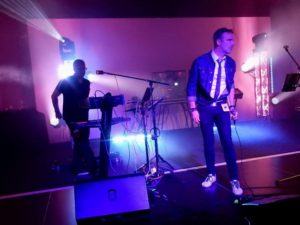 How did the Electri_City_Conference gig come about and how do you think it went?
I've known Carsten Siewert, who was organising the Conference, loosely for about 30 years. Back then I was working in a Supermarket and he worked for a company who delivered CDs to the shop – back then we always had a nice chat mainly about DEPECHE MODE or electronic music.
We then met from time to time and I visited the Conference as well. At one point we were thinking about showing some gear at Electri_City as well and he mentioned "hey, if you there for the gear anyway, you of course have to play with your band as well" which we of certainly couldn't resist.
It was a great event and show, the people were very friendly. It was almost family like and the reception was fantastic. So we were more than happy to get the chance to play an event like this. Stage looked great, sound was great, we think we played quite good and people seem to like it … what more to ask for, we were VERY happy to be part of this!
The synth world is raving about the new Minimoog Model D, have you got yours yet?
Actually I finally ran out of space for more keyboards and only might be able to add some smaller stuff like drumboxes or Eurorack modules. Regardless I played the new Model D a few times and I must admit that I really like it a lot. Next to the Moog Sub 37, it's the first of the newer Moogs I really loved. I used to have a Minimoog Voyager which I never really got along with too, well since it sounded a bit "static" in my opinion (sorry!) … so if I find some extra room or a larger space, or maybe bring some stuff to my repair guy I might finally join the party.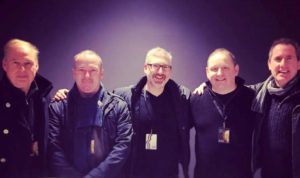 What album would you say you loved the most in 2017?
I think probably 'The Punishment Of Luxury' by OMD, what a great return – it was a big surprise and still sounded fresh! Also the latest GARY NUMAN album – fantastic production!
---
ELECTRICITYCLUB.CO.UK gives its grateful thanks to Steve Baltes
Both ARCTIC SUNRISE albums 'A Smarter Enemy'
and 'When Traces End'
are released by Echozone
https://www.facebook.com/wearearcticsunrise/
https://www.reverbnation.com/arcticsunrise4
---
Text and Interview by Monika Izabela Trigwell
31st January 2018