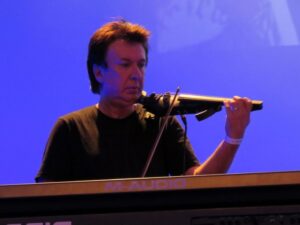 Chris Payne is perhaps best known as a sideman to Gary Numan and co-writing 'Fade To Grey' with Billy Currie and Midge Ure for VISAGE.
But more recently, Payne released his second solo work 'The Falling Tower'
, an ambitious concept album with neo-classical stylings about "a social and political armageddon", an all too possible prospect in the current work climate, with the twist of being sung in Latin, Esperanto AND English!
The Rouen-based Cornishman took time out to chat about 'The Falling Tower' and the various projects he is currently involved in…
'The Falling Tower' is your second solo album, but a significant part of it formed an ELECTRONIC CIRCUS album with the same title which came out in 2018?
Yes it is a rather unique situation whereby I released the album under the ELECTRONIC CIRCUS banner when it was clearly not ready. It was a bit of a disparate mix of songs as I was trying to fit the quirky synthpop songs such as 'Roundabout' and 'Space Invaders' with the more serious compositions like 'In Red Fields Of Flanders' and 'Nocturne for Piano & Synths'. I decided to take a bit of an unprecedented step of redoing the album and dropping the synth pop stuff.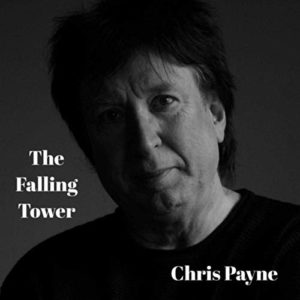 Do you still believe in the album as a concept and artform in this age of streaming and skipping?
Fundamentally yes. It's true that with digital downloads and streaming etc, you don't get the benefit of the classic album cover which is not only something that adds artistic merit to the music but also allows the listener to get information about who played on it, the lyrics etc.
Of course you can put all of that information and more on your website or social media page but it isn't quite the same as having it directly associated with the disc, be it CD or vinyl.
Certainly 'The Falling Tower' has a strong message of "Look after the planet or nothing else matters". In other words as a species that is part of this planet it's about time to stop ego and thinking xenophobically about nations and politics and redress the damage we are doing. I know it's a theme that is preached to us all the time, and believe you me I'm the last person to want to be preached to, but if we don't take a different course soon the risks are colossal for the planets existence.
Whilst 'Space Invaders' didn't fit in at all, 'Direct Lines' with its nuclear catastrophe storyline and 'Roundabout' with its midlife crisis metaphors weren't that far off the "political collapse of the world" narrative you were aiming at with 'The Falling Tower'?
I see your point, but they were still very upbeat. As I've mentioned before if you're going to make an album about the collapse of the political and social global civilisation as we know it, you don't want an album of "jigs and reels"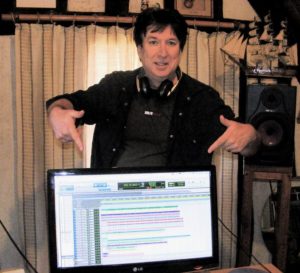 On 'The Great Gates', you perform your first lead vocal since 'Turn' with DRAMATIS on 'For Future Reference', what brought that on? How different were the two recording sessions which were 37 years apart!
Well I was never a singer and it's still something that bothers me to be honest.
I've been told on numerous occasions by my wife Dominique that singing isn't all about technique, it's about emotion and although it took me a long time to appreciate this, she was right.
I have never felt comfortable about my own voice. It was always put down whilst I was at music college and as a result I really didn't care that much. The DRAMATIS song 'Turn' was composed by me and I only recorded my own voice for either Denis Haines or RRussell Bell who were the principle vocalists on the album. But after I recorded it, everyone thought it fitted the track so we kept it.
For the recording of 'The Great Gates', Dominique had always told me that my voice had a more unique quality about it in a lower register, and I had had a couple of voice training sessions with a vocal trainer called Cecile Helene who used very imaginative vocal techniques to bring out the best in her pupils. She believes we all have the natural ability to sing, but the way we are structured as kids and taught in schools often condemns us to insecurity and a sense of non self-belief which inevitably blocks progression.
So this gave a certain confidence to sing the song which coincidentally happened to fall in a very nice key for my voice. The thing is, I'm not that interested in the continuing development of my singing career! So it'll probably be a one off but it's nice to get the feeling back of not being a vocal moron.
Speaking of DRAMATIS, what happened to the mooted reissue of 'For Future Reference' with those later non-album singles like 'Face On The Wall' and 'The Shame' as extras, which was trailed by the free download of a remastered 'Ex Luna Scientia'?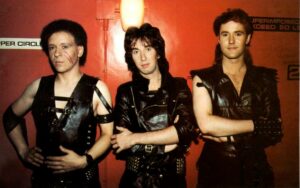 Do you know what, I honestly don't know. RRussell tracked down the owner of 'For Future Reference' which had been sold on so many times from our initial management team, who were a bunch of music business conmen! But RRussell bought the copyrights to the album back. As for the titles you mentioned, I've no idea if they were included or not. I'll have to ask RRussell about that! Maybe they're all for sale on eBay!!
'Ex Luna Scientia' was partly sung in Latin, as is 'The Trapeze' from The Falling Tower' while the title track is in Esperanto, what inspired you to do that with those two tracks?
Well I know it sounds a bit musical elitist and trust me, I have no time for that nonsense! But Latin is a great language to sing in and I'm used to using it on my big orchestral choral works I've done in London and Prague over the years. It worked very well on 'The Trapeze' but when it came to 'The Falling Tower', I thought of Esperanto as it was created as a universal language to benefit mankind.
Now interestingly it didn't work as a created language back in the 19th century and I'm sure that's because a language isn't a formal constructed thing from the outset, but a living growing and evolving form of communication that just happens on a gradual basis between us humans. Having said all of that, my wife and I looked at the language, realised it had similarities to Latin and went from there. We discovered that it's a beautiful language to sing in and I've used it on the TULM project I'm working on with my daughter Marikay.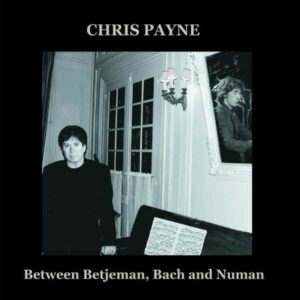 Will you do a song in Cornish next? Didn't you work with Gwenno once upon a time on 'Ysolt Y'nn Gweinten', a version of which ended up on your 'Between Betjeman, Bach & Numan' solo debut ?
Well that's another interesting thing about language. Take Cornish for example. It has been what I call a sleeping language for the last couple of hundred years and has recently, I guess post war, become a spoken and scholarly language once more with a lot of revivalist interest.
It worked beautifully on the CELTIC LEGEND 'Tristan & Isolde' project.
Through a chance connection to Tim Saunders (Gwenno's father and Cornish language expert), I got to work with Gwen. I remember her coming to Nigel Bates' studio in Sussex and when she sang the instrumental I'd written with Tim's lyrics and I thought "Wow! what an amazing sound!", so emotive and full of expression.
Of course I had no idea what was being said, but Tim had given me a translation of it so I could follow the idea. Gwenno is also fluent in Welsh and I remember hearing her on the phone to her mother in Welsh and followed by a conversation with her father in Cornish.
Both languages are from the Brythonic Celtic branch, but to me have a difference in sonority. I really find this incredible and it values a language no matter how few people speak it. It would be a tragedy to lose the likes of Cornish, Welsh, Irish, Scottish, Breton and any so called minority languages as they have so much to offer in music and literature.
I've lost touch with Gwenno over the last five years or so, but I know she is a huge exponent of the Cornish language and is incorporating it into her own music, which in my opinion is both brave and brilliant.
'Nocturne for Piano & Synths' and 'Electro Vivaldio' have given you the opportunity to realise some of your classical synth fusion ideas?
Yes the 'Nocturne…' was an experiment whereby I tried to get the same emotion of a string orchestral arrangement to back the piano with synths. At first I tried to emulate the strings with a far too complex arrangement and so stripped it down to a simple very analogue sound using the classic Elka strings. I also added some synth voices and there you go, it worked. I'm very happy with it as it's a piece very much inspired by a great pianist Ludovico Einaudi, although the difference is he uses the real strings on his recordings plus he's a bit good and puts me in my place.
The 'Vivaldi' was a way for me to express an idea which is simply this. Would the likes of Mozart, Bach, Beethoven etc have empathised with the synth and possibly changed their way of composing had it been around. I personally think yes. The 'Vivaldi' was just a sort of compositional metaphor to emphasise this idea.
This version of 'The Falling Tower' appears to be getting traction, do you think that's because you're actually using your own name and the exposure from The Skaparis Orchestral tour with Gary Numan?
I definitely think it helps. Having done the tour at the end of last year, it exposed me to a number of Gary's fans again who probably thought I had retired or died! And just using my name rather than going under the ELECTRONIC CIRCUS banner probably helped as well as few would have connected EC to me.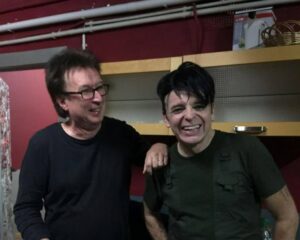 How was that Gary Numan tour incidentally for you?
Well you can imagine that it was totally amazing. Great venues including the Royal Albert Hall, being back on tour again and having my wife with me to share the experience.
Travelling on the tour bus with Gary and his band (plus crew of course) who incidentally are a brilliant bunch, and as I've said before outstanding musicians all of them.
Also the massive buzz of performing my own songs and instrumentals and Gemma (Gary's wife) who is so kind and welcoming and unbelievably funny and straight away making us feel part of the family. My only regret was it lasted for ten days. I could have done a hundred!
You are writing an autobiography on your Numan days, how is that coming along?
I have been sketching it out and it is quite daunting as I want to make it a historic book about my observations and perspective on events, but at the same time entertaining.
What has caught the imagination is my close involvement with Gary and the band members during this period from 1979 until 1990 (when I officially left) and it's interesting writing it now from a very retrospective angle. If I had written this at the time, I don't think it would be good. It would probably have been a bit like a diary and that's the last thing I want it to be.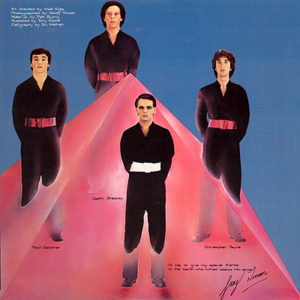 What's perhaps not widely known is that on 'The Pleasure Principle', you and Gary shared the keyboard parts because from 'Telekon' onwards, he tended to handle the majority himself?
The difference between the two recordings was immense. 'The Pleasure Principle' was all of us playing together and to lay down the basis of the track and then doing overdubs.
'Telekon' was much more fragmented with us coming and going and sometimes hanging around all day and doing no recording at all.
I played some keyboards on it and viola, but Denis Haines had joined the band and added keyboard parts. Gary did a lot of overdubs himself on various synths and then you had RRussell adding guitar, Paul on bass and Cedric on drums. But my memory of it was that it was put together in a rather random way compared to 'The Pleasure Principle'. It was still a brilliant album mind you and I'm well proud to have been involved.
Everyone naturally talks about tracks like 'Complex' when referencing your contribution, but I'd like to mention 'M.E.' and 'Tracks', what can you remember about doing those?
'Tracks' sadly I have no memory at all. Did I play on it? But on 'M.E.', I was given full license to come up with the parts under Gary's guidance. I'd play them and he'd make the decision as to if he liked what I had done or not. This is a pattern that followed through into future recordings with Gary.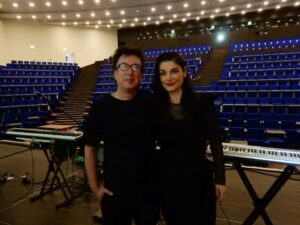 You've been working with German songstress Katja von Kassel and you did a new version of 'Fade To Grey' with her for ELECTRONIC CIRCUS. Now that version of the album has been taken out of circulation, will it reappear on perhaps your next EP with her or something?
No I doubt it. I think Katja's better off with releasing original material to establish her own identity rather than relying on covers.
'Fade To Grey' is something of an evergreen, there was people like Kelly Osbourne and Kylie Minogue with their respective songs like 'One Word' and 'Like A Drug' significantly borrowing from it, are you getting any royalties from those? 😉
We all got royalties from the Kelly Osbourne record. Linda Perry the producer and writer, you know the one from 4 NON BLONDES fame, producer of Pink, Christina Aguilera etc etc realised her error and relinquished her entire rights to the song. I still have her lovely letter written to me apologising for her mistake. To be honest it could happen to anyone and for her to have been so honest and forthcoming with a solution was admirable. I think she's a really decent person and she has my total admiration.
Minogue on the other hand is a different story. She would have known full well it was a rip off, but the massive weight of her management and herself didn't act as decently as Linda Perry as they employed the UK's 'top musicologist' so they got away with it and we ended up with nothing. But hey that's the music business! Nobody said it was fair!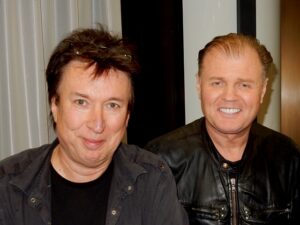 While we're on the subject of VISAGE, you contributed five songs to Rusty Egan's 'Welcome To The Dancefloor' album which were sung by Midge Ure and Tony Hadley among others, anymore stuff on the way from you with that project? 
Oh definitely. He's a fascinating character who is passionate, driven, committed 100% to the electronic music cause.
He's extremely loud (you can hear him over an AC/DC concert!) and as I describe him affectionately to others due to his direct no nonsense approach, 'a social grenade' but he's a forceful character and he gets things done. During the album 'Welcome To The Dancefloor', he managed to get so many good people on board.
How do you look back on it?
It took a long time and in fact five years from inauguration to finish and I was there from the start to the finish, in fact I was the only one. Many had dropped off not believing it would happen but there's something about him that I share, and that is a driven passion to get the job done and get your music out there.
I contributed five songs to his album and the most interesting one was 'Glorious' with Midge Ure. I had written the basic track and had this idea about the chorus relating to the national anthem but as a love song, a sort of "You make me Glorious sometimes victorious" type of thing. Well, Rusty loved the initial idea and worked on it but it didn't have that big anthem sound I had imagined.
It rested there for a year or so and then suddenly out of the blue Midge had got hold of it and although he kept the chord structure I had written, had revised it from verse to chorus and turned it into the song I always imagined it to be. I was stunned when I first heard it and all credit to Mr Ure, he had turned around a good song into an amazing song.
TULM is a new project with your daughter Marikay which has an eerie Medieval folk feel about it?
The TULM concept is a new project that I'm creating with my daughter Marikay. She has a passion for auditioning huge amounts of music from all over the world on the internet and has a unique ear and is also passionate about creating a project that involves not just the process of music but film, still photography, clothes design, jewellery etc. She has already connected a lot of artists in the Rouen region on this and they all are very committed to the project.
As for my role? Well that's also different and interesting for me. I will listen to her basic story ideas which are normally based on dark fairy tales and create the music as we are going. In some cases such as the song 'Flower Crown', there is no standard structure. We are just going through a story told in music and lyrics and that's it. It feels a bit like composing film music but without the film!
One thing that does show a certain generation gap is when I'm writing using a simple bed of strings and thinking to myself "Wow that sounds good", she'll me bring down to earth with a comment like. "Dad, that's so 80s! No one uses that old fashioned sound now". So I change it to something different and that's how it works. The complete antithesis to how I normally work but an interesting learning curve. Plus as you said there are elements of folk. It's actually a hard project to define to anyone.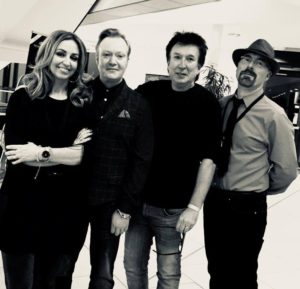 You've been working with TINY MAGNETIC PETS on their new album 'The Point Of Collapse'?
Yes, I was asked to contribute some piano and violin on a couple of their songs. I didn't hesitate as they're such an amazing band and more importantly such lovely people. It's always a pleasure to meet up with them and I really hope they get to achieve the success they deserve with this album.
Have you had a chance to reflect on your career and how your synthy past has become a part of your creative life again in the last decade?
Well as you know I left synths when I left Gary back in 1990 as I went back to classical and folk instruments. I worked on a lot of orchestral projects for production film and media music, plus the use of the folk instruments in CELTIC LEGEND. But having said that , I was still using synths but as a background atmospheric thing rather than full on upfront.
Actually by 2010, I had got into a bit of a rut with music and this changed when Rusty contacted me and I had to get back into synths again. My entire way of looking at them has changed since then. They are an integral part of music creation and what I've always admired about the synth is the accessibility of the instrument to all. Think of it as a tool able to be used by non-musicians to create music.
For most instruments, it takes years to get proficient enough to be able to write with them, but the synth opens up this new world of creativity to non-musicians almost immediately which I'm convinced is a great thing. I have certainly reconnected with them and use them all the time. My poor old crumhorns, ocarinas, bamboo flutes, Bombards etc are just lying around in the corner of my studio. But I'll find a project soon to incorporate them back into my musical life I'm sure.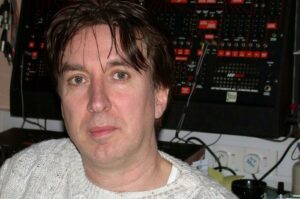 What's next for you, under whatever guise?
Simply to carry on writing in whatever form and creating music.
I have an interesting project with an old music college friend called Michael Stewart who was mentored by Sir John Tavener, and this involves setting up our own neo-classical label. I would really like this to work but it's going to take time and a lot of commitment.
We have a project in mind to start off, with an amazing pianist from Japan called Ahuri playing one of the rare Tavener piano compositions called 'Palintropos'. And of course I have to finish the long awaited book 'My Numan Days', check out my Facebook page and www.chrispaynemusic.com for updates.
---
ELECTRICITYCLUB.CO.UK gives its sincerest thanks to Chris Payne
'The Falling Tower'
is released by Gaia International Music, available as a digital album via the usual platforms
https://www.facebook.com/chrispaynecomposer/
https://www.instagram.com/chris.payne.music/
---
Text and Interview by Chi Ming Lai
6th March 2019