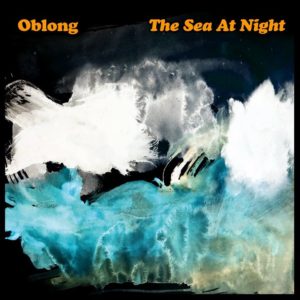 Every now and then, the world needs a lively unpretentious synth instrumental album to provide a temporary route of escapism; OBLONG's 'The Sea At Night' is that record.
OBLONG formed out of a friendship between Benge (synths + drum programming), Dave Nice (synths, bass + drums) and Sid Stronarch (piano, synths + guitars) which eventually resulted in an album 'Indicator' in 2006.
And now with their second album 'The Sea At Night'
, the trio deliver a rustic electro-acoustic record of organically farmed electronica!
The beautifully spacey opener 'Planetesimal' conjures up widescreen images of the countryside with a wonderful musicality, something that is very prevalent throughout 'The Sea At Night'. Starting with acoustic and bass guitar, 'Frost Pocket' uses the electronics more sparingly while the six string rings in a Michael Rother fashion. Meanwhile cut from a not dissimilar cloth, 'Cool Calm & Connected' does what it says on the tin, gently swinging and making effective use of double bass.
'The Sea At Night' title track adopts a propulsive Motorik stance, string synths and percussive accents vying for the high ground in an enjoyable cosmic duel. With a glorious groove, 'Robot Dan' puts vocoder into the mix, this futuristic jazz funk being Huggy Bear's theme for the 22nd Century.
The pretty 'Siphonophore' and the equally pleasing 'Phosphorescence' soothe while 'Fast Radio Burst' ups the tempo which sees some funk and electronic bass in unison with sweeps of synths, all counterpointed by ringing melodies and a whirring solo.
Keeping up the pace, 'Echolocation' is a classic synth instrumental with its crystalline textures and charming slightly offkey blips while with its brilliant title, 'Romford Suzuki' acts as a fun funky interlude recalling Richard O'Sullivan's opening title tune to 'Robin's Nest'.
With the glorious overtones of CLUSTER, 'Weird Sugar' takes things onto a more gentler pace towards the home straight as 'The Sea At Night' concludes magnificently with 'Number Nine'; here Stronarch lets rip with his strummed acoustic while Nice complements with his double bass alongside rich layers of synths from all persuasions.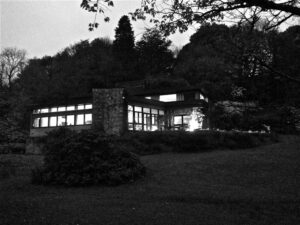 Reflecting the remote moorland location in Cornwall where it was recorded, 'The Sea At Night' captures the atmosphere of the nearby coastal landscapes.
While primarily synthesizer driven, the use of traditional instruments like acoustic guitar and double bass alongside the electronics adds an unusual but accessible focal point, like a more animated development of the 1981 Virginia Astley record 'From Gardens Where We Feel Secure'.
'The Sea At Night' is proof that instrumental albums can still be wonderfully charming and melodic, there's no Eurorack tutorials like those fashioned by Martin Gore for his 'MG' solo folly or formless meandering synthwave present here.
---
'The Sea At Night'
is released by Memetune Recordings on 22nd March 2019 in vinyl LP and digital formats, pre-order via https://oblong.tmstor.es/
OBLONG will be special guests of JOHN GRANT at the following 2019 shows in Ireland:
Limerick University Concert Hall (27th March), Cork Opera House (28th March), Galway Leisureland (30th March), Dublin Born Gals Energy Theatre (31st March)
https://twitter.com/oblongtheband
https://myblogitsfullofstars.blogspot.com/
https://open.spotify.com/album/5IWlf3H2kcwHjL3CjtJ1Cd
---
Text by Chi Ming Lai
5th March 2019