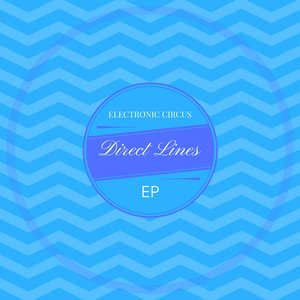 Welcome Bienvenue Willkommen Benvenuto and Valkommen to ELECTRONIC CIRCUS…
Described as "A human cannonball of electronic sounds", the project was co-founded by Chris Payne, the keyboard and viola virtuoso who was a member of Gary Numan's band between 1979 to 1990. He notably co-wrote 'Fade To Grey' which became a huge international hit for VISAGE and more recently, he was involved in five songs for Rusty Egan and his 'Welcome To The Dancefloor' album which were sung by Midge Ure and Tony Hadley amongst others.
ELECTRONIC CIRCUS actually began life in 1981 with a single entitled 'Direct Lines', a release which found its way into bargain bins not long afterwards. But it has since gained cult status via a million views on a fan made YouTube video using an obscure Swedish art movie. Gathering together some of the original band including Paul Johnson Rogers, Tim Vince and Mike Stewart, Payne has put together a new four song EP inspired by 'Direct Lines' from his base near Rouen in France.
Reworked with vocals by Chris Payne's wife Dominique and daughter Marikay, 'Direct Lines 2017' retains the frantic magic of the original and the fact that it sounds like it could have been written today is evidence of its longevity. The French Family Payne add a child-like pourquoi plea to proceedings on lyrics about the threat of nuclear war, a horrifying spectre that is looming today as the powers that be square off along the 38th Parallel… a superb synth solo accentuates the tension.
With a sombre air of remembrance, 'In Red Fields of Flanders' hauntingly remembers those lost in World War One; of course, the worrying thing is if World War Three happens, there won't be any fields of any colour and no-one around to do any kind of remembering…
'The Trapeze' is a brilliant neo-instrumental with electronic bass triplets and a symphonic theme that bursts with melody and musicality like ULTRAVOX galloping across the plains of Normandy. And when The French Family Payne join in for the final minute, it adds a wondrous tone of humanistic unity.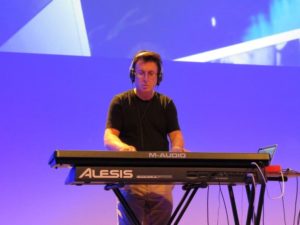 With his adopted home surroundings very much the backbone of the EP, the considerably lighter 'Roundabout' offers more authentic Gallic charm, courtesy of Dominique Payne.
The exquisite, almost naïve vocals over the most incessant synth riff will delight or irritate to the point of submission. But note that the seemingly banal words referencing driving are actually a very clever metaphor for midlife.
It is great that at this particular roundabout, Chris Payne has chosen electronic music again. The 'Direct Lines' EP is just the start. With an album on the way and a new electro-folk version of 'Graceland' too, ELECTRONIC CIRCUS are finally delivering on the promise that they first showed thirty six years ago.
---
The 'Direct Lines' EP is available as a download direct from http://www.electroniccircus.co.uk/store/
A free download of 'Direct Lines 2017' is available as a try before you buy incentive from http://www.electroniccircus.co.uk/history/
http://www.chrispaynemusic.com/
https://www.facebook.com/chrispaynecomposer/
https://www.instagram.com/chris.payne.music/
http://www.electroniccircus.co.uk
https://twitter.com/electrocircus
---
Text by Chi Ming Lai
23rd April 2017