Combining musical template of THE HUMAN LEAGUE with lyrical wit of PULP, YOUNGER YOUNGER 28s were the shining light in synthpop during an era full of dour landfill indie like TRAVIS following the fallout from Britpop.
Released in March 2000, their only album 'Soap' was a cutting tongue-in-cheek satire on class aspirations and dreams.
Fronted by a Teddy Boy version of Phil Oakey in Joe Northern aka Ashley Reaks, YOUNGER YOUNGER 28s were a terrifically entertaining live act.
Backed by his very own Joanne and Susanne in Andie and Liz who were recruited from the Academy of Contemporary Music, there was a bizarre twist with instrumentalist Jimmy Dickinson formally being a member of heavy rockers LITTLE ANGELS!
17 years on, ELECTRICITYCLUB.CO.UK managed to trace Ashley Reaks somewhere in the city of London; he kindly chatted about the period when he "was nearly a crap pop star…"
Despite time passing, the concept of YOUNGER YOUNGER 28s still seems quite bizarre, how did it formulate? A strange story of course!
Strange indeed! Me and Jim played together in post-LITTLE ANGELS band B.L.O.W. and when that finished, we tried writing together. He was writing music for computer games under the name YOUNGER YOUNGER 28s and was into THE PRODIGY. I was writing punk and post-punk type songs so initially we were a sort of punky dance act.
We did a cover of 'A Forest' by THE CURE and we wrote our own song around it 'Sugar Sweet Dreams', which kick-started a whole new direction.
Why did Jimmy want to do synthpop all of a sudden?
At some point Jim played me some demos he'd done pre-LITTLE ANGELS and they were synthpop-esque, so it was always waiting to come out.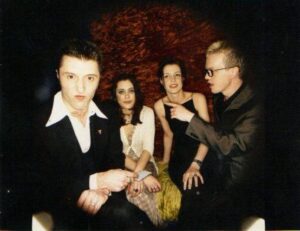 Who were the key influences on YOUNGER YOUNGER 28s?
Well obviously THE HUMAN LEAGUE were the template. I remember asking Jim to make 'Teenage Mum' sound like THE COMMUNARDS or ERASURE when I brought the song to him. Stock Aitken and Waterman and Trevor Horn were in there somewhere! As a teen, I liked the bleak Northern bands like CLOCK DVA and CABARET VOLTAIRE as well as the miserable lyricists of punk.
Was having two female vocalists alongside your comedic Northern droll always part of the plan?
No – neither me nor Jim were singers so we needed all the help we could get. Liz and Andie sang on the early demos of 'Julie' and 'Teenage Mum' and it worked well, so they stayed!
When did you realise the concept of YY28s might actually have legs?
When we started gigging… very quickly we had celebrities and music business people at our gigs. I think they liked the comedy of the live act after all the seriousness of Britpop.
You got signed to Richard Branson's new label V2 and had STEREOPHONICS as label mates, what was it like being on the label?
Personally I think it was a bad choice and I'm not sure V2 really wanted us on the label (though they did want our manager to sort out some problems they were having at the time). We'd have been better going with one of the smaller labels that were interested in us at the time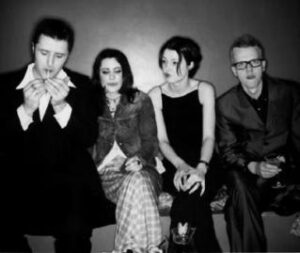 The first single 'We're Going Out' attracted some attention and radio play…
Putting 'We're Going Out' out as the first single was a bad move in hindsight. The band all wanted 'Sugar Sweet Dreams' to be the single, but V2 and the industry were convinced 'We're Going Out' would be a huge hit. It wasn't!
'Sugar Sweet Dreams' was a brilliant album opener, sort of PULP FICTION meets THE HUMAN LEAGUE's 'Sound Of The Crowd'?
Musically I definitely remember referencing 'Sound Of The Crowd' and 'A Forest' by THE CURE on 'Sugar Sweet Dreams'. It was probably the first track we did and we should have continued down that musical path a bit more but got seduced by POP!
'The Next Big Thing' was a wry observation of reality TV talent shows and wannabe culture a few years before Pop Idol / X-Factor etc?
The idea that being famous, in itself, will somehow make us feel good and paper over all the cracks is such a seductive belief and has almost become the new drug of choice. Personally, I was always interested in the life that was falling to bits alongside the illusion, including my own.
Was 'Gary' based on a true story?
Let me have a listen and I'll get back… 'Gary' was another figment of my imagination but based loosely on some of the characters I'd come across whilst playing the Northern Working Men's Club scene over the years in various bands. There was one particularly rough club in Wigan where the DJ was a 'butch-as-hell' transvestite and we shared the dressing room with the female strippers, their 'fanny spray' and their very protective 'boyfriends'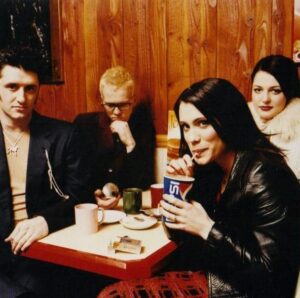 There was a dispute with V2 about the 'In Between Days' cover being included on the album against your wishes. But how did you come to record it anyway?
'In Between Days' was never intended to be on the album as it was a 'concept' album and didn't fit.
V2 persuaded us to record a cover as a last ditch attempt at a hit but they dropped us before it ever went out as a single.
I assume they thought that as they'd paid for the recording, they would add it to the album.
In hindsight, it's a shame the superb B-side 'Karaoke Queen' wasn't on the album in place of 'In Between Days'? Was that another true story or your imaginative mind?
'Karaoke Queen' would have fitted well onto 'Soap', but for one reason or another didn't make the cut. Again it was loosely based on an ex-girlfriend of mine who would get 'hit on' by both sexes in dodgy clubs whilst I hovered around uncomfortably.
You ended up on open air bill in Nottingham with THE CORRS, E17 and JIMMY NAIL in Summer 1998, playing second from bottom-of-the-bill. It was quite surreal occasion cos I witnessed it, what are your memories of the day and how do you think YY28s went down?
I enjoyed that gig and seem to remember us going down ok though you might tell me otherwise! My main memory was I gave a backstage pass to a guy we'd met on our travels and he proceeded to get very drunk on the free beer and was kicked out for trying to get into THE CORRS dressing room. I denied any knowledge!
Was there a moment when you perhaps realised that things weren't happening for YY28s and people didn't get it, that some found the lyrics too condescending?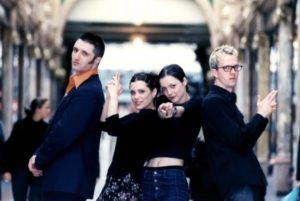 I remember a meeting at V2 where the marketing team had absolutely no idea what we were about and had been telling the radio shows that we were "a step up from STEPS"!
When 'We're Going Out' didn't chart, the whole buzz around the band seemed to disappear immediately and it became pretty clear that the label weren't going to continue to push us.
I didn't realise how many people thought I was condescending in my lyrics and looking down on the less fortunate. I'd spent years wasting away on the dole in haze of dope smoke in a small town, so I was writing about myself and my life and the desperation I (and my friends) felt on a daily basis.
There was a letter in the Melody Maker or NME one week accusing me of patronising the emotionally damaged in the song 'Valerie', where a lonely man seeks refuge in porn and is only capable of a fantasy relationship with one of the models in an 'adult magazine'. That could easily be me! I think people assume that if you're in the public eye, you must be happy and emotionally balanced – nothing could be further from the truth, in my case at least!
'Two Timer (Crap in Bed)' was issued as a promo but was never officially released and that appeared to be the end of YY28s. What actually happened?
'Two Timer' was actually one of the earliest songs we wrote and recorded – an electro re-write of the punk one-hit-wonder 'Jilted John'. I don't know why it was never released or on 'Soap'…
How do you look back on the 'Soap' album now and its context in the grander scheme of popular culture?
I haven't listened to 'Soap' in a long time, but I'm glad we made a brave record that was completely out-of-step with everything, which seems to be my forte.
Do you have any favourite songs from the album?
I always liked 'Dirty Harry' and 'Sugar Sweet Dreams'
So what are you all up to today?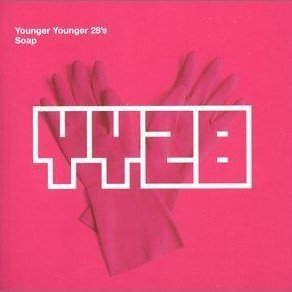 I'm making music and art at a rate of knots… 10 albums in the last 5 years!
Jim is teaching music production at Bath University and works with new artists.
Liz is running her own PA business, working with dogs as a trainee trainer and has her first baby on the way.
I don't know what Andie's up to…
If you had your time again, is there anything you'd have done differently with YY28s?
Signed to one of the smaller indie labels that were chasing us early on, and released 'Sugar Sweet Dreams' as the first single.
Cheers for this, Ashley 🙂
---
ELECTRICITYCLUB.CO.UK gives its warmest thanks to Ashley Reaks
'Soap'
was released on CD by V2 and can be occasionally found for sale on eBay and Amazon
https://www.facebook.com/ashleyreaksart/
---
Text and Interview by Chi Ming Lai
22nd April 2017, updated 12th May 2019