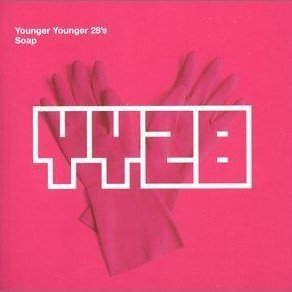 In an era full of dour landfill indie in the fallout from Britpop, YOUNGER YOUNGER 28s were the shining light in synthpop.
They were a marvellous cross between two of Sheffield greatest bands, combining the catchy avant pop of THE HUMAN LEAGUE with the observational lyrical wit of PULP.
Their only album 'Soap' was a cutting tongue-in-cheek satire on class aspirations and dreams; a pastiche novelty record based around strong tunes and upbeat chimes despite the inherent darkness and despair of the subject matter.
But lyrically, it just might have been seen as a little too condescending in the eyes of those who did not understand irony or have a sense of humour. One of the band's instrumental brains was bizarrely Jimmy Dickinson, a refugee from Scarborough's own poodle rockers LITTLE ANGELS! He opted not to have a drummer and bassist in YOUNGER YOUNGER 28s because his years in the industry had concluded they "would just get in the way" and "take up loads of room in the van"!
Fronted by a comedic Teddy Boy version of Phil Oakey in Joe Northern aka Ashley Reaks, his dry Yorkshire droll was competently backed by the Joanne and Susanne of the quartet, Andie and Liz who were recruited from the Academy of Contemporary Music, rather than a disco or a cocktail bar. Released in March 2000, 'Soap' does what it says on the tin… it's effectively a satirical musical version of Coronation Street!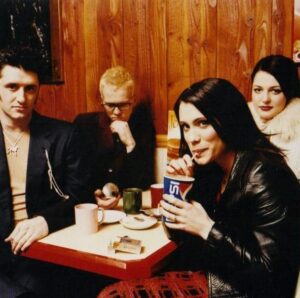 The drama starts right from the off. 'Sugar Sweet Dreams' is 'The Sound Of The Crowd' rewritten for a Tarantino movie while second single 'Next Big Thing' sends up the dreadful deluded wannabee culture of today but predicted by YY28 in 1999.
It tells the story of Kim who "wants to be a supermodel, not a supermarket checkout girl". However, "she's not exactly ugly, just not very pretty!"
'First Love' is YOUNGER YOUNGER 28s' own 'Louise'. Innocence and naivety are all captured in a four minute romantic comedy that most synth geeks can totally relate too.
Meanwhile, 'Teenage Mum' sends up the whole 'Girlpower' ethos with "the peroxide blonde from a high rise block… who can't keep her legs shut" and uses her "sex as a weapon"!
Debut single 'We're Going Out' is a wacky B52's styled celebration of the weekend where if you "call Pete Tong, you can't go wrong". And rather amusingly, it does seem to be the long lost elder cousin of THE HUMAN LEAGUE's comeback single 'Night People'! 'No More Yesterdays' actually looks more towards guitar textured NEW ORDER and is probably the most melancholic item in the collection.
There are sardonic narratives galore with the eponymous subjects 'Julie', 'Dirty Harry', 'Gary' and 'Valerie' each respectively being a day dreaming factory queen, a heroin addicted sex worker, an HIV un-PC male stripper and an adult chat-line hostess! The album ends with a female-led cover of THE CURE's 'In Between Days'.
After all the post-modern irony and the optimistic but hopeless dreams of escape, this closer is a bit of a disappointment and comes over like Goth karaoke. It's not exactly awful, just not very brilliant!
The fate of 'Soap' could be summed up by the electro-Spector grandeur of 'We Nearly Made It'… and unfortunately, make it they didn't. It was a case of right band at the wrong time.
'We're Going Out' reached No.61 in the singles chart and 'Soap' bombed. A brand new single 'Two Timer (Crap In Bed)' was issued as promo but its release withdrawn and the band sadly dropped.
Their superb B-sides 'Ginger Determination' and 'Karaoke Queen' (best line "He is a Karaoke Queen, he's not gay or straight, he's in between!") remain little heard gems even among synth aficionados. Today, Jimmy Dickinson is a teacher while Ashley Reaks still performs music and comedy. The whereabouts of Andie and Liz are currently unknown. But it's difficult to predict even in the current electro friendly climate whether everyone would have got this fairly elaborate joke.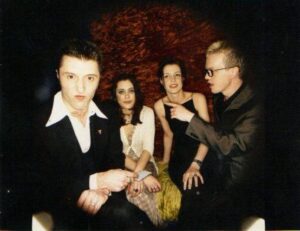 Still, YOUNGER YOUNGER 28s were a ray of sunshine at a time when the NME's idea of an exciting new band was their V2 labelmates STEREOPHONICS or even worse, TRAVIS!
Yet they were vilified by the NME before even releasing an album for sounding a bit like THE HUMAN LEAGUE. Strangely now ten years on, a lot of pop music sounds a bit like THE HUMAN LEAGUE!
---
'Soap'
 was released on V2 Records
https://www.facebook.com/ashleyreaksart/
---
By Chi Ming Lai
5th January 2011