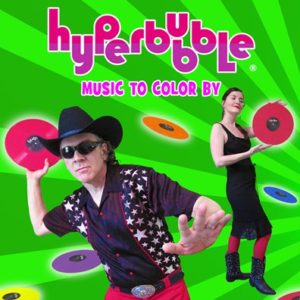 HYPERBUBBLE have always been like a living / breathing pop art concept so their unique music and coloring book artefact for some workshops at The San Antonio Museum of Art was not entirely a surprise.
The quirky husband and wife duo of Jeff and Jess DeCuir have composed a ten track instrumental soundtrack which can accompany the therapeutic shading of a 16 page 8.5 x 11 inch coloring book featuring art by HYPERBUBBLE, or act as an entity of its own.
With phasers set to fun, numbers such as the percussive 'Sunburst Yellow' and synthwavish 'Poppy Red' provide a toe-tapping discotronic backdrop. 'Nectar' with its percolating bass and spacey vibes takes in a bit of GIORGIO MORODER while the high energy bursts of 'Black Raspberry' might induce some frantic scribbling, whether there is a preference for crayons or Sharpies.
But best of all are the two playful album closers 'Hot Pink' and 'Spanish Orange'; the former is an uptempo bleep fest punctuated by choppy synthetic orchestration and a barrage of swirls, while the latter could be GARY NUMAN reworked to be less dystopian and more child friendly to accompany a futuristic rework of 'Charlie Brown'.
'Music To Color By' is a wonderfully immediate wordless wonder, that is neither ambient or symphonic, with a set of straightforward synthpop instrumentals for those who miss the B-sides or album interludes of yore. With or without the coloring book, this 33 minute collection is a good one.
---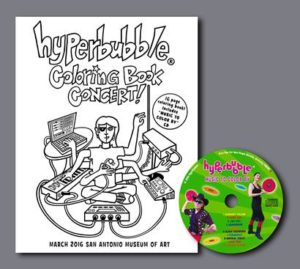 'Music To Color By' is available in either CD+coloring book or download+digital book formats from https://hyperbubble.bandcamp.com/album/music-to-color-by
https://www.facebook.com/hyperbubble
https://twitter.com/Hyperbubble
---
Text by Chi Ming Lai
24th June 2016