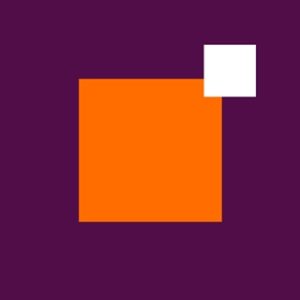 It doesn't have to be like that…
When you have a collaborative project which sees the merging of two of the founding fathers of British Electronica and Synthpop, there is always going to be a huge weight of expectation attached to it.
For many, a joint work between Vince Clarke and one half of ORBITAL's Paul Hartnoll would be akin to a guitar hook up between Eric Clapton and David Gilmour, such is the importance of both of the producers to the scene(s) that they helped define.
With that opening statement in mind, it is with trepidation that this album should be approached, will it live up to the legend that both Clarke and Hartnoll have created?
Lead single and opening track from '2Square' is 'Better Have a Drink to Think', with its Casio calculator bleeps and bass pulse; everything is all very Kraftwerkian until the vocal hook takes the song into Electro Swing territory. There is a very fine line between catchy and annoying, and it's hard at times to gauge as to which category this track falls into.
'Zombie Blip' which follows is a pretty perfunctory synth work-out with predictable stabs and a MAPS inspired breakdown. Probably the kindest thing to say about 'Zombie Blip' would be that it could possibly find a home on a computer game soundtrack somewhere. 'Do-a Bong' sounds like an ORBITAL pastiche, but with some very unwelcome horns and another irritating vocal. Of all tracks on '2Square', 'All Out' has the most commercial possibilities. Very vocal-driven with an underpinning acidic 303, given a decent set of contemporary house remixes, this could conceivably chart…
What is a little unfathomable is why this album, along with the VCMG and MG projects yet again ventures down the faceless Techno route – admittedly ORBITAL were highly respected for their dance / rave anthems 'Chime', 'Belfast' and 'The Box', but they were successful because the tracks hinged around massive riffs and sounds which set them apart from their more Euro-centric peers. There are glimmers of quality here, but much of it comes across as throwaway, the vocals which have been recorded for the project sounding like generic / soul-less library samples.
There is nothing wrong with having splashes of humour in electronic music, both ERASURE with their ABBA tributes and ORBITAL with tracks such as 'Style' and live mash-ups of BON JOVI and BELINDA CARLISLE were welcome tongue-in-cheek elements in a genre that often took itself too seriously. However here, the use of brass and the vocals on the novelty Electro Swing tracks don't seem to sit comfortably with both the ideologies of most of Clarke's and Hartnoll's former work.
There are sporadic moments of brilliance; 'Single Function' starts off like a 'Speak & Spell' era DEPECHE MODE track with ARP electronic percussion, before breaking down to a mournful Jarre-esque string pad and a cyclical Juno chord melody. The closing 'Underwater' is beautifully understated, combining a hypnotic TANGERINE DREAM sequencer melody and lead line which easily manages to sustain its five minutes track length.
The two recent JEAN-MICHEL JARRE projects have shown that primarily instrumental synth music can still have a market and ironically Clarke's 'Automatic Parts 1 + 2' on 'Electronica 1 – The Time Machine' were head and shoulders above anything here. At least with the title of this project there is an allusion that this isn't going to be a cutting edge album, but given the incredible skill set and equipment possessed by both contributors, this is a serious disappointment.
'2Square' indeed…
---
'2Square' is released by Very Records
http://veryrecords.com/portfolio-item/2square-album/
https://www.facebook.com/VeryRecords/
---
Text by Paul Boddy
18th June 2016