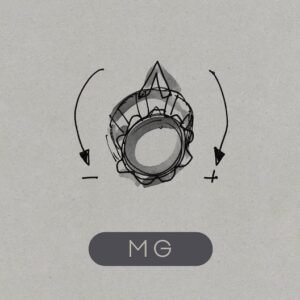 A job to either review DEPECHE MODE themselves, Dave Gahan's solo projects, or, indeed Martin Gore's, is a rare challenge.
"Is simplicity best, or simply the easiest?" Martin would ask hypothetically on 'Judas' from 'Songs Of Faith And Devotion'. Well, the Simplicity Man himself strikes again on his own, after the acclaimed 'Counterfeit' EP and album respectively and collaboration with the early DM Daddy, ERASURE's Vince Clarke as VCMG.
This time, the solo project is straightforwardly named 'MG', and conceived upon Martin coming back from the 'Delta Machine' tour with his band mates, is as elementary as it gets. The wonderfully soft and warming vocals of the genius are absent but the pure musical talent is laid bare before us. Many will scream "what, no vocals?". The point may be a valid one; however, Gore is not just the deeply soulful vibrato of DEPECHE MODE, he's heavens more.
Gore doesn't rest on his laurels, even after the strenuous, 10 month tour with the Kings Of Electronica, his wedding and honeymoon. He gets back to the studio and works. A few of the tracks from 'MG' were born while writing the material for 'Delta Machine' and they were the leftovers DM could not use due to the lack of space on the album.
Every hardcore Depeche fan had noticed the striking lack of instrumentals, which they all had learnt to love and cherish. The absence of such on 'Delta Machine' surprised immensely. But the desperation can now be alleviated with the knowledge that songs like 'Elk', 'Brink' and 'Featherlight' were written during the latest DM album sessions, and could have been DM tunes.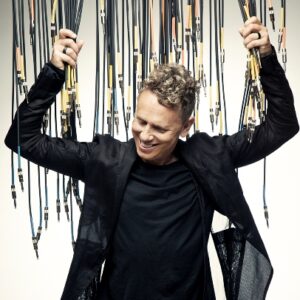 Gore claims that music on its own is far more powerful than music and voice together, as it is rawer and of primary origins. He's fascinated by the complexity of emotions and how "images get stronger" with music in its principal form. That perfectly explains the absence of vocals and creates a cinematic atmosphere, worthy of any self-respecting movie. Writing film scores is indeed something that the artist would be interested in (of course in between touring and four year breaks from Mode, as they tend to fall these days).
Gore set out to write a completely electronic album, guitars are missing and the entire production is heavily based on his new Eurorack Modular system, which gave birth to majority of the sounds used on 'MG'. Some polyphonic synths and other vintage instruments were also incorporated to achieve more of a sci-fi atmosphere.
Disappointingly, the production will not be toured, as Gore doesn't perceive the project as life worthy, mainly due to the lack of tempo. In the interviews promoting the release of 'MG', he states "it's not the sort of thing that would be very interesting or visual", but reckons he can be talked into doing a few DJ sets instead, likely to feature none of the tracks from the new album however. Filmic music doesn't lend itself well to most types of live set-ups, so the decision seems understandable, if not slightly saddening.
The album consists of 16 tracks, each as unique as they are original, with Gore's uncomplicated clarity underlining each one. 'Pinking' opens the gem with a fabulous and rather familiar DM synth extravaganza, following with organic and crude 'Swanning'.
'Exalt' is an odd sounding, a rapid in-your-face tune. The complicated layering of vibrating sounds has almost a factory quality, to the point where you want it over. And when it's over, 'Elk' enters. The fabric feel of this song draws one in, its nature cinematic, and its texture elusive. It is almost not long enough before 'Brink' introduces itself in a minimal techno fashion. Machinery images spring to mind in a mundane beat, bearing gentle resemblance of Martin's DJ sets, loved and enjoyed before Depeche come on stage.
The single track 'Europa Hymn' enters and it immediately transports the listener into the realm of uncertain emotion and feeling of weightlessness, juxtaposed with elements of drama and fright. It is filmic and simplistic, a perfectly rounded number.
'Creeper' is inspired, the Sci-Fi and futurism wrapped into this tune are second to none. 'Spiral' reverberates and pulsates in and out, while 'Stealth' has a game quality sound to it, merging various beats into one inconspicuous melody. 'Hum' is inconsequential and airy, its repeated pattern buoyant.
'Islet' resembles idyllic DM instrumentals, but is not a memorable piece however, unlike 'Crowly', which is powerful and poignant. Stronger, hypnotic in a sense, substantial and elementary at the same time, it is a piece like that would perfectly lend itself to a big cinematic production, it is immense. So is 'Trysting', expanding into levels unknown and unfamiliar textures, it is effervescent, yet crumbly in feel.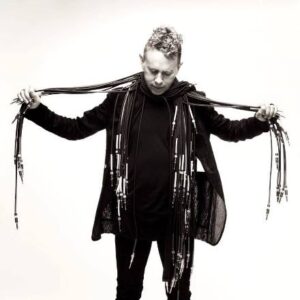 'Southerly' amazes with the melody, evocative of the emotion only Gore can elicit from a piece of music. It is ever changing, full of hesitant moments, fading unclear notions, and a great dose of uncertainty.
This would-be-a-classic-DM-instrumental. Meanwhile, 'Featherlight' enters with considerable tonality, which would have lent itself well to 'Delta Machine' from which it spawned
The album ends with 'Blade', an extraordinary piece, with Martin L Gore's signature all over it. If an electronic instrumental could be beautiful, then this truly is.
Tear jerking and bearing, strong yet delicate, simple yet sophisticated. Superabundant in emotion, it is a perfect way to close this atmospheric record.
Undeniably not for everyone, this is not an obvious type of production. The type of creation that 'MG' is, Martin Gore said to 'The Quietus' that "the images almost felt stronger" . The atmosphere of uncertainty, melancholy but clear purity, surfaces, just like with the older Depeche instrumental tracks, such as 'Agent Orange', 'Oberkorn (It's A Small Town) or 'Christmas Island'.
All-music-no-voice productions on Gore's level almost require no vocals to make them masterpieces, he paints pictures with a brush of melody, rather than lyrical content. This is highly unusual, since he is classed as a top lyricist as well as a writer of extraordinary music. Love or hate DEPECHE MODE, it has to be admitted that Martin Gore is a genius. Unassuming, slightly shy still, and clearly undisturbed with the fact that neither himself, nor his band mates, have never received the recognition they fairly deserve from the media and critics, the brain behind DM continues to shine, "somebody has to shine for me, it's difficult not to shine for me".
Even though it is different, 'MG' simply has to find its way to everyone's music collection; its appeal, not only to the die-hard fans of synthpop, electronica, but also to the grown-up cinema music lovers is undeniable. Gore's unfiltered immaculateness prevails, whether it is with his work for DEPECHE MODE, his covers on both 'Counterfeit' productions, his minimal techno with VCMG, or now on this untainted gem.
Relaxing with a glass of white, watching the clouds go by and pondering upon Martin's ideas incorporated in his emotionally charged hymns of instability, uncertainty, unpredictability and disillusion must be a true electronica fan's dream… is it yours?
---
'MG' is released in CD, vinyl and downloadformats by Mute Artists
https://www.facebook.com/MartinGore
http://mute.com/martin-l-gore/
---
Text by Monika Izabela Goss
24th April 2015