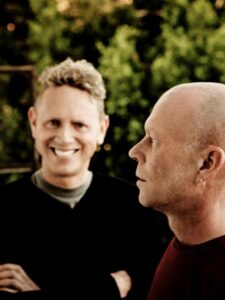 DEPECHE MODE founder members Vince Clarke and Martin Gore have recorded together for the first time since 1981's 'Speak & Spell'.
The fruit of their endeavours is 'Ssss', a collection of minimal techno which is very much Martin Gore's kind of disco.
Indeed, the album is very reminiscent of Gore's DJ set on the final night of 2011's Short Circuit Presents Mute. ERASURE were headlining the event and it was there that the pair first discussed their project formally.
The tracks were put together by the two Basildon electro boys via exchange of sound files by email.
The most immediate track is the marvellous 'Lowly' which opens the album with some sweeping synthetic strings over metronmic rhythms. Other tracks like first single 'Spock' follow-up 'Single Blip' and the ironically titled 'Skip This Track' follow a more stripped system of incessant dance but overall, these tracks are possibly more accessible than purer forms of techno, thanks partly to the duo's inherent song based prowess.
However, 'Ssss' is distinctly wordless but provides an interesting beat driven addition to the lineage that already includes YAZOO, THE ASSEMBLY, ERASURE, RECOIL and various other solo DM projects. With regards 'Ssss', The Blitz Club's legendary DJ Rusty Egan has commented "…love the VCMG album".
---
'Ssss'
is available now on Mute Records
http://www.facebook.com/VCMGofficial
http://www.vinceclarkemusic.com
---
Text by Chi Ming Lai
27th March 2012