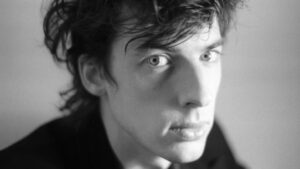 Frank Tovey – otherwise and more famously known as FAD GADGET – was one of the nearly acts in the rise of synthesiser music.
Whilst his releases garnered much in the way of media attention, the magic translation to commercial success which happened for a number of his electronic peers, eluded him.
And yet, at the same time, FAD GADGET was one of the most influential acts from the post-punk scene. Despite his lack of chart success, FAD GADGET was a precursor and inspiration to the synthpop, EBM, industrial, and techno scenes that followed later in the decade, and most notably a significant influence on DEPECHE MODE.
April 2012 marks the 10th anniversary of the death of Frank Tovey, and also the forthcoming release of a retrospective collection of his best work, so what better time to take a look back at the life of one on Britain's less feted synth pioneers? Certainly we can think of none more deserving of greater attention.
Francis John Tovey, the man behind the FAD GADGET persona, was born in East London on 8th September 1956.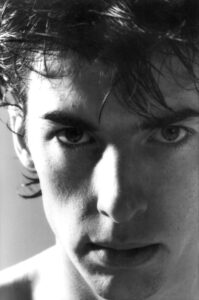 His father had a shellfish shop in Bow where the young Frank would work on Saturdays to earn his pocket money. He saved up to buy his first musical instruments, a flute, a violin, and an electric piano, but his early forays into music were none too successful, he himself saying in an interview with The Face in 1980 that "As soon as I'd learnt three notes, I'd get bored and give them up". Frank's early exposure to the likes of T-REX, DAVID BOWIE, LOU REED and IGGY POP led him – and countless others – to join a few bands, but he soon became frustrated with what he saw as his lack of musical ability and failure to master any musical instrument.
He went to St Martin's College of Art in 1974 and, subsequently, enrolled at Leeds Polytechnic. He developed an interest in performance art, apparently the only student in his year to specialise in performance, becoming heavily interested in mime in a way only a post punk artist could without laughing!
One fellow student was Marc Almond, soon to be of SOFT CELL: "I remember Frank fondly from our days at Leeds Poly in the late 70's, as being both a friend and an inspiration. I always felt we were kindred spirits. We were inspired by similar things, came from much the same world and were in many ways, even then, outsiders. Frank brought all he had learnt from the legendary Lindsey Kemp into the classes and I was eager to learn from him".
After graduating in 1978 Frank returned to London where he took up a series of dead-end jobs to support himself as he developed his interests in performance art.
Initially he wanted to make music to accompany his mime, so bought a humble set up: a tape recorder, a small Korg drum machine, and an electronic piano, and set them up in a cupboard in the house he was sharing with his girlfriend and some others.
This cupboard was the site of his first demos, including early versions FAD GADGET's first single and B-side, 'Back To Nature' and 'The Box', the latter inspired by the claustrophobic atmosphere of recording in the airless dark space of the cupboard.
Frank's housemate Edwin Pouncey was friends with Daniel Miller, who had just recorded and released as THE NORMAL, the single 'TVOD' / 'Warm Leatherette' on his own label, Mute Records. Although apparently Miller had no plans to become a proper label or release any other records, he was persuaded by Pouncey to listen to Frank's demo tape and to meet with him.
Frank recalls how he was initially due to meet with Miller at a gig of THE MONOCHROME SET, but due to an unfortunate set of circumstances involving too much beer and THE MONOCHROME SET drum kit, the meeting didn't take place until later at Rough Trade's offices. Miller was apparently blown away by Frank's demo tape and immediately offered to release a single. Frank chose to release it under the name FAD GADGET, later saying in an interview in 1982 with Paul Morley that it was intended to sound throwaway, disposable.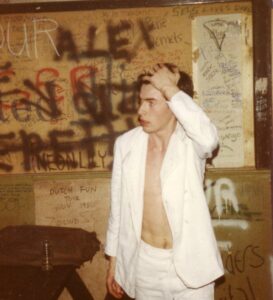 And so in September 1979, the 'Back to Nature' single was released, and became an underground classic, being played in the same kind of clubs as contemporaries such as THE HUMAN LEAGUE, THROBBING GRISTLE, CABARET VOLTAIRE, JOHN FOXX and GARY NUMAN (the latter having already had chart success with TUBEWAY ARMY and the single 'Are Friends Electric?' – it was around this time that FAD GADGET began performing live. Early gigs were apparently not entirely successful, Frank himself saying in an interview that he remembered one early gig at a holiday camp in Bognor supporting THE MONOCHROME SET (yes them again) where he performed to an audience of three.
However, the FAD GADGET stage persona was honed at these early gigs; later gigs would feature Frank stripping himself naked and covering himself in shaving cream to accompany his song 'Ladyshave', or showering the front rows of the audience with his own torn-out pubic hair. He also began to use implements like electric drills in his performance, to the great pleasure of his father, who allegedly would tell his friends that his drill was featured in Frank's music!.
Notably, one early audience member was Dave Gahan of DEPECHE MODE, who of course would go on to become label mates and notably support FAD GADGET in one of their own early gigs at the Bridgehouse in Canning Town. Furthermore, of course, some of FAD GADGET's last gigs before Frank's death were supporting DEPECHE MODE on their 'Exciter' tour.
Frank went on to record and release the second FAD GADGET single, 'Ricky's Hand' in March 1980, a cautionary tale about a drunk driver who crashes and maims himself, (featuring the strains of Frank's father's electric drill), followed by a third single 'Fireside Favourite' and the first album 'Fireside Favourites' in September 1980. This proved to be an independent chart hit and Tovey toured Europe and the United States before returning to record a follow up album, 'Incontinent', the title and the lyrical content referring to his experiences in, and observations of, the USA.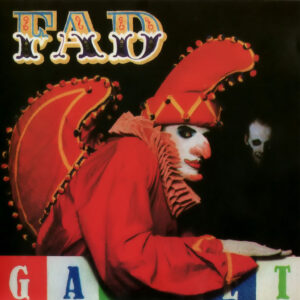 The cover features a particularly memorable photograph of Frank dressed as the children's puppet show anti-hero Mr Punch, a figure that had apparently entranced him as a child and that he felt fitted the brutal nature of the times and of his observations of American culture. Also for this album, Frank began to incorporate real musical instruments and rely less heavily on found sound and synthesis. To promote the album, FAD GADGET went on tour across the UK supporting the then-massive TOYAH, and released a series of singles, again garnering favourable press coverage, but again also failing to trouble the mainstream top 40.
Despite, or perhaps because of this, Frank went on to record a third FAD GADGET album, 'Under the Flag', at Blackwing Studios in London, featuring YAZOO's Alison Moyet guesting on the single 'For Whom the Bells Toll'. The FAD GADGET stage persona began to unravel around this time, Frank injuring himself in some way at practically every gig, culminating in a stage dive in Amsterdam in which he snapped tendons in both ankles.
The lyrics for the 'Under The Flag' album were written around the time of the Falklands conflict and were influenced by the reporting of the time, and also, by the recession and social fragmentation evident in Thatcher's Britain. Frank returned to a more electronic sound on this album, heavily using the then new Roland MC4 Microcomposer sequencer.
Positive reviews of the album and accompanying first single 'Life On The Line' led to an appearance on the newly-launched Channel Four and a slot supporting DEPECHE MODE at their Christmas show on 23rd December 1982. Frank and his band then embarked on a quite extensive tour.
1983 was a relatively quiet year for Frank, with just the single 'I Discover Love' being released, once again Frank showing a change of sound back to the more acoustic, electronics being eschewed in favour of piano. However, at the end of the year he, like many British artists before him, made a creative and psychologically significant move to Berlin to record his next album at Hansa Tonstudio, then recent home to DEPECHE MODE who had successfully mixed the 'Construction Time Again' album and recorded 'Some Great Reward' there.
The first single 'Collapsing New People' had a title referencing, and featured percussion from, German Industrial pioneers EINSTURZENDE NEUBAUTEN who were recording at Hansa at the same time. February 1984 saw the release of the last FAD GADGET album, 'Gag', the cover featuring an Anton Corbijn photograph of a tarred and feathered Tovey.
Once again the sound was a mesh between the synthetic and the more organic, once again the reviews were, on the whole, positive, and once again, commercial success failed to materialise for FAD GADGET.
Following a couple of single releases, Frank decided to retire the name and continue to record under his own name. The ensuing period of 'Frank Tovey' releases is either seen by his fans as his best, or an irrelevance. Certainly, it is a world away from the icy groove of his earlier releases, embracing even acoustic folk. For the purposes of the FAD GADGET story, we skip forward to the Millenium's beginning – the year 2000. Frank, who had at that time been producing a band called TEMPLE X, was persuaded to perform a one-off gig as FAD GADGET with TEMPLE X being his backing band.
The gig at London's Elektrowerkz was attended by some of the members of DEPECHE MODE, who talked him into supporting them on the European leg of their Exciter tour, playing in front of and being well received by arena crowds for the first time ever, one gig of which we were lucky enough to have attended.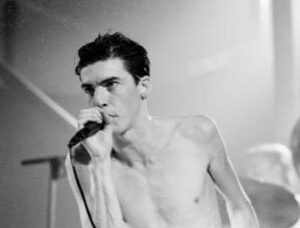 The success of the support slot for the Mode led Frank to rekindle his interest. A 'Best Of' collection was released and Frank was back writing and beginning to record what would have been new FAD GADGET material. However, the story has an unhappy end as, on 3rd April 2002, Frank died suddenly of a heart attack at the young age of 45, having suffered from chronic heart problems since childhood.
Mortality had never been far from the mind of Tovey, and in fact his on-stage entropic character tapped and communicated that frailty, those anxieties. Tovey's creativity was far from exhausted or fully realised, and he was certainly taken from the world criminally early.
Remembering and respecting the subversive genius of FAD GADGET.
---
Dedicated to the memory of Frank Tovey 1956-2002
'The Best of Fad Gadget'
is released by Mute Records
http://mute.com/artists/fad-gadget
---
Text by Mike Cooper and Nix Lowrey
30th March 2012, updated 4th April 2018