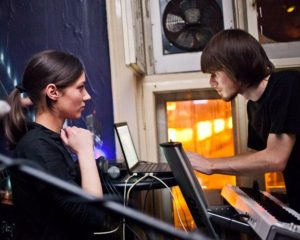 "It begins with deposits of ice crystals that are more or less separated; it forms during the cold, windy and foggy days when cooled water droplets catch the chill and immediately freeze"
Incidentally, their name in Serbian means 'frost'. Hailing from Belgrade and featuring the nucleus of vocalist Jelena Miletić and instrumentalist Jovan Vesić, INJE have had the pleasure of supporting HURTS and FAITHLESS in their home country as well as being invited to play at Exit, one of Serbia's most prestigious festivals.
Their chromatic Eastern Bloc charge will almost certainly please followers of LADYTRON. The excellent 'Kofein I CO2' from their EP 'Protok' is sort of DUBSTAR meets DAVID LYNCH film soundtrack with some sparing guitar work by Marko Ignjatović. It possesses an aural magnetism that is gorgeously layered with an air of wispy innocence. The self-directed video meanwhile captures a suitably enigmatic tension in keeping with the song.
Serbian newspaper Politika have described INJE as "minimal, dream-like electropop with ethereal female vocals". Their first recording 'Lego' was for the compilation 'Maska Sessions' in 2008. While not particularly electronic sounding and sweetened with sax, it was a well crafted object of beauty.
Their acclaimed 2010 single 'Danas' has been a cult favourite in the Balkans while the remainder of the 'Protok' EP has a reserved melodicism driven by danceable but chilled out grooves. 'Bez Protoka' in particular with its steady backbeat and sweeping synthetic atmosphere recalls MARSHEAUX's Sorrow which in turn was inspied by DEPECHE MODE's 'Halo'.
---
'Kofein I CO2' featuring two extra remixes, The 'Protok' EP and 'Danas' are available as free downloads via INJE's website
http://www.facebook.com/injeinjeinje
---
Text by Chi Ming Lai
3rd April 2012