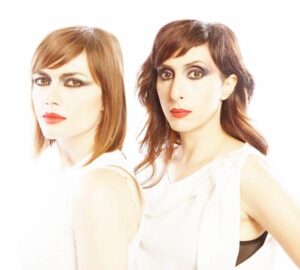 Comprising of Marianthi Melitsi and Sophie Sarigiannidou, the name MARSHEAUX is actually derived from the first syllable of each of their names.
Originally from Thessaloniki, the girls moved to Athens and came together to further their appreciation of electronic pop music. Brought up to the sound of the synthesizer and learning to dance to the beat of electronic drums, Marianthi and Sophie lived on a healthy diet of DEPECHE MODE, HUMAN LEAGUE, OMD, SPARKS, SOFT CELL, DURAN DURAN and NEW ORDER.
They released their first studio album' e-Bay Queen' in 2004. MARSHEAUX's irresistible mix of classic pop hooks and virtual analogue synthesis has seen them stretch their sophisticated appeal across Europe.
2007's 'Peek ABoo' made a great bleep forward but it was their third opus 'Lumineux Noir' that was considered to be MARSHEAUX's most accomplished work to date. Well received appearances at festivals including Pluswelt and Amphi have gained them a loyal, enthusiastic following. In addition, MARSHEAUX have also played prestigious support slots for OMD, ROISIN MURPHY and CLIENT. As well as recording original material, MARSHEAUX have remixed for other artists including DEPECHE MODE, THE HUMAN LEAGUE, OMD, MOBY, KATY PERRY, MYLÈNE FARMER and ANDY BELL.
In a break from recording their fourth album, ELECTRICITYCLUB.CO.UK were kindly granted an audience with MARSHEAUX and chatted to us about their upcoming campaign.
The new album has taken longer perhaps than the fans were expecting. What has been happening since 'Lumineux Noir' in 2009?
There may have been three years since the last album but it doesn't mean though that we haven't done any other work! We did a lot of remixes and collaborated with other artists too. The truth is though that we work with our own time schedule. We don't put deadlines and we don't want to get stressed about it. Also, the last two years of the crisis happening here in Greece, it would have been a lie if we'd said that it didn't affect us.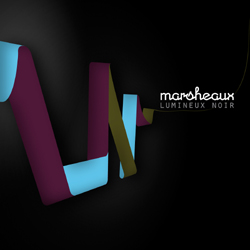 How do you look back on 'Lumineux Noir'? Many considered it your most accomplished piece of work, your 'Violator'…
Ha! Ha! We'd rather say that 'LN' was our 'Low Life' and that now, we are releasing 'Technique'. So you have to be patient about our diamond 'Power Corruption & Lies'. 'LN' was literally a wonderful album. We had great critics coming from all over!
Our new album though is going to be even better than that!
Have your writing and recording methods changed much since Lumineux Noir? Where has there been the biggest development in your opinion?
We haven't changed much. The way we write songs is exactly the same as before… the only thing that has changed is that we have better sound cards and mixer!
Have you purchased any new toys or instruments to help you along?
We've bought some old drum machines like Linn Drum LM2 and Oberheim DMX. Also the Korg PSS50 Super Section that Martin Rushent once advertised which we bought from Dean Honer of I MONSTER who did the production for THE HUMAN LEAGUE's 'Credo'. We also want to buy the Dave Smith Tempest designed by Roger Linn!
You have been unfairly criticised for your lyrics in the past… I would like to see these people write in Greek. How are you finding this aspect of your songwriting now?
We never claimed to be the Leonard Cohen of electropop. A lot of wonderful phrases in Greek don't sound as great in English or even worse sound silly when written down on paper. You have to think and write like you are English, which is really difficult as we are not brought up there! We've made an extra effort on the new album though!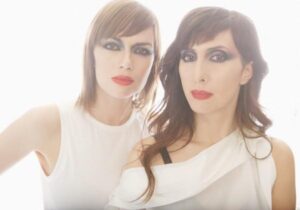 What new musical influences have there been? FEVER RAY seems to be one, but are there any others?
If you are referring to' Can You Stop Me?', you may be right, but it is the only song written in that style.
We really love FEVER RAY but she's never been of our main influences! We prefer THE KNIFE.
We haven't been influenced by any in particular in this album.
You had over twenty songs to choose from for this album? How did you come to your final selection?
It's been really hard because the three years that have passed since 'LN', we've written a lot of demos. The twenty songs we've come down with are considered to be the ones that have the dynamic for a new MARSHEAUX album. Eleven of them made it to the album, some of rest remained really rough, some others were completed but were rejected. These ones are going to be put, among with other obscurities, in a compilation named 'The eBay Queen Is Dead', that will be only be available at our concerts.
How would you describe the sound of the new album? What makes it different to 'Lumineux Noir' and your other work?
Atmospheric electro pop… honestly it is difficult to tell the difference from our other albums. All of the albums are our children. Each one of them symbolizes a different time period in our lives. 'eBay Queen' has the naivety of the beginner, 'Peek ABoo' has all our optimism and a very good mood while 'LN' is a bit darker. The new one has our feelings more exposed and is more daring.
What are your favourite songs from the new album and why?
'Self Control', 'Alone', 'Inhale', 'End Is A New Start' and 'Come On Now' are some but we won't say more, because we don't want to spoil it!
How is the packaging looking for the new album? What crazy proposals did you consider and reject?
We really don't know yet. We've already discussed some ideas with Undo, the only thing for sure is that we are going to use our own images on the cover. We'd really love to have a colorful 7''s box. We love to have vinyl. We believe it would work with our aesthetics. Undo is going to release all of our three past albums in vinyl in 2012.
Which festivals and countries do you hope to be playing as part of this forthcoming album campaign?
We already have Spain, France, Portugal, Sweden, Canada and USA booked. We have to wait though first for the album to come out so that we later can announce our tour! Another difference from the other albums is that we have decided to tour for this one, something we've never done before!
Your favourite songs or albums by other artists at the moment?
Has ORBITAL's album been released? We've great expectations from this one! We're also waiting for the new HOT CHIP. The 2BEARS side project was really good.
THOMAS DOLBY's album was a surprise! WASHED OUT are great! Same goes for JOHN MAUS. We were expecting much more from GRIMES and of course we have to mention THE SOUND OF ARROWS and JOHAN AGELBJORN's 'Casablanca Nights', their work that got stuck on our players. We also love ECHOES, they are going to remix our new single and we recently heard STILL CORNERS 'Creatures Of an Hour'! Great work too!
---
ELECTRICITYCLUB.CO.UK gives its sincerest thanks to MARSHEAUX and Undo Records.
http://marsheaux.wordpress.com/
---
Text by Chi Ming Lai
15th April 2012