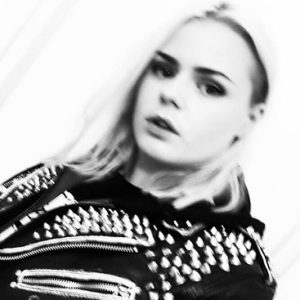 Every now and again a debut release comes along that just screams "star in the making".
REIN is the polar opposite end of the electronic music spectrum to the likes of CHVRCHES, but it's plain to see that she is on the fast track to achieving success.
Joanna Reinikainen was born in 1990 in Sweden near to the capital city of Stockholm.
She felt like an outsider in her youth, she was different to her peers. When she was thirteen, her father took her to see KRAFTWERK.
It was a revelation and she knew then that she wanted to write and produce her own music. It could be said it wasn't a huge surprise as the music business is in her genes, her father was a successful pop star in Sweden in the 1980s.
She cites NITZER EBB as a big influence and her own material as addictive, drum heavy EBM. She was the guest vocalist on Swedish duo OPERATING TRACKS single 'Testify' in 2015 and then went on to record her debut EP at the end of that year. Released in January 2016, it created an instant buzz about this fiercely independent female music artist.
The self-titled EP is a five track statement of intent, to showcase her abilities and talent. Track one is a hard hitting, adrenaline pumping anthem 'There Is No Authority But Yourself'. Don't expect hearts and flowers, all REIN's tracks are gritty and could be said to be a bit gloom laden, but REIN likes to tell it as it is. Second track 'Concrete Jungle' has an unexpected softer vocal to begin with, but then hits back with a bombastic climax.
'Can't Handle Me' is a defiant, hook laden blockbuster, followed by 'Rebel Girls' which could be a homage to the strong, political women that she admires in the music industry like MIA, the British solo artist. DIE ANTWOORD would be another act she would like to work with too, given the opportunity. The EP's last track 'Born To Die' is a life reality checker and undeniably punk inspired.
She loves to write and produce in the studio, mainly on computers but is just as passionate about performing live. As expected, she is a force on stage with just a female drummer, Irina Rojas for company. So it's no surprise that fellow countrymen COVENANT wanted her to support on their upcoming tour, while she will be performing as support to the iconic electronic pairing DAF at BodyFest on 15th October 2016. More live dates in Sweden have been announced and having just signed to Playground Music, a new single is expected later in the spring.
---
With thanks to Andreas Jismark
The 'Rein' EP
is released by Cold School and available via the usual digital platforms
https://www.facebook.com/reinofficialmusic/
https://www.instagram.com/_reinofficial_/
https://soundcloud.com/reinelectronic
https://open.spotify.com/album/1v1qJ1YAofpZYXlPrfTbcY
---
Text by Deb Danahay
24th March 2016