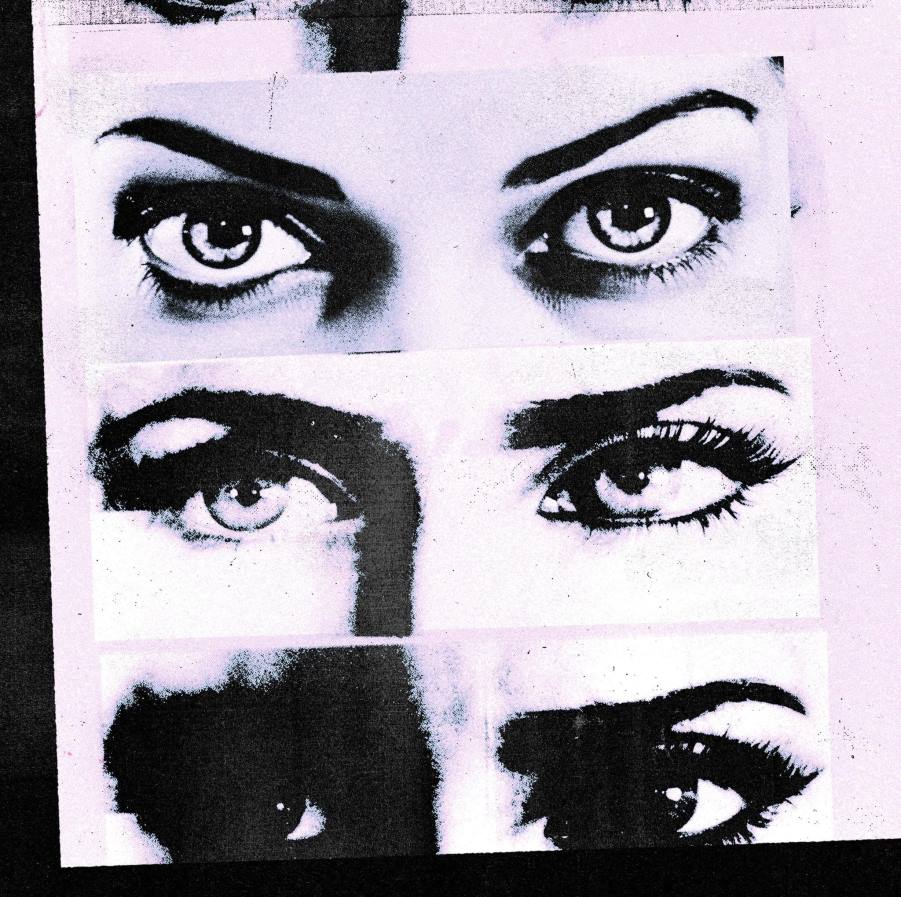 Berlin-based musician and DJ Luca Venezia, better known as CURSES, presents 'Next Wave Acid Punx DEUX', his second curated compilation exploring the darker side of club music though the decades. The first volume had been a lockdown inspired exploration of his own record collection.
Released by Eskimo Recordings and featuring 49 tracks, the music is split into three distinct chapters with more than half being previously unreleased; "Many of these songs come from friends close of mine, or artists I perform with and tour with a lot, whose music and craft I admire and champion." Luca Venezia told ELECTRICITYCLUB.CO.UK about the set, "We are all making a very niche style of music, and everyone is approaching it in their own unique way, it is only natural we migrate to be friends and share the stage together… like a primal instinct."
Conceived with his ideal night out in mind, compiling such an compilation was not without its headaches; "Fortunately with the help of Eskimo and N.E.W.S., the licensing team are an absolute powerhouse" recalled Venezia, "It wasn't easy, especially the older material, like Malcolm McLaren's 'Madame Butterfly'… and yes, there was SO much music I wanted but couldn't get the rights to. Not because the artists said no, but because it was impossible to find WHO owned the rights now. Members in bands split up, some pass away, some vanish… it's a puzzle at times to license the 80s underground electronic gems".
Chapter 1 contains the pioneering acts of the past that were occasionally signed to major labels and even flirted with the mainstream pop charts. The set opens with 'Distant Dreams Pt 2', a wonderful suitably obscure 1980 B-side from THROBBING GRISTLE, while another lesser known gem comes from BIG AUDIO DYNAMITE with 'The Big V', the instrumental variant of the 1986 single 'V. Thirteen'.
The first name likely to be recalled when dark club music comes to mind, especially to Taylor Swift fans, are CABARET VOLTAIRE and they fit like a glove on this compendium with 'Blue Heat' from 'Micro-Phonies', as do Dutch band CLAN OF XYMOX with 'Obsession', an excellent example of classic electro-goth disco.
Of course, NITZER EBB are present and correct with 'Hearts & Minds' while DAF stand firm with their declaration as 'Brothers' in their appealing but less heralded English language disco phase.
Collecting superb tracks from various acclaimed cult acts, 'The Murder Of Love' by PROPAGANDA and the I Dream Of Jeanne Mix of 'Modigliani (Lost In Your Eyes)' by BOOK OF LOVE demonstrate how the developing digital technology enabled powerful sampled sounds effectively at the flick of a switch. However, best of all are former SOFT CELL backing singers VICIOUS PINK who really should have had a huge worldwide hit with the brilliant Tony Mansfield produced 'Cccan't You See'
Chapter 2 moves the night on starting with 'Voloczny', an unreleased song from back in day by BOYTRONIC towards the present with modern day electronic producers such as Jennifer Touch and Kris Baha. In a new 2023 version, THE KVB come over like THE JESUS & MARY CHAIN with synths on 'Still Warm' while YEARS OF DENIAL capture plenty of stark menace on 'It Sucks.
Canadian wife-and-husband duo ESSAIE PAS provide enigmatic prose en Français over a cascade of pulsing synths on 'Retox' while Berlin-based trio DINA SUMMER update the gothic disco template on 'Darkness'. Affirming the international cast of 'Next Wave Acid Punx DEUX', Spain's DAME AREA go on a heavier industrial club excursion via 'Buon Cittadino' but on the opposite side of the coin and Atlantic, DESIRE offer enigmatic coyness on 'Love Races On' outside of their Italians Do It Better stable.
Chapter 3 is the part of the night you probably should go home but don't… a wilder, harder and more aggressive energy is here if you so desire. There is naturally a Dark Remix of 'Machina' from BOY HARSHER with guest vocals by Mariana Saldaña. But utilising tense triplets and brassy melodramatic stabs, CURSES revamps J.W.B. HITS THE BEAT's 'Body On Body'. CURSES returns to remix NUOVO TESTAMENTO's 'Heartbeat' and there is an enjoyable instrumental in 'Non Fiction' by SILENT SERVANT.
Two of the best tracks come via Australia; 'Burning Eyes' is a Hi-NRG romp with wispy voice ad-libs courtesy of NEU-ROMANCER and ZANIAS' 'Tryptamine Palace' is a tremendous textural dance track. ANDI VS RANDOLPH & MORTIMER make their presence felt with big beats on 'Formidable Truths' while Michel Amato aka THE HACKER does not disappoint with the previously unreleased 'Monopoly'. To end, Greek synth duo PARADOX OBSCUR make a beefy contribution in 'Evo-Devo' that recalls French art pop duo LES RITA MISOUKO.
On the spiritual and musical thread that helped make this cohesive collection, Luca Venezia surmised: "Every artist involved has their own personal and unique take on the timeless love affair between human and machine. All the music on 'DEUX' also embraces the punk and DIY raw energy of live music into electronic music; artists LIKE YEARS OF DENIAL, BOY HARSHER, NUOVO TESTAMENTO, NITZER EBB, BOYTRONIC and DINA SUMMER are all good examples of how the music is very personal, verse chorus verse song-based concert music, yet can also be DJ'd in a club at 4am in a dusty thriving warehouse rave."
Music from the past and present can sit comfortably together in the same place and 'Next Wave Acid Punx DEUX' proves it.
---
With thanks to Luca Venezia and Mirren Thomson at Eclectica
'Next Wave Acid Punx DEUX' is released by Eskimo Recordings, available now as three separate chaptered double vinyl albums, a three chapter vinyl combo pack, a triple CD box set and high quality download direct from https://cursesforever.bandcamp.com/album/next-wave-acid-punx-deux-2
https://link.eskimorecordings.be/NWAPDEUX
https://www.facebook.com/cursesforever
https://www.instagram.com/cursesforever
http://www.eskimorecordings.be
http://www.facebook.com/eskimorecordings
https://www.instagram.com/eskimorecordings
---
Text by Chi Ming Lai
7 November 2023