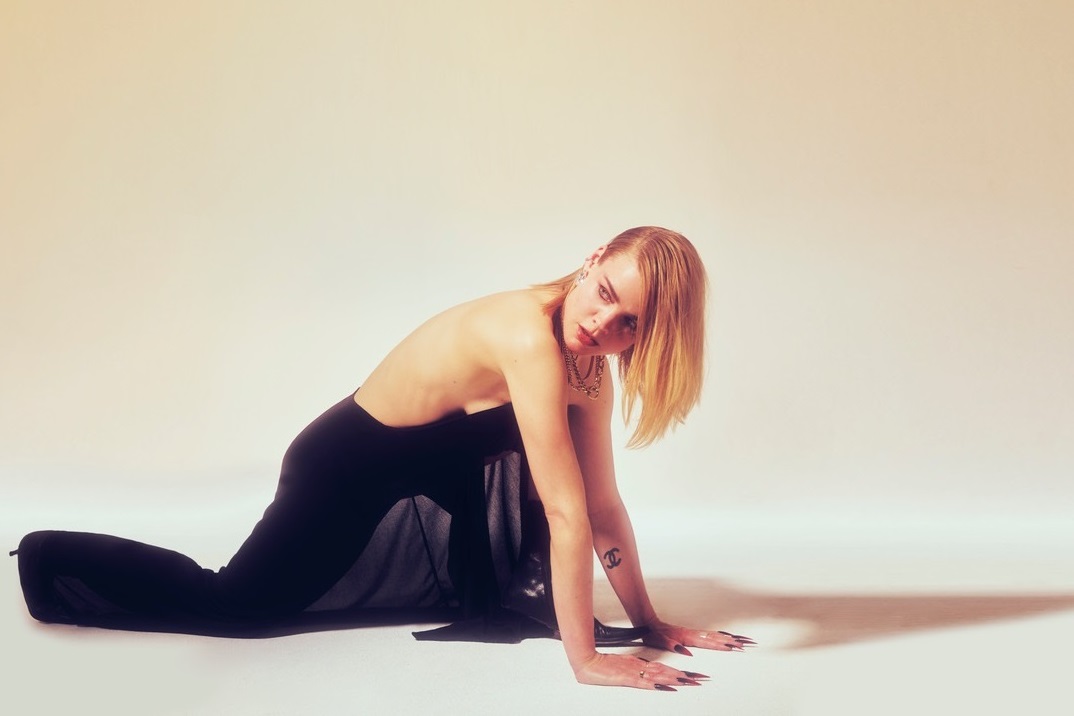 Born in Dresden, Jennifer Touch presented her first recordings in 2014 although only released her first album 'Behind The Wall' in 2020.
But the now Berlin-based daughter of DDR flower-power children presents her second album 'Midnight Proposals' in February 2023. Unlike her autobiographical debut, Touch was inspired by John Steinbeck's book 'Grapes of Wrath' when she started to work on a follow-up.
The album's first taster was 'Summerchild', a song born of frustration containing a narrative of powerlessness while seeking self-freedom. Although this track was inspired by Touch's own childhood as were most of the tracks on Behind The Wall', it acts as a bridge to 'Midnight Proposals' as it discards the shackles of adolescence. Meanwhile the second minimal industrial taster 'Gudrun' pays tribute to Touch's grandmother, a child of the Second World War who was forced to abandon many of her own dreams.
With the newly issued Zanias like single 'Sacred Type' and the imminent release of 'Midnight Proposals', Jennifer Touch spoke to ELECTRICITYCLUB.CO.UK about her career to date and the making of her "Post-Wave-Cold-Pop-Acid-Romance" opus…
Your 2020 debut album looked at your life 'Behind The Wall', how do you look back on the making of that record now?
It was a very important step for me as an artist to focus on selecting existing songs, and combining them with new ones. It was an intense and difficult project important to surrender to. I was searching for my very own artistic language that has started with the 'Chemistry 'EP, and I remember it being a time when I was stepping out of my normal social life to stay focussed and not influenced – for way too long. I was working so hard because I thought I had to give it all in order to reach the next level and to be a true artist. My album had to be done this way though. It was my idea of being an artist back then and it was authentic to me. Shortly after that, the pandemic happened, and as I had already spent months in isolation out of choice, I was just ready to get out again. Boom! You never know what's happening tomorrow.
You were introduced to synthpop and new wave by your father, what artists inspired you?
There are always so many, across all the arts. Writing, painting, film and music, Elvis, Allen Ginsberg, Iggy Pop, Georgia O´Keeffe, Depeche Mode, PJ Harvey, Patti Smith, DAF, Cure, Madonna, Sonic Youth, Silvia Plath, Truman Capote, David Lynch, Anne Clark, Elastica, Cause for Alarm, Nirvana, Bikini Kill, old American Psychedelic Country and Folk Music, Gottfried Benn. And Lacrimosa. I was listening to them non-stop when I was 16, it was weird but so dark and romantic, perfect for my teenage heart. But I mixed it with punk rock and Siouxsie's 'Hong Kong Garden'. Mostly I´m inspired by a certain authenticity and a stoic but eclectic vibe that is definitely rare. People who just walk their path no matter what. That can also be normal people around me, people who I feel are artists, you know? The way they talk, look, create their own world. Today it's so hard to stick to your authenticity with all this social media crap.
'Chemistry' could be considered your breakthrough song, what was that about?
This song is – surprise – about being in, and leaving an unhealthy relationship. I was sitting in my studio on a rainy Sunday when I wrote and recorded this song. It just happened, and there was a flow to it as if the sadness and anger were showing me the way. But I tried to keep the song as unemotional as possible, as to not just put my sh*t on to others. To keep a space for the listeners to sink into the song with their own thoughts and reflections. It's interesting how people seem to love this song. I think it's a nice one but not my best. But it's a very honest piece of work, and people can always feel that.
You channelled good old Jim Osterberg in 'Iggy's Sight'?
I was messing with this bassline of 'I Wanna Be Your Dog', that he must have taken from another song originally too. I just wanted to play around with it, and imagined Iggy as a woman, then the lyrics came to me. He is one of my guides in the art world, and def a future vision of how to become older and remain cool and musically interesting. He inspires me and I have a huge portrait of him in my studio. He watches over my work like: Are you sure?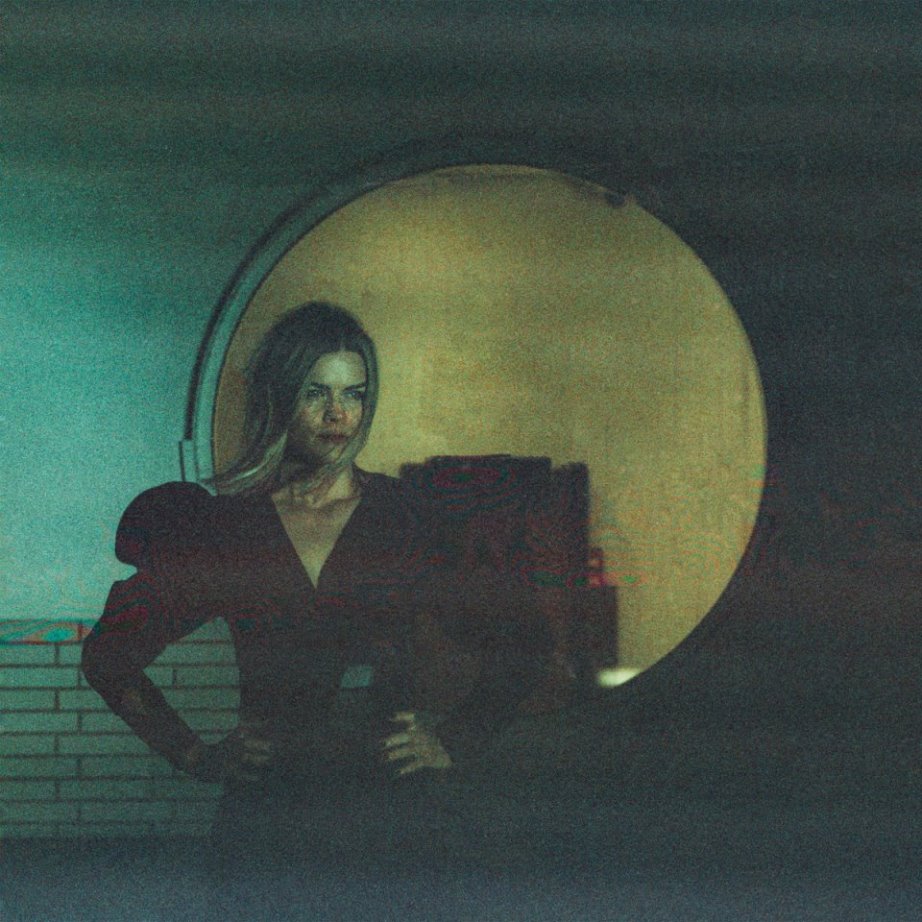 They say the first album documents a lifetime up to that point, while the second album captures a much shorter period. So what is the concept behind 'Midnight Proposals'?
The pandemic changed the whole production process, especially doing a vinyl, now labels now had to wait almost 8 months to receive their test pressings. I had to be quick and efficient if I wanted to release something the next year. For months I was not feeling creative at all, still exhausted from the Pandemic struggles. That was until I realised if I changed my work process I could create something really good.
The concept was to approach a good art piece in a more efficient way of creating, and to surrender myself to a fixed amount of time. To deliver a blueprint, an essence that shows my artistic language at exactly that moment, honest and clear. The pandemic changed me. Time has a new meaning to me. It's a huge treasure and comes in boxes – a box of isolation, a box of freedom, a box of creation, a box of touring, a box of reflection.
I had a period of 4 months to create something, after the endless and numb isolation times of the pandemic, followed by an intense and busy summer. I hadn't a single song finished (just one set of lyrics) before I started, so it really was a blank page. I was full of impressions and had a vision, so I had to trust myself that the good stuff will come together. I was determined to use my creation time differently, and to be more disciplined and clear with my output. Artists don't need to spend a year in a bubble to make a good record. A good artist can drift in their own universe, but work efficiently and enjoy a social life simultaneously. That is the fuel and support. It took me 1 month to research the perfect equipment to stick to over the whole time of creating the album.
I already had a topic and feeling in mind, and I couldn't sleep some nights because I was thinking of the perfect synths and drum machines that were also affordable. Because everything was limited, including time and equipment, so I had to be very picky and disciplined. The whole process was incredibly healing, and I love to work like that. Quick without being sketchy. That is my most important rule: To give in the very best you have – and to embrace it as it is, to let it breathe.
2019's 'Seven' EP released after the first version of 'Chemistry' was a more techno-based offering, so how did you decide you wanted to continue with songwriting?
Over the years, songwriting became my favourite challenge as a musician, I'm much more interested in creating a good song than a cool techno track. An album for me is song work, because I consider myself to follow that musical tradition, also called Pop. I try to recreate and evaluate. I'm not very good at making longer dance tracks yet, but I'm more and more keen on nailing down the essence of a composition. Songwriting is a big effort, but it can be so rewarding. Like doing maths with your feelings. Creating a more open and longer dance track requires another way of dramaturgy that I'm just not so drawn to. Who knows what happens next though.
Many recent albums have just had 8 tracks on but 'Midnight Proposals' has 13, did you have a lot on your mind that needed expressing?
Yes I did and there is much more. Ultimately if the songs were crap there would be less, but all 13 songs (12 on the vinyl) are part of the story I want to tell. And two of them are more like interludes. The label picked them all. And the listeners should be able to spend some time with it, because they pay money for this artwork.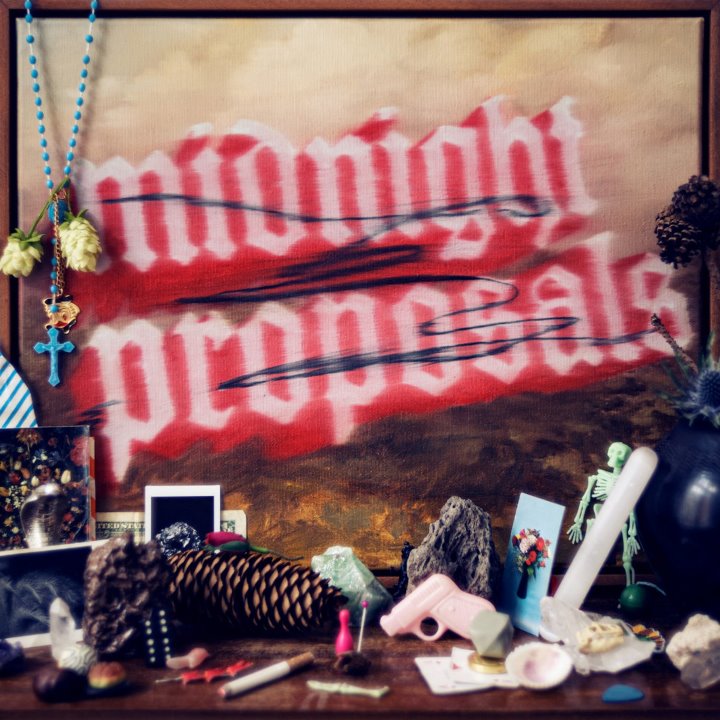 How has your writing and production process changed between the two albums, do you have any favourite synths and tools?
Besides the shorter amount of production time, I also changed my tools and equipped my studio with new stuff. Again, I worked mostly with machines and not so many plug ins: Drawmer 1970 Compressor, a Vermona Reverb, Doepffer Dark Time and Dark Energy, lots of analogue Guitar Delays and Reverbs, Guitar, Bass, Percussions (like a triangle, claves, bells), some Drum Machines (DDD-1, Alesis SR16, Kawai R100, Emu Drumulator Plug in) and a Poly Korg and Waldorf Blofeld Keys Synthesizer.
I was happy to use different microphones I borrowed from a friend. As I had to produce the record in a pandemic winter, I had to be more independent with my mixing techniques, I had no other options. The first album was finished at Devon Analogue Studios, where I could add some sounds and effects I didn't have in my studio. This album is recorded, mixed and engineered entirely with my own equipment. For the very final mix, I went to a friend's studio next door. He has these awesome analogue compressors, so I was able to do the final frequency tweaks. It's always good to go somewhere else for the final touch, where you can hear another sonic spectrum of your work.
'Rumors' is an interesting track in that is it quite avant-pop, accessible yet tinged with anguish, how did this come together?
That's a nice description. I don't really know how this came together, I sing about this Pop-music-moment of a new relationship or love, that we can't enter from a totally neutral place. We all have our experiences and worries, and it's sometimes hard to believe something healthy and nice can just happen to us. I think the excitement that something great is happening to you, mixed with hazy hope and still one foot in the door makes this song so full of different vibes. Happiness packed in a pop song with a small portion of darkness, as always.
You have mentioned the "different freedom boys seemed to have", do you think that is the case in music?
It´s the case everywhere. If you want be a free woman (or an as female identifying person) you still pay a price. Also for queer people or for any diversity, it´s still such a tough path. I can only speak from my experiences in music business as a straight, Cis woman, but you are always judged and compared to other women, whether it is your look or your content. You are not as good as ABC, or you are better than XYZ, but you are too old, too young, too sexy, not sexy enough, too pretty, too weird… you know.
It never changes, and girls are raised with this competitive state of mind, where it becomes normal to question ourselves and others constantly. It's just what we have to deal with. Why can't we just do our thing and exist NEXT to each other, instead of ABOVE or BELOW. This sucks and has nothing to do with artistic development, trial and error. Society has to develop an eye for the little details, take a closer look and give us a break. Put in some effort. Question your boxes. Actually I made a song about this feeling called 'A Day.' It's on 'Midnight Proposals.'
You play with different vocal styles and tones on the album, from sung, spoken and shouted with 'Prayer' using a deep pitch shift?
Yeah, it was fun. I wanted all the different personalities that exist in my voice, and the different shades. After years of singing I feel more free to use my voice. It´s an instrument, influenced and inspired by so many great female vocalists.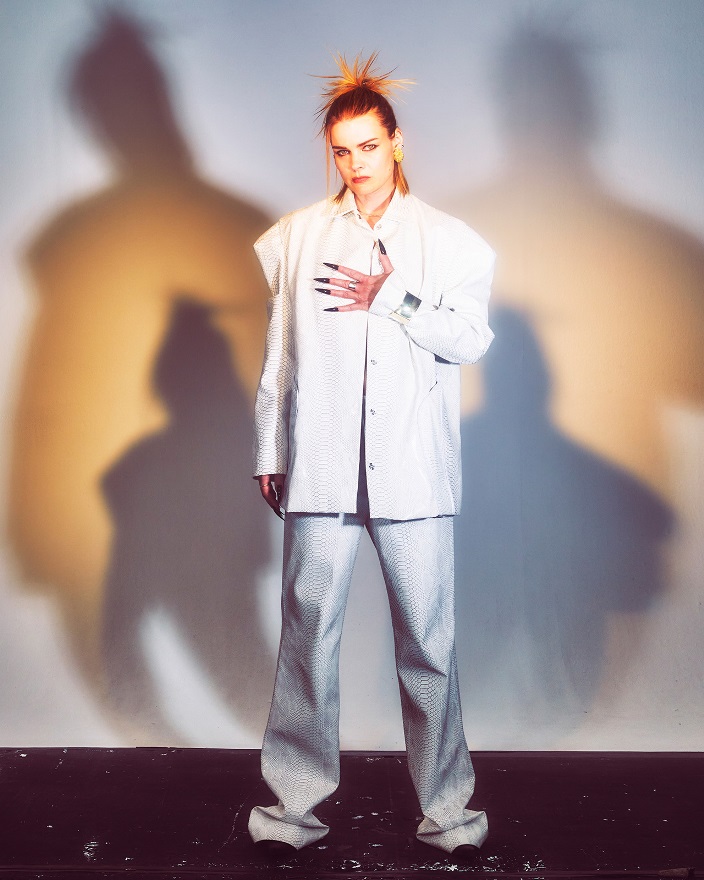 'Sacred Type' is like synthpop Siouxsie but also shows a musical affinity with Berlin-based artist Zoe Zanias, do you feel any kinship with other female electronic artists in the city?
I feel a kinship with any woman out there, especially in music and the arts because it´s a tricky area as mentioned above.
My songs have been created in a very intimate and safe environment, but they will undoubtedly be compared to songs by other women. I just respect these women and celebrate them for what they achieved, because we all stand for any other woman out there. However, I rarely follow them as I try to do my thing.
'Twisted' has this great dissonance about it with these eerie harmonics?
Yes, totally, it's a twisted song. The elements fight against each other but come together as well in a weird way. The synth sound bothered me, but after some struggles, it worked out so I kept it. It shows the theme of the song. It's imperfect and there is disharmony. So it is human and I love that.
The closing track 'Strings', musically it's like THE CURE meeting Gary Numan?
I feel it's such a 90s ballad, more NIRVANA or something like that. I´m sure the guitar line is not new, but my focus was on my voice and recreating a song that probably never existed, but has been stuck in my head since I was a teenager. It's the counterpoint to the song 'Rumors'. The ending of the story that started with song 2.
Do you have any particular favourite tracks 'Midnight Proposals', if so, why?
I think 'Prayer' and 'Gudrun' are my favs atm but I really love every song.
Who do you hope that 'Midnight Proposals' will appeal to? How do your techno fans react to the song-based material?
I have no idea. I also don't think I have techno fans at all. My music has always been something between a track and a song. I always tried to write songs, even when it was music for the club. The songs are what appealed to me in this moment, and I think this is my most authentic work to date. I´m very proud of this record, but also super nervous how it will be received. The songs are my babies and I want them to be enjoyed, accepted and seen without being judged or in comparison.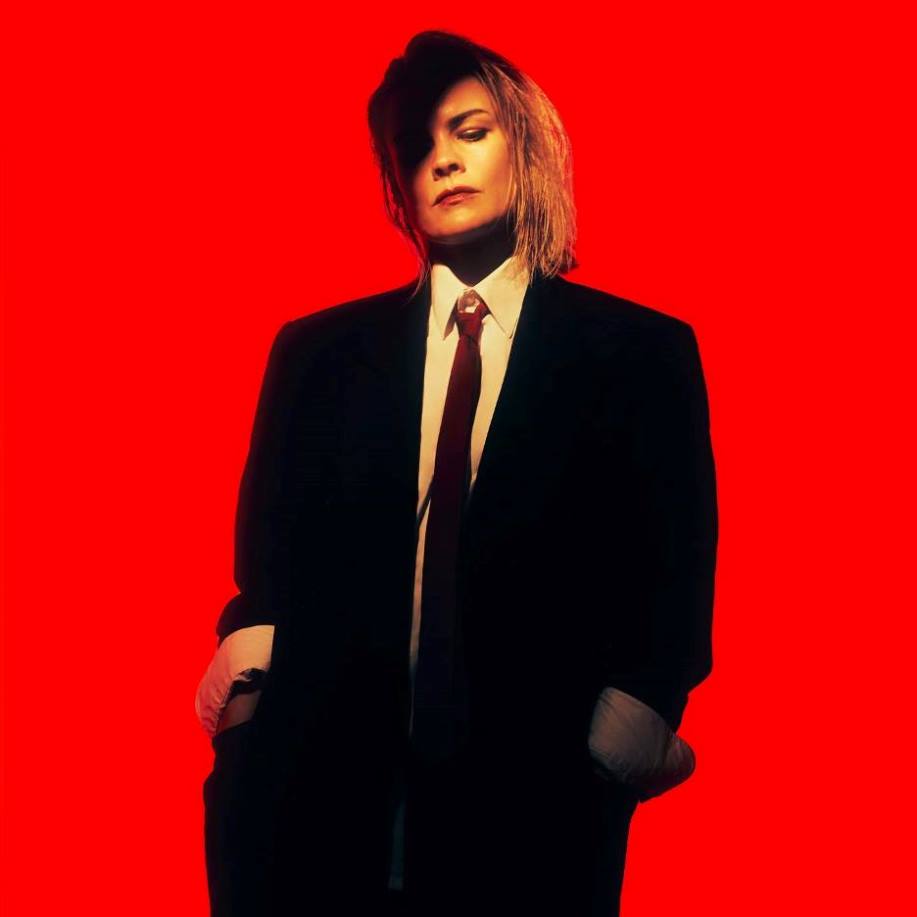 What is next for you?
I really hope that I can go on tour with this album, so at the moment I am working on my live set and some merch. I'm also dreaming of setting up a Jennifer Touch live band in the future, to go on tour together. And I would love to work with artists from other areas, like painters, writers, film makers, maybe in a residency in another part of the world.
Next to making music I'm also kind of a writer, and I often think about publishing a lyric book. But I try to keep the flow with things, I don't want have too many fixed ideas of what's coming next.
There has been a lot of disappointment over the last years, but I'm cool with it now. As an artist you are that creative part of a society that has to adapt quickly, showing reflection but still sticking to your core values. If you can harness this and realise your own worth, it can be a very exciting path to walk.
---
ELECTRICITYCLUB.CO.UK gives its sincerest thanks to Jennifer Touch
Special thanks to Billy Williams Burrell at 9PR
'Midnight Proposals' is released on 17th February 2023 via FATCAT Records, pre-order from https://jennifertouch.bandcamp.com/
https://www.facebook.com/touch.jennifer/
https://www.instagram.com/jennifertouch/
https://soundcloud.com/jennifertouch
https://open.spotify.com/artist/2RTTomV6iq54PkO0g3KLOO
---
Text and Interview by Chi Ming Lai
Photos by Vinnie Liazza
23rd January 2023