Following the debut single 'When We Were Young' b/w 'Kleiner Satellit' in 2008, TWINS NATALIA finally release their first album 'The Destiny Room'.
The Anglo-German ensemble comprises Anna Logue Records supremo Marc Schaffer, graphic designer Steve Lippert, synth wizard Dave Hewson and vocalists Sharon Abbott and Julie Ruler, the latter three from cult combo POEME ELECTRONIQUE. Using vintage synths and "working together in order to create some beautiful, catchy yet melancholic and substantial electropop", TWINS NATALIA have captured a pristine technostalgic journey through Europe of real life and postcard views.
Touchingly melancholic with classic Weimar Cabaret melodies and vibrant Kling Klang interplay, the soundtrack conjures memories of holiday romances with pretty German Frauleins and flirty French mademoiselles. With classic Roland drum machines, the metronomic structures of TWINS NATALIA's songs are the backbone to a wonderfully emotive soundtrack of elegance and decadence.
Like with other dual female fronted combos such as PROPAGANDA, LADYTRON and MARSHEAUX, the combination of sweet wispy countenance together with the occasionally half spoken intonation makes things rather appealing. Sharon Abbott's deeper, Dietrich-like vocals and Julie Ruler's more ABBA-esque demeanour are complimented further by a two way counterpoint courtesy of Dave Hewson and vocoderizations by Marc Schaffer.
Previewed on 'The Anna Logue Years 5th Anniversary Compilation' in 2010, the gorgeously arpegiated opener 'Destiny' is beautifully melodic and simply outstanding. Rich, vibrant soloing from Dave Hewson on a Roland Jupiter 6 acts as a wonderful dressing, as it does throughout the album.
Second song 'Into My Arms Again' features the type of octave pulse familiar to lovers of 'Rent' and 'Blue Savannah' which will provide a pretty entry point into the classic style of synthpop on display.
'I Avoid Strangers' ups the tempo with a frantic HI-NRG romp. Featuring Dave Hewson on lead vocals and lyrics by Steve Lippert, you could be forgiven that this might be the CHVRCHES blokey moment of the album. But Herr Hewson possesses a voice that suits the song perfectly and the end result is not at all out of context. Meanwhile 'Scary Monster' and its vocodered robots add a more mechanised outlook to proceedings.
On 'Don't Fade Away', the pace steadies before the glorious 'Bear Me Up'. This one is not unlike GINA X PERFORMANCE reconstructed with a romantische Eurovisionary chorus… but don't let that put you off; after all, the Belgian synth pioneers TELEX did Eurovision in their time. The United Europe theme continues with 'C'est Le Weekend' and would be what GRACE JONES would sound like if she represented Luxembourg. This is what being in the EU is all about… so stick that up your Nigel Farage!
'My Little Battery Boy' features some wonderful bouncy highs and electro-metallics coupled with some saucy innuendo; Abbott announces she has been having "so much pleasure, so much joy!"… mais oui! Chugging sequences permeate 'Freedom In Your Hand' where another marvellous polyphonic solo run by Hewson adds to the fun before the PET SHOP BOYS styled neo-orchestrated statement of 'Set Love Free'. It climaxes like a pomped up 'Rent' and is a wonderful slice of joie de vivre to end 'The Destiny Room'.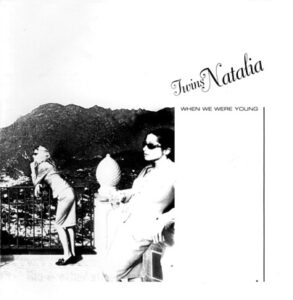 Now while the debut single is not featured on the vinyl LP, both sides come as welcome bonus tracks on the CD version. The appeal of 'When We Were Young' and 'Kleiner Satellit' are that they are endearingly familiar yet equally futuristic at the same time. TWINS NATALIA's fiercer cover of MARSHEAUX's 'Radial Emotion' is also included along with a Special Extended Night Version of 'I Avoid Strangers'. Overall as a CD package, 'The Destiny Room' and its rich textures will satisfy electronic music enthusiasts of a time when people actually played synths and explored the capabilities of their drum machines. It's been a long time coming but the wait in 'The Destiny Room' has been worth it.
---
'The Destiny Room' is released by Anna Logue Records on 1st March 2014. For information, please visit: http://annaloguerecords.blogspot.de/p/releases.html
http://twinsnatalia.blogspot.co.uk/
http://www.facebook.com/pages/Twins-Natalia/207356979275587
https://soundcloud.com/twins-natalia
---
Text by Chi Ming Lai
26th February 2014