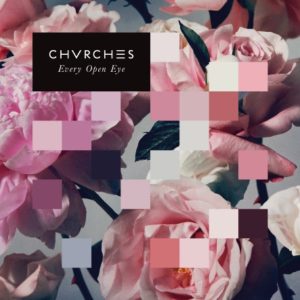 CHVRCHES have actually achieved what LITTLE BOOTS, LA ROUX, LADYHAWKE or HURTS never managed; a decent second album!
And the best bit is, it's a logical development of the first. None of this going house, disowning synths, rocking out or turning into SIMPLE MINDS nonsense! Hallelujah! Here's a synthpop band actually using synths and proud of it!
Recorded in their basement studio in Glasgow and again self-produced, Iain Cook, Martin Doherty and Lauren Mayberry have taken a less complex approach to their effervescent synthpop on 'Every Open Eye'.
On mixing duties, the more electronically tuned Mark 'Spike' Stent works his magic behind the desk rather than MUSE producer Rich Costey who looked after the debut 'The Bones Of What You Believe'. The end result is more varied and possibly, even better than its predecessor.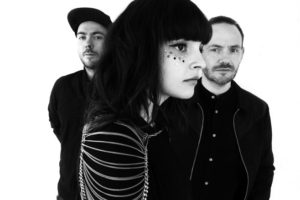 The album sees Mayberry in particularly feisty mood, emerging as a fighter following playing the victim on CHVRCHES' debut.
The apparent sweetness of her voice is again countered by vintage electronic backing, maintaining the light / shade demeanour that has made CHVRCHES so appealing throughout the world, especially in territories like South East Asia and the US which had all but forgotten synthpop.
The opening salvo of 'Never Ending Circles' is a statement of intent, a darker cousin of 'Recover' with a fight back manifesto. Mayberry is certainly biting at her detractors and while she's not quite turned into a riot-grrrl, from a CHVRCHES perspective, this is a fair turn of assertiveness and aggression.
'Leave A Trace' is tougher still, "You took far too much" exclaims Lauren, on the attack. But what must not be forgotten is that this is an exemplarily pop song. Indeed, it could be a megahit if covered by TAYLOR SWIFT, who it has to be said, has mined CHVRCHES' sound for her enjoyable '1989' opus. Mayberry may be the anti-Taylor, but she has a few things in common with the starlet. With the horrid barrage of online misogyny she's had to endure, Mayberry has had to shake it off too. Putting her energy into her art, with its booming backing, 'Leave A Trace' is a very personal song that acts as an inspiration to all.
'Every Open Eye' contains a delicious trio of uptempo electropop numbers that have been clearly influenced by the band's success in America, possibly from watching Jerry Bruckheimer movies on the tour bus. With 'Keep You On My Side', the threesome deliver a pounding triplet stomper complimented by responsive synth phrases.
On the even more frantic 'Make Them Gold', Mayberry needs a hero with pounding electronic drums and widescreen chords dominating proceedings. Yes, this could easily be a song from a montage scene in a Rob Lowe / Demi Moore film but despite these explicit Americanised overtones, they're perhaps not as overt as GOLDFRAPP's AOR flirtations were on 'Head First'.
Just when you thought it couldn't get any more epic, there's 'Empty Threat' which takes its lead from Oscar winning era Moroder, with a rock disco arrangement held down by a solid rhythm section. Despite this, there's space within the dynamics. Some may consider it retro, but this is classic songwriting that is a pleasure to the ears, especially compared to DURAN DURAN's painful EDM blow-out on 'Paper Gods'.
The propulsive four-to-the-floor action of 'Clearest Blue' shows how far CHVRCHES have developed. Although not unlike an amalgam of 'Gun' and 'Science/Visions' from 'The Bones Of What You Believe' , 'Clearest Blue' is more accomplished. CHVRCHES' productions are now less gimmicky and proof that the team of Mayberry / Doherty / Cook are comfortable in their own skins. Not needing to overtry, 'Clearest Blue' is wonderfully held in a state of tension before WHACK, there's a potent surprise in the final third that recalls the distinctive overtures of Vince Clarke. The song is indeed, magnificence embroiled.
But it's not all four-to-the floor. The template that CHVRCHES borrowed from PURITY RING is still omnipresent, and while their Canadian contemporaries have made themselves more accessible with this year's 'Another Eternity' album, the Glaswegians have been more adept at using it within a pop context. A crunchy off-kilter percussion sequence provides the backbone for the pretty 'Down Side Of Me', but the proof is most obvious when Mayberry's Trans-Atlantic lilt closely resembles Megan James during the middle eight. 'Playing Dead' is closest to the previous sound of 'The Bones Of What You Believe' but with a rockier slant. A belting chorus sees Mayberry going into battle again, with her announcing "you can tell me to jump, but I won't go!".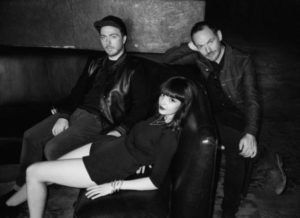 The two Martin Doherty vocalled tracks on 'The Bones Of What You Believe' polarised opinion and his voice makes an appearance again on the Oberheim driven funk of 'High Enough To Carry You Over'. Is The Dok as technically accomplished a singer as Mayberry?
Well, the factual answer is no… but taking on a more Americanised drawl in the vein of MISTER MISTER, this is a big improvement on his auditions for THE XX on the last long player.
Rugged machine synths burst into action for the wonderful 'Bury It'; "I never promised you anything I couldn't do" Mayberry exclaims, "we try to bury it and rise above". With a barrage of stabs that haven't been heard this side of NEW ORDER's 'Round & Round', this is a determined anthem for female solidarity… and it WILL get covered!
To finish, 'Afterglow' is another Canadian inspired twist that takes CHVRCHES closer to ELECTRIC YOUTH instead of PURITY RING. With just some Eno-esque ambience providing the backing and no drums or sequences, it is a beautiful song that makes for a perfect ending. Recalling EAST INDIA YOUTH's 'Carousel', it also showcases a developing musical maturity. "I'll find my own way back…" declares Mayberry, all exposed and vulnerable before in a state of heartfelt resignation, she cries out "I've given up all I can…"
A track originally from Zane Lowe's bizarre 2014 'Drive: Rescore' collection, 'Get Away' is the first of the deluxe bonus tracks and although excellent, it's easy to see why it has been relegated to this status. It shows CHVRCHES in a state of transition, continuing the glitch vocal processing techniques characteristic to the trio's earlier signature sound while finding its feet in a more assured direction.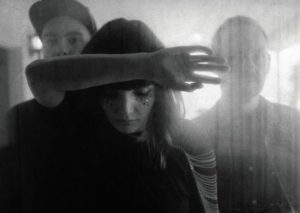 For those who don't get the popularity of CHVRCHES, 'Every Open Eye' is supreme pop music. The repetitive eight minute blips of FACTORY FLOOR, this is most certainly not.
What the Glaswegian trio have managed to do is get teenagers listening to classic synthpop, people who don't necessarily know or even care what a Jupiter 8 is. And that can only be a good thing for the future of the genre.
As for CHVRCHES, they have proved themselves more than adept as songwriters and producers… a career in Hollywood and TAYLOR SWIFT collaborations beckon.
'Every Open Eye' uses the following synthesizers: Moog Voyager, DSI Prophet 08, Roland Juno 106, Korg MS20 Mini, DSI Prophet 12, Roland Jupiter 8, Oberheim OBXa, Korg Polysix, Moog Sonic Six and Korg ARP Odyssey
---
'Every Open Eye'
is released by Virgin Records on 25th September 2015. It is available as a CD, deluxe CD with three bonus tracks, vinyl LP and download
CHVRCHES UK Tour includes:
Brighton Dome (16 November), Bristol O2 Academy (17 November), Manchester Albert Hall (19 November), Newcastle, O2 Academy (21 November), Aberdeen Music Hall (23 November), Dundee Fat Sam's (24 November), Birmingham O2 Academy (25 November), London Alexandra Palace (27 November)
https://www.facebook.com/CHVRCHES
---
Text by Chi Ming Lai
22nd September 2015