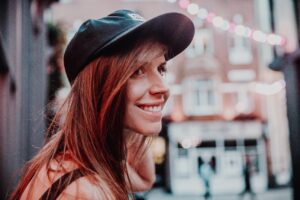 The lively playful persona of RIDER is merely an entry point into her eclectic musical world.
At the centre of the American born singer, songwriter and musician's work is melody.
A graduate of the Liverpool Institute for Performing Arts, RIDER exudes positivity whether she is presenting synthwave tinged pop, emotive soulful ballads, AOR or something a little bit more indie.
Her style is hard to pin down but with the Trans-Atlantic timbre in her voice and her lyrics referencing life changing experiences, her larger than life personality is the key to her eternal optimism and desire to move forward.
Having maintained a successful career as professional session singer on TV and radio with clients including Disney, Netflix, Volvo and the BBC, RIDER began releasing her own solo singles in 2017 with the best one being 'Tell Nobody'
.
With the bouncy sun-kissed pop statement of 'Stay' due out very soon, RIDER kindly took time out to chat about her music and career to date.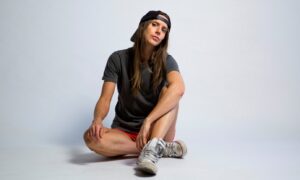 You've described yourself alt-pop, so what do you interpret that as?
I feel my music is pop overall because of my melodies but I feel the sounds sometimes give it a more retro feel or sometimes quite indie in certain tracks, so in a nut shell I think 'alt-pop' sums it up well.
Who have been your influences with regards songwriting, and then musically in terms of arrangement and production?
Many artists have influenced me over the years. Sting really influenced me in terms of songwriting as well as Michael Jackson, Amy Grant, The Backstreet Boys, Faith Hill and Third Eye Blind. I would say arrangement and production wise M83, HAIM, THE 1975 and certain 80s film music like 'The Flight Of The Navigator', 'The Never Ending Story' and 'The Goonies' have greatly influenced me. I also really admire the slick pop productions from artists like Katy Perry and Taylor Swift as well.
You've released a number of individual songs in different styles, but are you concerned that you could be too varied for a potential fanbase to become attached to you?
I'm not worried about that at all. I feel what gels my songs together is my production style and vocal style. I don't agree that artists should pigeon hole themselves into one very obvious style. At the end of the day, we are all influenced by so many styles and artist and it's only natural to express that in the writing. At the end of the day, I love a strong melody and productions that are dreamy, interesting and rich in detail.
Your new single 'On Your Mind' has a fabulous synth solo, how did this track come together?
Thank you so much! Glad you like it! The track first came about with a synth sound I found and it created this cool syncopated rhythm. In the end I wrote the song around that. Originally the verses were more chilled out actually, but that synth solo came pretty early on and I knew I had to have it no matter how the song grew. That synth solo sound is actually 3 different synths sounds together. Lil hidden fact there hehe.
The video for 'On Your Mind' showcases you as a lover of life, is that presentation very much what you're about?
It's true, I do love life. I always have! I have my down days of course like anybody else, but I have always found it easy and natural to find the good in everything and choose to see the beauty in life. It's helped me get through some tough times that's for sure and so yes, be it driving in my car, walking my dogs or skating, these are things I enjoy doing. The video captures me trying to get on with my life despite the fact that I'm actually going crazy in my mind about a certain someone.
So is the portrayal of you in the 'Jump' video like a fantasy version that captures your musical personalities?
Good question! My label and I actually originally wanted to do an animated cartoon video for 'Jump' but we found animators charge a lot of money, so we thought it'd be ideal to have me perform it instead. It was my idea to incorporate different sides of me because there are different sides of me. I'm a tomboy, a girl fascinated about anything spiritual, I'm a bit of a fairy type person and I've been interested in angels all my life. Then you get the girl next door as RIDER singing. It felt right to express these different sides of me and it certainly was a hugely fun video to shoot!! I'm glad we did it like we did and not do a cartoon route.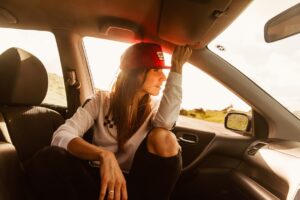 Can you play all the instruments depicted? Which is your tool of choice?
I can, yes, but I wouldn't necessarily perform with a guitar. I'm more of a studio guitarist but I do love performing with the drums or keys. My first instrument is the piano/keys though and I've performed playing that more than anything.
The marvellous 'Tell Nobody' explored a synthwave aesthetic, what inspired you to head towards that direction?
It was that main synth sound at the beginning. The chords! One day I played those chords with that synth and I was so unbelievably happy that I knew I just had to keep it. I knew it was instantly more synthwave and 80s but I LOVED that! The rest of the song was written around that hook. It just had to be done! God I love that song.
There was another great video for 'Tell Nobody' although on this one, you only made a cameo?
Again the original idea I had for this music video was either a cartoon or a couple of child actors in real life. It's a song where I'm telling a story rather than it being a personal story of my own, so it felt right that I take more of a cameo role than a main one.
How important to you see the audio / visual aspect of pop music, does it all go hand in hand?
Yes I naturally see visions when I make music. For me they definitely come hand in hand. I'm a very visually led person. I even have epic dreams every night and always remember them. With every song I've ever written, I've always seen full films for each one. I guess if money wasn't an issue, I'd have huge budget Hollywood type films made every time!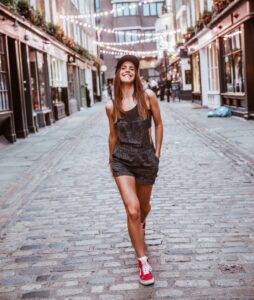 You haven't played a band show for a little while now, is it something you enjoy?
I absolutely love performing!! Once I'm on stage, I don't want to get off!
The only part I don't enjoy as much is the band rehearsal scheduling. Everyone has their own lives and sometimes it's just hard to find a date we can all get together – that takes some patience.
In this social media / streaming centred world, what do you think it the best way for a modern pop artist to engage an audience?
I think Instagram is great! The Insta stories and IGTV are awesome to instantly connect with fans. I've enjoyed using it anyway and so I'd recommend that.
What are your plans for the future with regards new material? More singles or is there an album or EP in the works?
Definitely more singles for the remainder of this year but my label Sapien Records and I have already discussed releasing an EP featuring some new tracks. We're not sure when we're going to do that though. Perhaps next year!
What are your hopes and fears as an artist as you continue to navigate this ever changing music world?
My hopes are to perform on some massive stages and positively change people lives through my music. My fears are that I don't want to come across as egotistic because I'm an artist.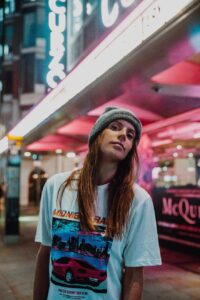 I know that I'll always be me but I see how some artists can change for the worst in terms of their character and it's such a shame and I'd hate for people to think I've changed for any reason. You've got to stay true to yourself and stay grounded.
I'm also sometimes fearful about coming across some no good big cat characters in the business. I've already come across a few in my days and it's made me trust people less.
Overall though, I'm certainly feeling less fearless and more positive about my future and I know that whatever I put my mind too I will succeed and be happy deep within. After all, feeling truly happy in my life is my number one priority.
---
ELECTRICITYCLUB.CO.UK gives its warmest thanks to RIDER
Special thanks to David Smith at Sapien Records
'On Your Mind'
and 'Tell Nobody'
are released by Sapien Records, available on all digital platforms while the new single 'Stay' comes out on 15th May 2020
https://www.riderofficial.com/
https://www.facebook.com/RiderMusicPage/
https://twitter.com/RiderMusicPage
https://www.instagram.com/ridermusicpage/
https://open.spotify.com/artist/5G2EghUKgFfKXlghzyBVM6
---
Text and Interview by Chi Ming Lai
30th April 2020