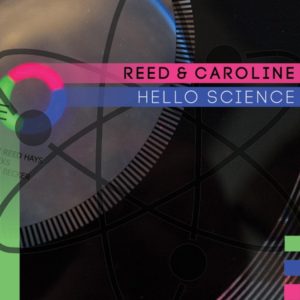 REED & CAROLINE's debut album 'Buchla & Singing' did what it said on the tin and with it came charming quirky synthpop like 'John & Rene', 'Singularity (We Bond)' and 'Electron'.
Championed by none other than Vince Clarke and signed to his Brooklyn-based Very Records, Reed Hays and Caroline Schutz successfully combined tunes with electronic experimentation.
Their second album 'Hello Science' is more of the same, but with cello and a Vako Orchestron added to the playground apparatus.
The Orchestron was a polyphonic electronic keyboard made famous by KRAFTWERK on 'Radio-Activity' and 'Trans Europe Express' which used optical discs containing pre-recorded sounds such as choirs and strings; for 'Hello Science', discs of Caroline Schutz's voice were specially made using the original Orchestron factory equipment courtesy of its current custodian Pea Hicks!
Buchla launched its Music Easel in 1973 and 'Hello Science'
certainly comprises of many airy sonic colours in a concept album of sorts inspired by Hays' hometown of Huntsville, Alabama to where a community of rocket scientists had decamped from Europe after World War Two.
The album's strapline is "Formulate hypotheses and gather all the facts – it's science! It's all about science!" and begins with the celebratory 'Before'; the combination of watery arpeggios, cello and Schutz's lightly treated voice provides a pleasant start to proceedings with this pretty electronic folk ballad.
The more uptempo and bouncy 'Dark Matter' adds vocoder plus some Hooky bass and vocals from Kendra Frost and Ayşe Hassan of KITE BASS. Despite the Brit presence, the track affirms REED & CAROLINE's distinctly North American sound not unlike AU REVOIR SIMONE, especially in its enticing "dah-da-da-da" refrain.
With a tinge of techno, 'Buoyancy' provides a dancey lift while 'Another Solar System' is a direct "pie in the sky" reference to the ambitions of NASA with sparkly synths which reflect Hays' belief that "my love of science is something spiritual and optimistic".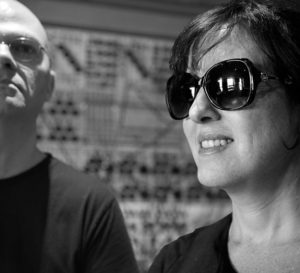 The title track springs a surprise by being completely acoustic with this cello overture recalling SPARKS in its vocal arrangement and layering but despite this, it doesn't sound at all out of place.
'Digital Trash' is what DUBSTAR would have sounded like if Sarah Blackwood had been born in Brooklyn instead of Halifax and is a wonderfully poignant commentary on social media, data manipulation and online privacy.
Treading not dissimilar musical territory, 'Ocean' is full of breezy nautical escapism and Buchla 100 handclaps.
The haunting 'Entropy' is a tribute to a departed friend and a fabulously touching Numan homage to his 'Dance' period, in particular 'Cry The Clock Said'. The hypnotic soundtrack of gentle preset rhythms and eerie Roland CP30 electric piano is complimented by Schutz even adopting the phrasing of the man born Gary Anthony James Webb.
A variety of synthbass wobbles, Orchestron choral sweeps and sequenced pulses shape the appropriately robotic 'Computers' while with a militaristic offbeat that comes over like mutant chromatic reggae, 'Internet Of Things' is a cutely bizarre offering that lyrically highlights the potential downfalls of modern society's over-reliance on web-connected devices and home appliances.
'Continuous Interfold' acts as an abstract art piece before the main act closes with 'Metatron' which delightfully goes all Philip Glass with its cacophony of voices. As a bonus, Vince Clarke provides his distinctive studio magic to a remix of 'Before', giving it a more percussive mainstream accessibility.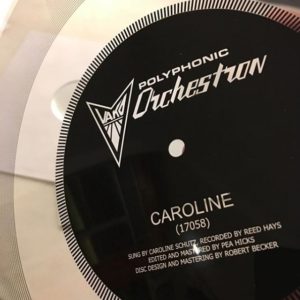 Speaking of which, with fewer of the instrumental interludes that formed a significant part of 'Buchla & Singing'
, 'Hello Science' is a much more distinct pop focussed offering with songs kept quite short and on point.
If there is a criticism, it might be there are slightly too many tracks, but it does not disguise the fact that this record is a very enjoyable listen.
Despite the science, the maths, the machines and the tuned vocal aesthetic, there is also flesh and blood that has to work it out and get it all together.
---
'Hello Science'
is released by Very Records in CD and digital formats
REED & CAROLINE open for ERASURE on all dates of their 2018 North American tour, further information at http://www.erasureinfo.com/concerts/
https://www.reedandcaroline.com/
https://www.facebook.com/reedandcaroline/
https://twitter.com/reedandcaroline
https://www.instagram.com/reedandcaroline/
---
Text by Chi Ming Lai
9th July 2018