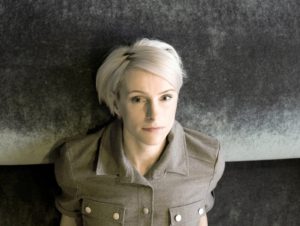 SARAH BLACKWOOD has been a striking presence on the music scene since 1995.
First as the singer of DUBSTAR, she scored hits with lush Stephen Hague produced kitchen sink dramas such as 'Not So Manic Now', 'Stars' and 'No More Talk'. Following three albums 'Disgraceful', 'Goodbye' and 'Make It Better' on Food Records and increasingly muted interest from a public still drunk on 'Cool Britannia', DUBSTAR disbanded and in 2002, Sarah was recruited to front female synthpop duo TECHNIQUE.
The brainchild of multi-instrumentalist Kate Holmes, TECHNIQUE's superb 'You & Me' was massively popular in the Far East via a cover version by Chinese songstress Coco Lee. They had been booked to support DEPECHE MODE in Europe when original singer Xan Tyler went AWOL.
Somewhere in Leipzig of what became a 15 date tour with Basildon's finest, Kate and Sarah chose the name CLIENT and adopted a musikarbeiter approach in the tradition of KRAFTWERK's 'The Man Machine'. They also initially shunned using their real names, choosing to be mysteriously referred to as Client A and Client B in a '1984' inspired Orwellian twist.
Signed to Mute Records via the Toast Hawaii imprint curated by DEPECHE MODE's Andy Fletcher, CLIENT released two well received albums 'Client' (2003) and 'City' (2004). With their eponymous manifesto, they announced "Client… satisfaction guaranteed… innovate never imitate… we aim to please… .at your service". This impressed all the right people and they were invited to play prestigious supports slots with electronic godfather KARL BARTOS.
Achieving greater success in Europe than in the UK with their own brand of gritty electro, CLIENT signed to German label Out Of Line who issued their last two albums 'Heartland' (2007) and 'Command' (2009) on the continent.
Meanwhile back home, they established their own Loser Friendly label and a fashion line. In the interim during 2008, Sarah issued a Client B solo EP 'Acoustic At The Club Bar Dining' which featured former DUBSTAR bandmate Chris Wilkie. Included were stripped down versions of both DUBSTAR and CLIENT songs plus covers of NEW ORDER's 'True Faith' and THE SMITHS' 'Stop Me If You Think You've Heard This One Before'.
Playing live shows with both CLIENT and DUBSTAR in Europe throughout 2010, Sarah Blackwood aka Client B gave a highly insightful interview to ELECTRICITYCLUB.CO.UK over coffee about her influences, her career so far with her two acclaimed bands, women in electro and… Alison Goldfrapp's breasts!!
How did you first get into electronic pop music and who inspired you?
I can remember the first I saw KRAFTWERK on 'Top Of The Pops'.
I can't remember how old I was, but I remember my dad getting hold of me and dragging me in front of the TV going "listen to this, this is fantastic" and that's one memory that kinda sticks in my head.
And the other one was seeing GRACE JONES with a cigarette in her mouth… she's not really electronic but she's just that glacial sort of cool, I thought was she was the coolest thing ever.
When you're kids and you're all growing up, you all share music and my mates were really into Lionel Richie and Whitney Houston and I was like "it's alright" . And then PET SHOP BOYS 'West End Girls' hit and I was like "Oh! That's me!". And friends who realised I liked PET SHOP BOYS said "you might like THE CURE, THE THE, DEPECHE MODE" and I got into it through all that.
But I love all sorts of music, not just electronic. But it's more electronic that pushes my buttons, cos I was a real rock girl when I was growing up. I liked LED ZEPPELIN and things like that, I used to hang out in rockers' pubs and now I just can't listen to it! Just completely OD-ed on 70s excessive guitar!
And that was the whole thing about DUBSTAR, Chris Wilkie's guitar playing was so restrained but on tour, he was sometimes "I'm so miserable, I just want to do a Jimmy Page solo just to let out all my fury! I need some catharsis". But he just doesn't play like that cos he's such a modest guy that he wouldn't play like that anyway!
I think it's sometimes difficult to get guitarists to hold back, they're quite egocentric.
Yeah, but Chris is not like that, he was so understated and I was always trying to push him forward in DUBSTAR but he was very low in the mix. This time I've gone more Chris driven.
You've heard this guitarist joke haven't you? What have premature ejaculation and a guitar solo got in common? You know when it's coming and there's sod all you can do about it!!
Ha! Ha! I mean it's just like that dinosaur sort of… y'know, Jimmy Page playing bloody guitar with a bow! It's just like making noise, it's not even clever! It's just… UGH! Not that it's anything against Jimmy Page cos he was a childhood idol and all that, but so was MADONNA!
You been spotted at recent YAZOO and HEAVEN 17 gigs? Are the bands of your youth still something that you're very passionate about?
Yeah, they're part of your fabric of your growing up.
For me it would be ABBA I think, I was a massive ABBA fan. I suppose they're more pop than electronic, but that song MADONNA did 'Nothing Really Matters' on 'Ray Of Light', it's so ABBA it's just wonderful. And the new SOPHIE ELLIS-BEXTOR song 'Bitter Sweet', that's so ABBA, the harmonies! It's what I grew up with, ABBA and THE BEATLES.
You joined TECHNIQUE in 2001 for the DEPECHE MODE tour, were you singing songs like 'You & Me' from the Pop Philosophy mini-album?
Yeah, that's a great song!
I'd love to hear a recording of you singing it.
That's a good idea! And 'Quiet Storm', that was a really good one!
When CLIENT first started in 2002, the musical landscape was quite different and you were fighting a battle for the synthesizer with LADYTRON, MISS KITTIN and GOLDFRAPP.
We didn't know all this was going on. Me and Kate shut ourselves away and just started making music together. Then we took it to our publisher and he just went "Have you listened to MISS KITTIN?" and we went "No, who's MISS KITTIN?", "Have you listened to LADYTRON?" and we went "Who are they?"
And it was like, "oh my god", there's something going on out here and we felt like we were just treading in the water.
And then all the electroclash struck with a vengeance and suddenly it was PEACHES because GOLDFRAPP hadn't actually embraced the scene at that point, they were still doing 'Felt Mountain', which I think really was better. I love Alison Goldfrapp's voice, it's great but I don't like it when it's all about the sound as opposed to what she's singing about. I don't like singers who don't pronounce the words properly!
When you heard all about these girls, did you ever feel any kind of affinity with them like you were sisters in arms?
Yeah, I mean like the LADYTRON girls. I was a bit disappointed with them on tour cos they weren't that friendly, but then I realised they'd been sat on a bus for three months and we hadn't! They didn't really want to socialise. I thought they were so cool and I was a bit starstruck by them I guess!
The lads were really friendly. But then I could see it from their point of view; when you're felling like, really mucky and you've been on a bus for three months, it's just horrible!
But the landscape has changed now…
I think we've paved the way but to be honest, people are seeing it as a fashion thing again, that women in electronic music is yet another passing fashion and it isn't I'm afraid! WE'RE HERE TO STAY!!
What do you think of the recent bunch electropop girls like LITTLE BOOTS and LA ROUX that you helped open the doors for?
I really admire them, they have far more balls and self awareness than I had when I was their age and that helps to make them good songwriters. I'm in awe. Go girls!!
What did you think their albums?
The LITTLE BOOTS one I liked and LA ROUX, I went "oh god, it's an 80s pastiche", but actually it's the LA ROUX one I'm still playing. I think she's really got it and she's made my DJ set. I also love LADYHAWKE.
And what do you think of the new crop of boys like MIRRORS, HURTS and VILLA NAH?
I've heard HURTS, it's like JOY DIVISION meets PET SHOP BOYS so they can't go wrong but I can't find anything! It's so difficult to know about music these days. I just go on iTunes and Spotify and let it lead me. That's quite exciting, but I always end up at THROBBING GRISTLE somehow!!
CLIENT are well known for their sexy Cold War Chic. Where did the original inspiration for the uniform look come from?
Cold War Chic… oh, I like that!
Basically, it started because we didn't know what to wear on tour with DEPECHE MODE and we just thought "we're not trying to upstage them, we just want something that will blend us in, we don't want to look the height of fashion, we don't want to spend too much money and we want to feel like everyone". Plus if they threw anything at us, we wanted it to be something that was sort of disposable so we thought of the uniforms!
It was then kind of the Miss Moneypenny thing; secretary, sexually frustrated, all repressed because I had a very religious upbringing. Kate was like "God, your childhood sounds just like 'Oranges Are Not The Only Fruit'"! I mean it wasn't… my poor mum and dad, no it wasn't! But it was kind of religious!
With the uniforms, it felt like we were going to work in the music industry and it's a play on that as well. "Cheap cotton outfits" as Brix Smith-Start kindly observed! She came on tour with us and was so much fun. She has since re-invented herself as a successful style guru but she was one of the first iconic girl bass players… sod all the grunge girls, Brix was there first and so cool in THE FALL.
CLIENT's success in Germany continues and you seem much happier with Out of Line Records there. Why do you think you're more appreciated in the spiritual home of modern electronic music than in the UK?
People in the UK perceive electronic music as cheating I think. They like to see the blood sweat and tears and guitar music is seen as more emotionally honest… striking a chord on the heartstrings haha!!!
I don't think people can appreciate the skill in electronic music… it's more of a behind the scenes construction as opposed to an in-your-face performance and because we have no real tradition of electro, I think they think we all mime!!!!
It's not until people like KYLIE and MADONNA use electronic music and really hit producers that people see it as integrated in pop music. But the actual women doing electronic thing, it still seems to people to be a fashion thing and it isn't!
People just can't seem to take it seriously. They either want to put you in the pop box or they want you to be guys in drainpipe jeans with a drug problem playing guitar… sort of four chords and the truth kind of thing!
I don't think people can really get their heads round women doing it for themselves, running their own record label or running their own management or running their own merch business which is what me and Kate do. Y'know; doing our own DJ-ing, production, all that!
One thing I've experienced on fan forums and talking to supposed electro fans on the scene is they can't seem to accept women on synthesizers. One person compared women doing electro to straight men doing show tunes or white men doing rap! Have you experienced that kind of prejudice?
I think in the UK, yeah! People don't take you seriously because they think there's a bloke behind the scenes pulling all the strings. And they think guys are writing the songs! We do have a bit of help with the programming from Joe Wilson from SNEAKER PIMPS. He is brilliant, his drum programming is absolute genius. A lot of people didn't get songs like 'Son Of A Gun' until they hear it live. That drum loop is just superb!
All of SNEAKER PIMPS are doing alright for themselves aren't they? Kelli Ali's solo, Chris Corner is IAMX and Liam Howe is producing MARINA & THE DIAMONDS.
Yeah, Chris Corner is so good. His voice is incredible, he leaps around on stage and people think that he's miming because he doesn't miss his pitch. All I have to do is clap my hands above my head and my pitch is like… everywhere, let alone dancing!
Oh, I didn't know that was Liam was producing MARINA & THE DIAMONDS, good for him.
How do you think the internet has helped sustain CLIENT's profile and fanbase internationally?
Without the internet, we'd be nothing. We really embraced it. CLIENT were one of the first bands to get on MySpace. We just went for it because we saw it as a marketing tool as opposed to something to be shoved under the carpet and be scared of.
But it does p*ss me off with all the illegal downloading because how are we supposed to survive? Never would I have thought there would be someone talking in the House of Parliament for musicians but this guy from BIG COUNTRY just said "Imagine if we just opened the doors to HMV and come and take what you want?"
You're working with Steve Hillier and Chris Wilkie again as DUBSTAR with a cover of THE PASSIONS 'I'm In Love With A German Filmstar' being your first release as part of a project for Amnesty International Catalunya. How did this come about and how will this develop alongside CLIENT?
Somebody approached Steve and he said to me and Chris "do you fancy doing this?" and we were like "OK". So we all had to go away and think of what songs we wanted to do. I'd just done this thing for KIRSTY MacCOLL with Mark Nevin who wrote with her. And he asked me to sing some songs when it was a tribute for Kirsty on her birthday.
So I did that and that was the scariest gig of my life because her ex-husband Steve Lillywhite was there. My knees were just shaking. I'm a fan myself and I think she's very underrated, as a lyricist she's just amazing. What a f*cking tragedy!
So I said I'd love to do 'New England' or 'There's A Guy Works Down The Chip Shop Swears He's Elvis'. Chris wanted to do 'Under My Thumb' because he loves THE ROLLING STONES. Steve said why don't we do THE PASSIONS? And this is where the three of us come from. So Steve did this backing track but it was a really good song to sing. We played it to THE PASSIONS and they really liked it as well.
Is there any more DUBSTAR stuff coming up?
Yeah, that kind of got us back together because we had a false start. We've done a few more songs and demos. We'll just see what happens. It so difficult because which way do you turn? Do you take them to a major or just do it yourself on the internet? We're just getting a body of work together and we'll think about playing live and see what unfolds rather than trying to force anything. We'll see if anything comes to us.
I saw you in DUBSTAR in Cambridge supporting ERASURE in 1996. You didn't look very happy?
Really? I remember that gig… bloody hell, I was terrified! No, I was never happy! DUBSTAR songs were always very hard to sing. And Steve did confess to me two weeks ago that he use to make them deliberately hard for me as a sort of game! *laughs*
That bit in 'I Will Be Your Girlfriend', "I'm the person with a plan" … I mean bloody hell! Incredible strain on the voice! Just having to jump around! I get so frustrated by my lack of range. The things I want to do with my voice, it's just AAAGH! Can't do it! Just really drives me insane! I think my voice is just there to sing words to cynical love songs!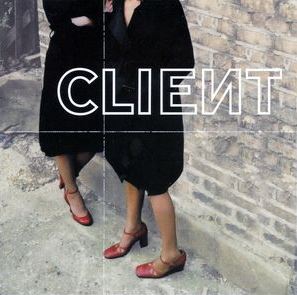 Then in 2003, I saw CLIENT supporting KARL BARTOS and I remember being pleasantly surprised how happy you were on stage. You were winking to the crowd and smiling which never seemed to be the case with DUBSTAR?
No, it was always quite fraught in DUBSTAR. There was always some trauma going on and we were all hungover because we did an awful lot of drinking in those days! Another reason DUBSTAR never did too well because we were never properly managed. We had six managers in seven years and the time we did really well, we were managed by Food Records.
I loved a DUBSTAR B-side called 'Unchained Monologue'…
We always took a lot of care with the B-sides. One we did called 'View From Here' should never have been a B-side. 'Unchained Monologue' was me and Steve at our most cynical!
With CLIENT and DUBSTAR, you've done a lot of cover versions from acts as varied as BILLY BRAGG, BILLY IDOL, PET SHOP BOYS, GARY NUMAN, NEW ORDER, THE SMITHS, ADAM ANT, ASTRUD GILBERTO and CHARLES AZNAVOUR. Of course, 'Not So Manic Now' was a cover too, it was originally by BRICK SUPPLY. You must have a very diverse record collection?
Yes, I've got all sorts. I like 60s Garage, cheesy house is a guilty pleasure. I like Country music; Tammy Wynette, Dolly Parton, Johnny Cash, Willie Nelson, Hank Williams!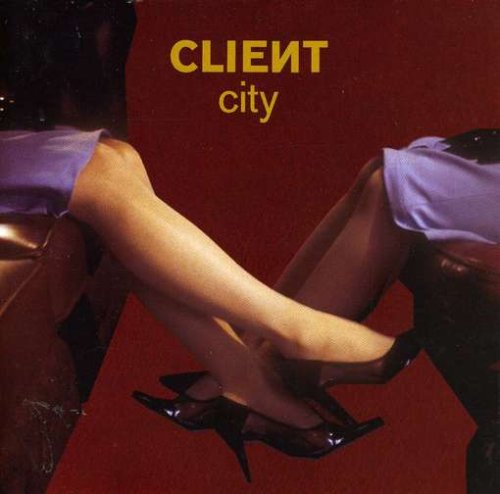 Where did THE LIBERTINES collaborations with CLIENT on City come from? As an electro fan, I found that alienated me.
Well, Kate's husband Alan McGee was managing The LIBERTINES.
Carl Barat and Pete Doherty really liked us. They called me 'Sarah Bapples' because I was quite fat in DUBSTAR and had quite big boobs.
Ha! Ha! I tell you who's got enormous boobs… MARINA & THE DIAMONDS! They are f*cking huge!
Lucky girl… so's Alison Goldfrapp! She's got great legs! *laughs*
DUBSTAR launched right in the middle of guitar-led Britpop explosion with a polished synthesized sound. Often in your career, you do seem to find yourself regularly in the face of adversity from the real music police. Is the acoustic thing possibly motivated by a need to prove yourself?
Yes, I just think a good song will work if you can do it acoustically. Just like 'I'm In Love With A German Film Star', me and Chris did that acoustically at a club in Cologne. The acoustic gigs are just something to keep my hand in.
You've sung with some electro legends such as GARY NUMAN on 'Redirected Mail 'with DUBSTAR and DEPECHE MODE's Martin Gore on 'Overdrive' with CLIENT…
I have actually! A lot of the new DUBSTAR stuff is being done on GARY NUMAN's electric piano that Steve bought off him. I was in Manchester when we recorded Redirected Mail but Steve and Chris actually went down to Gary's and sat and had ham and chips with him. They had a right laugh and had a really good time.
And then the Martin Gore one, that came about because Andy Fletcher played him some demos and Martin said he liked 'Overdrive'. So Kate said to me "You've got lovely handwriting, you write him a letter" so I wrote him a letter going "Dear Martin… " *laughs*
And the next thing we knew, Martin had this newly set-up studio and recorded himself. The thing is, when we mixed the two vocals together, that was a moment! I didn't know how it was going to work but when you heard it, it was like "woo!"… it was a bit spine tingling really!
BBC6 Music recently arranged live collaborations for LITTLE BOOTS with GARY NUMAN and LA ROUX with HEAVEN 17. You've kind of "done it before" but is there anyone who you'd like to perform with, either as CLIENT or DUBSTAR?
I think most of them are dead actually! I'm a massive admirer of JANIS JOPLIN. Anyone who can just open their mouth and sing in two octaves is just incredible. BJORK is amazing, but sometimes it gets on my nerves… f*cking sing properly!!
Actually, Stephen Hague always said me and Barney Sumner of NEW ORDER would be good together. I think his voice is just raw and honest. And that honesty I admire far more than vocal gymnastics!! With CLIENT, the song kind of formulates as it's going along and that's a really exciting process. I like flying by the seat of my pants and you're just making stuff up. I like that reaching for something but it's not quite formed.
I hate it when emotion is perceived as vocal dexterity. It's like w*nky guitar solos to me! I can't bear that, it's just showing off and it's not about the song. You read the lyrics and you appreciate the lyrics and you just try and convey them in a way that's sincere, and mean it. And I think that's what singing's about. It's not about "hey, listen to me, I can sing in top C and then in E flat."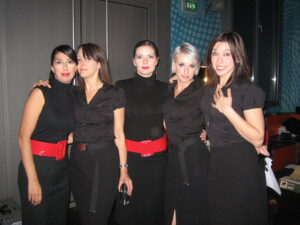 You've toured with MARSHEAUX in 2007 who are also your Out Of Line label mates. How was that tour and how do you like the concept of forming an all-girl electro supergroup with them?
All in the uniforms? They're lovely! They sort of copied us, but it was the biggest form of flattery because they're such lovely girls! It's nice to think I've inspired something! We do love MARSHEAUX, it was a really nice tour actually that!
I remember the guy from the agency came back and there was like MARSHEAUX in various states of undress; there was me, Kate and Charlotte Heatherley from ASH in various states of undress, and there was our web designer Corinna Sanow and her girlfriend having a massage in the corner! And the guy walked in and he was like "oh my god"… he must have thought it was like Sodom and Gomorrah or something! He was just like "bloody hell!" *laughs*
You just painted a really amazing picture for me there… this supergroup has got to happen!! Can I have a backstage pass? *laughs* So tell us about your brilliant collaboration with WILLIAM ORBIT entitled 'White Night'. What's going to happen with that?
I don't know, we put it on Soundcloud. It got put out on his album but not with me. Ironically, it was a song that Brix Smith-Start sang as well, she did a version of it. It was written by one of William's really good mates and we had an afternoon working together… he looked at my notebooks and said "ooh, they're very full of pain!", I was like "oooh, brilliant!". It was so lovely but he's so in demand!
But I do think eventually, we should do something together because just his way of production. DUBSTAR were always massive fans but BLUR got to work with William on 13 because we said "please can we work with WILLIAM ORBIT?" and Andy Ross of Food Records said "yeah-yeah-yeah but you're not ready for an album but BLUR are!". And then William was going to do us and MADONNA stepped in… that was 'Ray Of Light'! And DUBSTAR split!
Was that just a natural parting of ways? Musical or personal differences?
I think at the time, me and Steve weren't getting on at all! We were both really jealous of each other. He was jealous of me singing and I was jealous of him being able to write songs! And the two things were just… we've made friends again now and everything but like he said to me the other day, he'd deliberately try and make the songs difficult as a kind of test which I think is quite hilarious actually. It's very sweet of him to admit it… he was like "what the f*ck was I doing, making you jump from that to that?"
I was neurotic on tour with DUBSTAR. I get a bit like that with CLIENT as well but as soon as you get nervous, your neck tenses up, your vocal chords tense up so you've got to stay as unstressed as possible and just focus. On tour, it starts the moment you wake up that you've got to perform! Whatever happens during the day, that is the end goal so everything lead up to that.
What's immediately happening next for you?
I am DJ-ing throughout UK and Europe. I have just finished some gigs supporting Alan Wilder's RECOIL project. I'm doing some writing, some acoustic gigs with Chris… in fact the next one is June 6th in Hamburg at a book launch for Ian Curtis. I think it's going to be a really lovely event.
What are your current favourite songs or albums, electronic or otherwise?
I bribe and bargain myself into running with the promise of listening to music!
So at the moment, I'm listening to JERMAINE STEWART's 'We Don't Have to Take Our Clothes Off'!! It's a brilliant song! I've got ROISIN MURPHY 'You Know Me Better', SNEAKY SOUND SYSTEM 'Cancer City', 'Romeo' by DONNA SUMMER, 'Physical Attraction' by MADONNA. Also some CHROMEO mixed by TIGA. That's my running playlist for today!
There's also a great song I like by a French girl named SOKO called 'I'll Kill Her'. It's a girl and a guitar, check that out, it's great! It's how KATE NASH should have been!
---
ELECTRICITYCLUB.CO.UK gives its sincerest thanks to Sarah Blackwood
https://www.facebook.com/dubstaruk/
---
Text and Interview by Chi Ming Lai
29th May 2010, updated 23rd July 2017