BBC2 will be broadcasting HEAVEN 17's 30th Anniversary 'Penthouse and Pavement' concert in Sheffield and a special documentary on the album this weekend.
The documentary is the story of the band, the city and the album that gave birth to British new wave of electronic pop in late 70s Sheffield. It also follows the band as they prepare to perform the album entirely live for the very first time.
With economic recession decimating their industrial heartland, aspirational computer operators Martyn Ware and Ian Craig Marsh experimented with newly affordable synthesisers from Korg and Roland to create sounds in their first band THE HUMAN LEAGUE that would eventually form part of a new musical movement.
When the band split in Autumn 1980, Martyn and Ian formed a production company called the BRITISH ELECTRIC FOUNDATION (BEF) and released 'Music For Stowaways', an instrumental album only available on cassette that foresaw the advent of modern day iPod headphone culture.
One of the BEF projects was a pop group named HEAVEN 17 after the fictitious band in 'A Clockwork Orange' and for this they recruited singer and old friend Glenn Gregory. 'Penthouse and Pavement' was their first album released in 1981. It was a landmark achievement, combining electronics with pop hooks and funky disco sounds while adding witty social and political commentary.

Due to technological constraints the band were unable to perform the album live but also had no desire to join the touring circuit. However, with the advances in technology, the album was performed for the first time to a sell-out gig of over 2000 people at the Sheffield Magna on 6 March 2010. As well as performing 'Penthouse and Pavement' in its entirety, they played several BEF tracks from the period such as their cover of LOU REED's 'Perfect Day' as well as their hits 'Temptation' and 'Let Me Go'.
During a short break from the editing suite at the BBC, Glenn Gregory took time out to talk to ELECTRICITYCLUB.CO.UK about this seminal album, playing live and doing acoustic HUMAN LEAGUE covers…
After playing a couple of British dates and undertaking a European tour earlier this year, HEAVEN 17 are taking the 'Penthouse and Pavement' show on a full UK jaunt in the Autumn. You went through the beginning of your career of not playing live at all. You're a great live act but do you ever wish you'd done this much sooner and do you think HEAVEN 17's career might have turned out differently if you had?
It's almost impossible to say really… things I'm sure would have been different but for better or worse, who can say? I have no regrets about not playing live back in the day. We had a great time making records, making videos, travelling around the world doing television shows, working with interesting people it was a dream… maybe the dream might have been enhanced by touring, but then again it may have turned into a nightmare.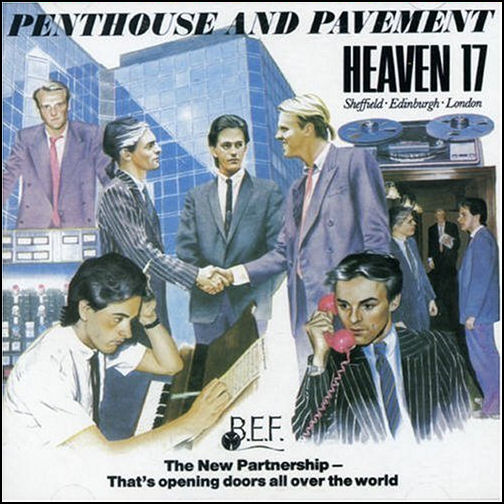 'Penthouse and Pavement' had quite a unique sound with the synthesizer technology combined with the American influenced funk on one side and what appeared to be a development of THE HUMAN LEAGUE's 'Travelogue' on the other. Had this been a conscious decision or had this been forced on you as you were maybe unsure about which direction to pursue?
It was a definite decision.
We wanted a little distance between what THE HUMAN LEAGUE had been and probably were still going to be, and what HEAVEN 17 were about to become. The balance in any group is obviously changed when anyone leaves or joins… things were naturally heading in a different direction just by the very fact that the dynamic of the group had changed.
I suppose the real turning point was when we had written 'Fascist Groove Thang' (only about ten days after THE HUMAN LEAGUE had split) and Martyn had suggested we put a bass guitar solo in the middle breakdown… a great idea but we didn't know any bass players. A little bit of fortune later and in walked the young John Wilson to our studio… the rest is history. The new sound was found and we were on our way to making a unique album.
How do you feel about your baby still having such a powerful resonance in today's world after all this time, particularly songs like the title track, 'Let's All Make A Bomb', 'Height Of The Fighting' and 'We're Going To Live For A Very Long Time'?
Some things will always be relevant. We wrote about subjects that touched our lives and our souls, things that mattered not just to us as individuals but also to us as a part of a political or social system. We never preached and always (I hope) ranted with wit and humour. They were political times (as indeed is now) and the album reflected those times and I believe as you say, some of those songs are still very relevant today.
The Sheffield Magna gig really was something special and has been filmed for prosperity, along with a BBC2 documentary on the band. How does it feel to finally get this kind of recognition for your contribution to popular culture?
Well the gig I don't know if I shall ever see, because I really find it very hard indeed to watch myself perform! I'm ok listening but doubt I could watch…
However I am very proud of that night and the show we put together and am grateful for all the hard work and love that our friends put into it to make it happen. And I suppose when I'm 106 and sitting in a sedan chair on the balcony of my Italian villa in Umbria, I may well gesture to my young and pretty nurse to bring forth the 3D television and finally sneak a peak at the 'Penthouse and Pavement' show.
The documentary I have already seen as I have been involved with the editing and I love it… its honest, funny and true. Watch it, you'll like it I promise.
The live renditions of the BEF 'Music Of Quality and Distinction' covers were great and it was fantastic to hear 'I'm Your Money' live at last. How was it for you to perform these cult HEAVEN 17 classics?
It was great to perform those BEF songs and some of the rare never ever to be played live tracks… I have been trying to work out a way to perform 'I'm Your Money' for ages with no success and when Martyn suggested doing in the 'Penthouse and Pavement' set, I said "can't be done"… clever bastard did though, I loved it.
Are there any other songs you'd like to feature in the live set at some point that haven't been performed before?
Ooo lots… 'And That's No Lie', Elly from LA ROUX insists we must do the full album version of this one day, I promised her we will… 'Sunset Now', oh my god all the tracks off 'The Luxury Gap' that we have never done… 'Lady Ice And Mr Hex', one of my all time favourites.Really now we have started, I don't think anything will stop us… all donations gratefully received
I understand Phil Oakey was watching you do 'Being Boiled' in Sheffield! Has he ever told you what he thought of your take on it?
He was and he has actually said he liked it. I wished Phil would have come on stage. I would have loved to hand him the mike and sang BVs. I love THE HUMAN LEAGUE.
I thought the acoustic rendition of 'Don't You Want Me?' in Cologne after the electronic drum kit broke down was hilarious! I didn't know you could even play guitar; you kept that well hidden in the past!
Yes… a little known secret now out in the open, I hope it doesn't harm my electronic credentials too much! It was a fantastic night in Cologne, the longest set by far. I think I did 3 or 4 acoustic songs… the guitar's a definite must from now on… that bloody electronic drum kit is a bit fragile! Still it made for a very unique show.
You're headlining the first night of Bestival for 'Back To The Phuture' in September. HEAVEN 17 aren't known as a festival act so are you ready for it? Will you approach Bestival differently to your own shows? And will you be camping for the night?
First of all, No Camping! I am really looking forward to it though and may well do the gig in fancy dress… Mart said he might do it as Roy Wood from Wizzard and I might go as Noddy Holder! Please let the sun shine
The BBC6 Music 'Back To The Phuture' live session with LA ROUX was brilliant; you looked like you were really enjoying it. 'In For The Kill' really did sound like a lost HEAVEN 17 song with you singing it. How do you feel about the success of the new generation of electronic based acts and are they're any others who you like? 
I loved singing with LA ROUX, Elly is a star… she is so charismatic to watch on stage… she's hypnotic…
It was a honour to perform with her. I would love to work with her and Ben Langmaid in the future… we got on so well. I have always loved electronic music and there are too many bands to mention really… I'm just pleased the movement is so strong and productive.
Apart from the 'Penthouse and Pavement' UK shows in the autumn, what else is happening with HEAVEN 17? Are there any plans for any new material?
We're playing quite a few gigs through the summer then we have the 'Penthouse and Pavement' tour at the end of the year so for this year, that's gonna keep us quite busy. But I could never say there will never be another HEAVEN 17 album… in fact if I were a betting man I'd get down the bookies and have a tanner on another one coming this way one day soon!
---
ELECTRICITYCLUB.CO.UK gives its sincerest thanks to Glenn Gregory
With special thanks to Peter Noble and David Stanbury
'HEAVEN 17 Live in Concert' will be broadcast on BBC2 on Sunday 16th May 2010 at 11.30pm while 'HEAVEN 17: The Story of Penthouse and Pavement' will be broadcast on BBC2 on Monday 17th May 2010 at 11.20pm
HEAVEN 17's 30th Anniversary Penthouse And Pavement Tour
Dates include Edinburgh HMV Picture House (Nov 22), Glasgow O2 ABC (Nov 23), Manchester Ritz (Nov 25), Birmingham HMV Institute (Nov 26), London HMV Forum (Nov 28), Oxford O2 Academy (Nov 29), Brighton Corn Exchange (Nov 30), Bristol O2 Academy (Dec 1)
Please visit www.heaven17.com for details of the forthcoming 'Penthouse & Pavement' UK Tour in Autumn 2010
---
Text and Interview by Chi Ming Lai
Photos by Tracy Welch
14th May 2010