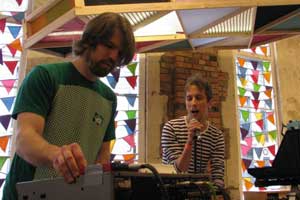 The highly rated VILLA NAH made an in-store live appearance at Urban Outfitters in Oxford Street.
It was part of a short British tour to support the imminent physical release of their excellent debut album 'Origin' which was made available in advance for the occasion. Consisting of Juho Paolosmaa and Tomi Hyyppä, their haunting crisp, uncluttered sound has already won a number of admirers.
These have included Sebastian Muravchix, singer of acclaimed electro-Italo act HEARTBREAK who was present to observe proceedings and BBC 6Music 'Back To The Phture' host Mark Jones who has been giving them airplay.
Hailing from East Helsinki and co-produced by Jori Hulkkonen, VILLA NAH have all the hallmarks of classic synthesizer pop. Tuneful and lively like early DEPECHE MODE, emotive like the best of OMD and occasionally detached like machine-era GARY NUMAN, they take the influence of 'Synth Britannia' and bring it into the 21st century with their own brand of Suomen Sähkö.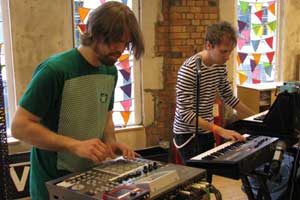 Opening their performance with the spacey 'Running On', a pleasant surprise is the store PA. Bog standard sound systems are often notorious for not being able to handle the frequency range of analogue synthesizers but the sound was not only powerful but clear. Next up was 'Daylight' from their first 'Vn' EP before the octave shift heaven of 'Envelope'. Through their performance, Juho doubled between his melancholic mannered vocals and manual handling two vintage keyboards, a Korg MS10 and a Roland Juno 106.
Meanwhile Tomi pensively tapped percussive fills on his Roland MIDI controller, occasionally fingering away on a red Korg Kaossilator. Like all the best synthpop duos, it was the perfect combination of electronics and humanity, Ying and Yang if you will. In Juho's own words: "VILLA NAH exists mostly because of this balance – Tomi knows the tech… I just work the pop"
'Some Kind Of Dream' possesses that wonderful four chord progression a la 'Enola Gay' and features those crystalline melodics and dramatic sweeps that would do OMD proud. The closing three numbers in their short set B-side 'Benny's Burning', 'Ways To Be' and 'Remains Of Love' expose VILLA NAH's other obvious main influence.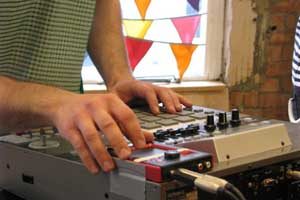 Retaining the sort of arrangements that will be familiar to those who own 'The Pleasure Principle' or 'Telekon', while they possess their own Nordic chill, these songs are actually bright and uplifting. In fact, they come over a bit like danceable GARY NUMAN on Prozac! Despite the heavily lit surroundings next to a women's clothing section, it was an impressively confident performance that had many curious bystanders stop to watch and then buy copies of their CD. Hopefully, many more curious listeners will now do the same.
---
'Origin' is released as a CD in the UK via Keys Of Life on 17th May 2010
https://www.facebook.com/villanah/
---
Text by Chi Ming Lai
Photos by Richard Price
8th May 2010