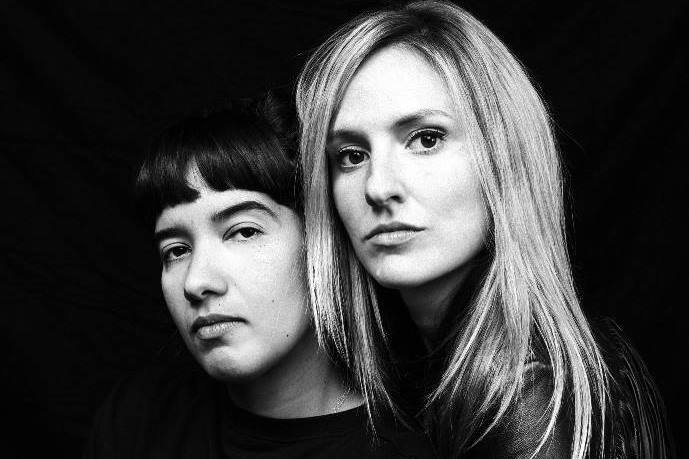 KITE BASE released their debut long player 'Latent Whispers' in 2017.
Comprising of two bass guitars and electronics courtesy of a Dave Smith Instruments Tempest drum machine affectionately named Alan, the dynamic duo SAVAGES' bassist Ayşe Hassan and the haunting vocal presence of Kendra Frost.
Songs such as the wonderfully hypnotic 'Transition' and the mantric percussive vibes of 'Soothe' have won Frost and Hassan a cult audience all of their own. But it has been their cover of 'Something I Can Never Have', a track from NINE INCH NAILS' first album 'Pretty Hate Machine' that has attracted the most attention.
John Fryer, the producer of 'Pretty Hate Machine', invited Kendra Frost to contribute vocals to his BLACK NEEDLE NOISE project. Meanwhile, Trent Reznor himself has invited KITE BASE to open for NINE INCH NAILS on five North American dates for the upcoming 'Cold & Black & Infinite' tour.
Kendra Frost kindly took time out to chat about the ongoing progression of KITE BASE, as well as her new found passion for synth building and sound design.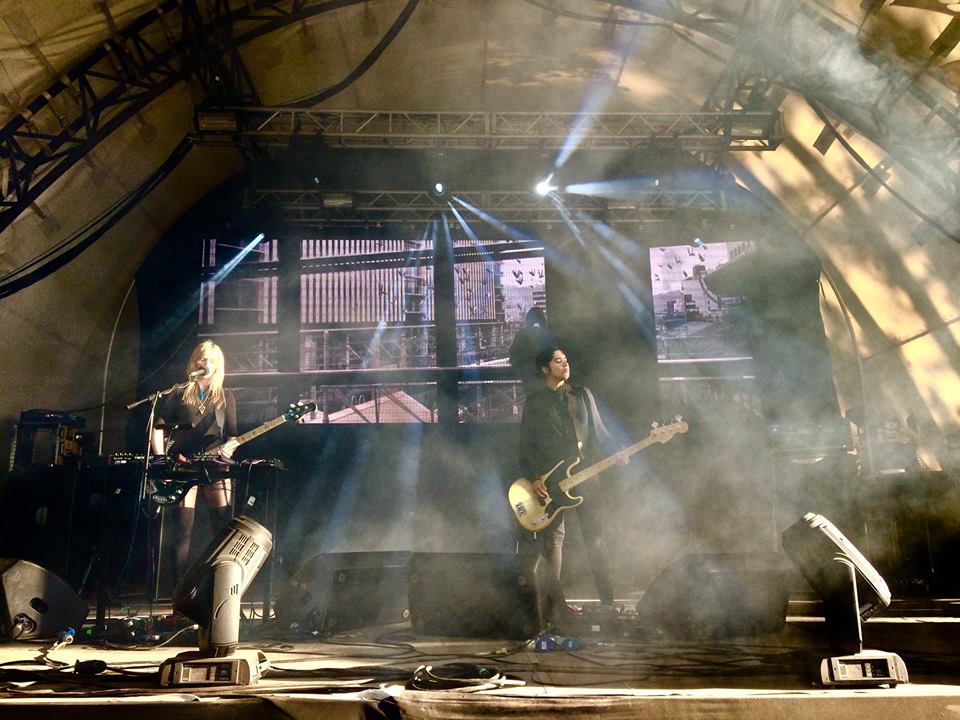 KITE BASE have an unusual format in that it's two bass guitars and programmed electronics. What were the inspirations behind making music like this?
It honestly wasn't a conscious choice we made. When Ayşe and I first met, we bonded over the fact that we were both bassists and also shared a love of electronic music, so we stuck true to those things; the things that initially drew us together.
Working out how to physically integrate the electronics part was a big learning curve as I hadn't programmed anything outside of basic level DAW tinkering before and so acquiring the right kit and learning how to use it was a challenging voyage of discovery.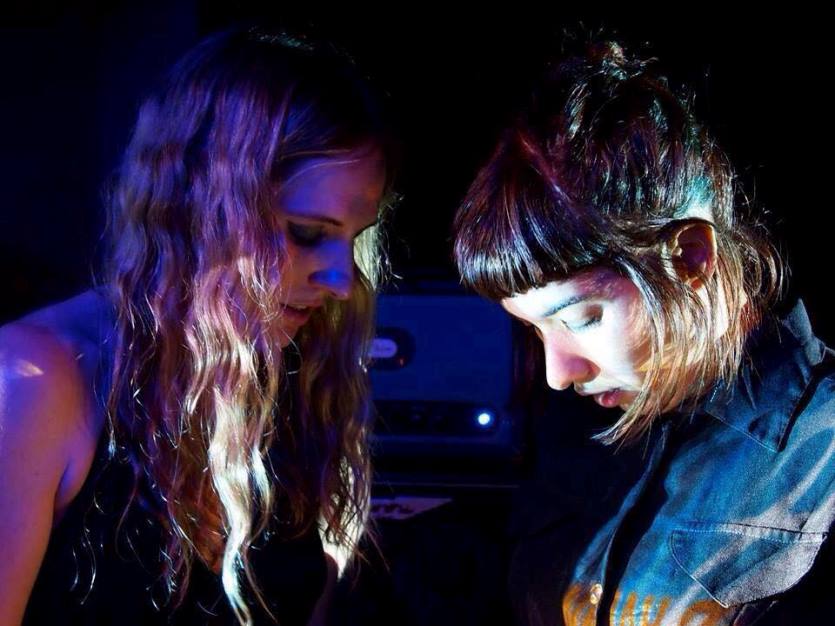 Your drum machine / sequencer named Alan is a Dave Smith Tempest designed by Roger Linn, what made you choose one of those as opposed to something else and what is 'he' like to use?
Primarily, we both agreed that we wanted to avoid having a laptop on stage. So I set about the hunt for a singular piece of hardware that had a playlist function for practical reasons – so that I could play bass and sing at the same time. But I also wanted the ability to sculpt sounds and modulate live (certain songs ended up being written in a particular way to allow my hands to be free because I wanted to get some live modulation in there). Otherwise it would've felt a little like owning a vintage E-Type Jaguar and only taking it out to the supermarket on Sundays…!
Handily, I have a best friend who is a genius in all things sonically related and so I asked him what he might recommend for the job, after autonomous investigation only resulted in my drowning in the bombardment of options available out there. He gave me a very clever three tier choice system, based on price and rabbit hole depth. He introduced me to the Korg Volcas – which I still adore and use for inspiration – worked up to the Roland TR8 and then he said… "now hunt down and try out this…!" So I sourced a Tempest at the awesome store, Funky Junk, in London, and… well, how could I not have gotten hooked?! I took him home with me and named him 'Alan' in honour of Mr. Turing.
Alan is a complicated beast and he demands dedication. However, KITE BASE as it currently stands would not exist without him and he is well worth the effort.
I learned to use him by working out how to translate my demo programming over from Propellerhead Reason, finding ways to better it as I learnt the functionality of the machine.
I pretty much became a total recluse because of that, and willingly so! To learn the DSI functionality is not the learning curve, synthesis is. I didn't even know what an oscillator was when I started and so beyond working out the basics like how to programme the sequencer, the science behind it was and still is the real challenge.
But what I did have to my aid were years of listening to and adoring outfits like NIN, AUTECHRE, BOARDS OF CANADA, CABARET VOLTAIRE and a whole host of other dance genres, so I had an excellent hand hold in that respect – I knew what I wanted to hear. To really get the most out of the Tempest, in my mind, you need to study the science behind sound to at least some degree. Years later, I still feel I have merely scratched the surface of that learning, but that is exciting to me because it directly influences my creative output and so aids artistic development.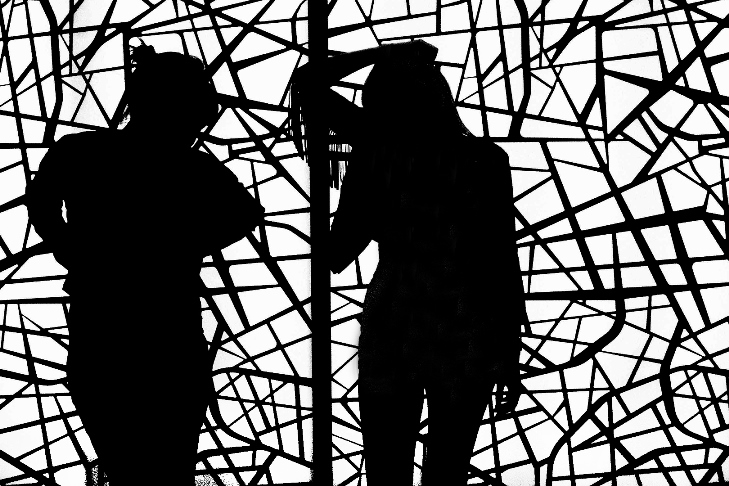 How do you look back on the making of 'Latent Whispers' and how it was received?
I am proud of what we created. It was an honest reflection of that moment in time and to me that is the holy grail of creating anything.
I am exceedingly grateful for the reception the album received, the shows we were invited to play and all of the opportunities we obtained via it. We were lucky to do some incredible things off the back of it and meet some amazing people. It is always an honour to receive a positive review from any platform, but I try very hard to be honest with myself about the creative output first and foremost.
It takes courage to release any form of art and you hope people react to it in a positive way, but that is ultimately a subjective thing over which you have no control. As an artist of any medium, I think it's vital to strive for that kind of one step removal, however impossible that may ultimately be. Otherwise your future output, your voice, becomes less genuine as external factors inevitably influence you, one way or another.
Was the gestation time for the album quite long due to all the various other commitments?
In short, yes. But from my part that was something I took on board willingly from the off because I knew that'd be the case and I fully believe in the project. Also, everything happens for a reason and had things rolled sooner, some of the incredible things that did happen quite simply would not have come into being.
'Transition' appears to be the one that has crossed over into various audiences?
Yes, and I am profoundly happy about that because lyrically and sonically, it was the track that I felt best reflected upon what was actually happening in real time on a personal level. I guess you could say it was the most mindful track, as opposed to reflective or something. That immediacy and honesty was important for me.
Which tracks still remain favourites for you from the record and why?
'Dadum'; it was the first demo I wrote and the first track that Ayşe and I subsequently worked on together as KITE BASE. It also marked a turning point for me in that the melody came to me in quite an inopportune moment – at the start of a gig and I knew I'd lose it if I didn't run outside into the snow (it was winter) and quickly record some teeth chattering, melodic babbling into my phone. I absolutely detest the cold, so it really tested my mettle. Life has a way of doing that, doesn't it? It puts hurdles in your way by method of measuring how much you want a thing, I believe…! That was the first time I'd harnessed that philosophy and it has since become a vital method of writing for me.
Your cover of NINE INCH NAILS' 'Something I Can Never Have' has opened a few doors for you, what's the story behind KITE BASE reinterpreting it?
I had been listening to LAURIE ANDERSON's incredible 'O Superman' on repeat for days. I find walking helps generate creative catalysts, and I was playing about with that addictive, repetitive staccato vocal in my head on my way in to work one day. Then a counter melody appeared over the top of it and I couldn't quite place it at first, so I let it unfold and eventually cottoned on that it was the opening piano riff for 'Something I Can Never Have' by NIN.
I've always loved that song because of its honesty, but also because I felt that there was an intense beauty in the hope I read as being hidden there in the lyrics too – in that regardless of something feeling hopelessly out of reach, it doesn't stop you wanting it and therefore hoping for it to happen…
I let the melody roll in my head as I often do when working out harmonies and then I realised you could take that incredible theme from 'The Fragile', the melody found in the track 'La Mer', and place it over the top too allowing the different time signatures to double helix a bit… that was when I got excited and called Ayşe to explain the idea and sense check if I had lost my marbles!
I visualise sounds in that way a lot, as a first port of call when writing – I studied photography for my degree and that visual training had a profound effect on the way I approached music afterwards.
I try to hear what I can imagine seeing and I find it a useful writing aid to ask myself questions like what shape I want a part of a song to be as a result of the emotion of a lyric, noise, sound, overriding concept. Then the melody follows that.
As for the vocal harmonies, I've been singing with my dear friends Grace, Theresa and Eve since we met in a local choir aged about 10! All of them are professional singers now, and I was so happy they agreed to collaborate on this as I really had them in mind to perform it, having sung with them as a female barbershop group for fun for years. And of course the two basses… Ayşe and I often fondly refer to each other as 'yin yang' in that we have contrasting but complimentary ways of playing bass.
Ayse's is fantastically heart felt, no nonsense, wallop and mine is less immediate, but more planned out – I like to think "what am I trying to achieve here?", mull it over and then play. It's the balance between those two styles that gives KITE BASE its voice, I'd say. We owe a huge debt of thanks to Giorgio Testi and Simone Pellegrini and their incredible team for directing and shooting that video and Dan Conway's outstanding visuals. Without them, the track would have been half of a whole. You need the gift of sound and vision.
John Fryer, the original producer of 'Something I Can Never Have', asked you to sing on first 'Warning Sign' and then 'This Kind Of Road' for his BLACK NEEDLE NOISE project, how was that?
That was a wonderful experience and I was thrilled to have been asked to collaborate. John had written the music and he gave me free reign to write whatever vocal melodies and lyrics I wanted in reaction to the tracks. It was a real treat because I could just focus purely on the vocal and the words and push that communication. I'd not done that before, purely focus on just those elements, and was happily surprised to find it all flowed very quickly. When you've already got a great foundation to build upon, the rest is a joy!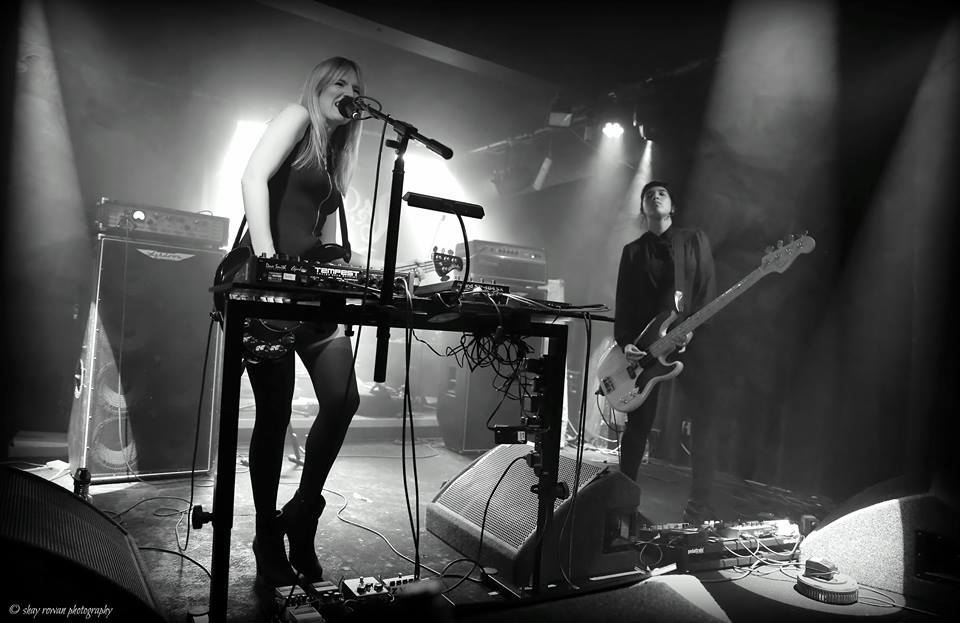 Then KITE BASE actually get invited to open for NINE INCH NAILS on selected dates on the Autumn US tour… have you taken it in yet and are you ready?
We are still pinching ourselves and I don't think it has quite sunk in yet for either of us! This has been a pipe dream for us both since we discovered NIN in our teens… it's beyond an honour to have been asked and a massive great big deal for us both personally.
Are we ready?! YES! We cannot bloody wait to get out there! Nerves kind of haven't come into it because it's all so wonderfully, David Lynch level beautiful / surreal. A place we are both very happy to be in.
How will you approach playing considerably larger venues than maybe you've played in the past?
Turn it up to 11 and dig out the miniature Stonehenge props! No, in all seriousness, it'll be great to have a bit more space on stage! We are usually on top of our 8×10's blasting out a whole spectrum of shades of distorted bass frequencies… try pitching to that! Ha! Smaller stages are hugely challenging for that reason and we usually get that AND low ceilings… you're basically in the epicentre of a giant sonic bass whirlpool in those situations, and although that can feel cool as heck, it will be great to have some space on stage.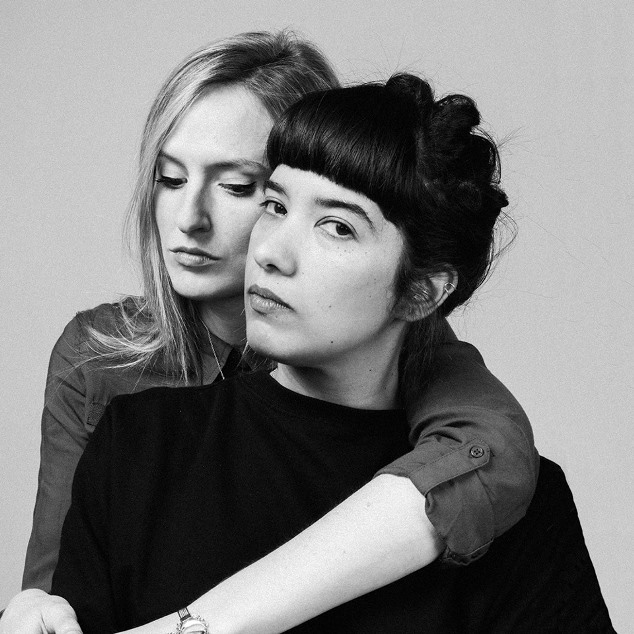 Will you have any new music to release? Are you taking KITE BASE into any different directions?
It's well underway and we have demos. We would love to work with a producer this time around… I don't want to repeat old ground and have been exploring ways to revise the current set up. As much as I love Alan the Tempest, there obviously are other pieces of hardware out there requiring different technical approaches that would therefore lead to new creative outcomes. Superbooth this year was choc full of incredible new machines – that MFB Tanzbar 2, oooh…!
Also, I like the idea of the possibility of putting my bass down here and there, in favour of adopting a bass synth, for example. That'd stay true to the 'two basses' idea then, but move it into different territory, generate new sounds and create fresh areas to explore sonically.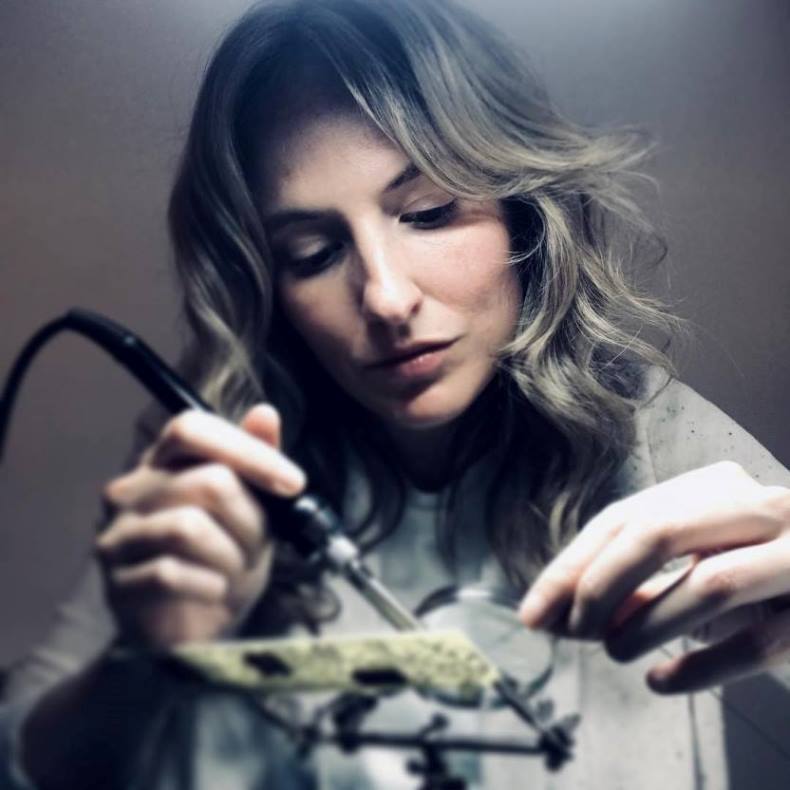 You've got into the physical act of synth building with soldering and all that, how did this all come about?
That was a moment of amazing serendipity; I am ridiculously lucky to have been taken under the wing of 'The Prof', Steve Thomas at Digitana. Along the lines of thought of investigating new synths and hardware to use in KITE BASE, I've always been very keen on the idea of building my own DIY electronics, directly inspired by artists like Chris Carter of THROBBING GRISTLE, Oliver Ackermann of DEATH BY AUDIO / A PLACE TO BURY STRANGERS, Guido and Kyle of VACTROL PARK etc.
I just think it's insanely cool to be able to make and use your own pieces of kit in addition to bought hardware and I'd been hunting for a teacher for a while with the hope of following along in those footsteps. I was relaying this to my dear friend and awesome film and TV composer, Carly Paradis, and she said "you need to meet Steve from Digitana".
Steve was about to visit her to showcase the prototype of a new analogue synth he'd built called the SX-1 as a collaboration with THE FUTURE SOUND OF LONDON, so Carly very kindly invited me along too.
I couldn't believe how awesome the SX-1 was, the sounds, the build quality, the classic EMS aesthetic… We all got on like a house on fire, and, it transpired that Steve was looking to train someone up to join the team. (I know how unbelievable this all sounds and no, I cannot believe my luck!)
Since then, I have been trained up on a number of awesome things and I am currently soldering and wiring the looms for the licensed EMS Synthi Hi-FLi, whilst my fellow team mate Alina Kalancea, who is an incredible electronic artist in her own right, works on the SX-1. It is beyond a perfect role because it's a truly wonderful company, motivated by excellence and craft – Steve is as much a genius as he is a genuinely lovely guy and an outstanding teacher (he is a head of PHD physics!).
Everything is designed by him and every item is built and made by hand by Digitana. I get to learn about synthesis as well as electronics and Steve fully supports our work as musicians also, making it as flexible as possible so we can still write and play.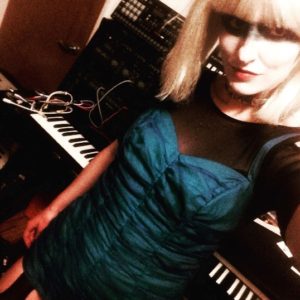 Will this possibly spark an interest in hardware like modulars? We've discussed Alan but what other equipment are you looking at for your music?
Yes! Just before landing my role at Digitana, I undertook a short evening course at London Modular, an introduction to modular synths. I love that store! It was excellent as it gave a thorough overview into Eurorack systems and basic patching.
We mainly used modules by Doepfer and Make Noise, but I just couldn't keep my eyes off the alluringly sci-fi looking Buchla 222e control surface in the corner of the room. Buchla is just something else. It feels like a classical instrument in every way to me; learning wise, sound quality wise… price wise… I'd long been a fan of Buchla artists like SUZANNE CIANI, ALESSANDRO CORTINI and REED & CAROLINE but Buchla has always seemed to be that unreachable, shiniest star over yonder for a number of reasons.
Until I met Alina at Digitana, that is, who I am excited to say has literally just sold me two of her second hand 200e modules! I'm due to receive them in the next couple of weeks and I cannot wait to fall down that rabbit hole. Bang goes any social life I had! Oh well! And yes, I've already named it – it's a she and she is called 'Pris'. After all, Pris did rock Buchla blue as eye make-up so very well!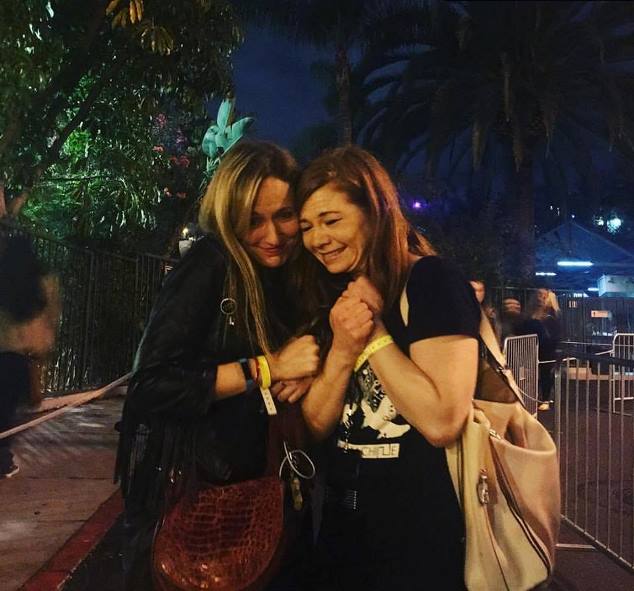 What else are you up to musically at the moment?
KITE BASE and I SPEAK MACHINE have collaborated on the soundtrack for Matt Harlock and Krent Able's short horror 'Deep Clean', which should hopefully be released soon! I LOVED working with Tara Busch from ISM, she is such a fabulous musician.
And personally, I've been working on something that I am exceedingly proud of and excited by; I've been doing musical sound design for Carly Paradis on the score for the new and forthcoming Netflix series 'The Innocents' which is due to air this summer.
I've been using the FSOL / Digitana SX-1 and Tempest Alan to make sounds for some of the best briefs I've ever seen; emotive, dark, alluring, sci-fi, thriller sounds – everything that is totally my cup of tea!
Working with Carly has been an absolute dream and it's a wonderful pairing for me in that I make the raw sounds and send them over to her to be incorporated into her score writing per scene. It has been incredible to see the journey of these sounds unfold. To make something and have it illustrate stunningly beautiful cinematography like that and to collaborate with an artist like Carly has been one of my proudest achievements to date and it is something that I very much hope will continue.
---
ELECTRICITYCLUB.CO.UK gives its sincerest thanks to Kendra Frost
'Latent Whispers' is still available as a CD, vinyl LP and download via https://kitebase.pmstores.co/
KITE BASE appear as part of Robert Smith's Meltdown Festival on Sunday 24th June at London's Southbank Centre on the Sunday Surprises stage – it is a free show with the duo performing a half hour set at 1.00pm
They will play the following Autumn 2018 dates with NINE INCH NAILS + THE JESUS & MARY CHAIN:
Washington The Anthem (9th – 10th October), New York Radio City Music Hall (13th October), New Orleans Saenger Theatre (23rd – 24th November)
https://www.facebook.com/kitebasemusic/
https://twitter.com/KiteBaseMusic
https://www.instagram.com/kiteba.se/
---
Text and Interview by Chi Ming Lai
Photos courtesy of Kendra Frost
9th June 2018