I SPEAK MACHINE is the audio / visual collaboration between musician Tara Busch and filmmaker Maf Lewis, inspired by Ennio Morricone and Sergio Leone who used to discuss score ideas while scripts were being written for the classic Spaghetti Westerns.
Having released the soundtrack to their horror short 'The Silence' in 2015, their latest offering is 'Zombies 1985'
, a musical collaboration with Benge of WRANGLER and JOHN FOXX & THE MATHS fame.
In Busch's own words "What was meant to be a 3 song EP by Benge & I morphed into an 11 song brain chomping monster".
The 'Zombies 1985' film itself tells the story of greed and self-obsession in Thatcher's Britain as a businessman drives home, oblivious to the zombie apocalypse going on around him. It features GARY NUMAN's three daughters Persia, Raven and Echo in cameo roles and was screened with the live score performed by Busch on a UK and US tour with Numan.
Fitting in with the film and album's title, a conceptual rule of using only "1985 period equipment" was imposed including mixers and effects units. The end result is striking with the station idents, drones, percussive mantras and abstract electronic screeches forming the start of the album, supplemented by apocalyptic mutant pop songs influenced by the likes of CHRIS & COSEY and CABARET VOLTAIRE.
The hazy 'Demon Days' is the first of these songs and sounds like early GOLDFRAPP trapped aboard the starship Nostromo with Busch's unsettling gothique and siren synths penetrating a distinct horror movie vibe.
The mysterious workshop electronica of 'Blood From A Stone' also evokes even more overtones of early GOLDFRAPP and while the superb track is perhaps nearer to Busch's excellent solo 'Rocket Wife' EP from 2011, it is far less conventional as the pace picks up in a militaristic fashion with a vocoder harmony in tow.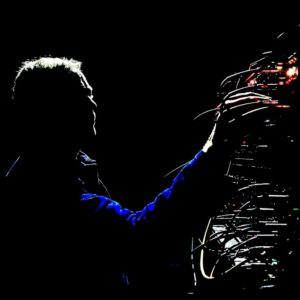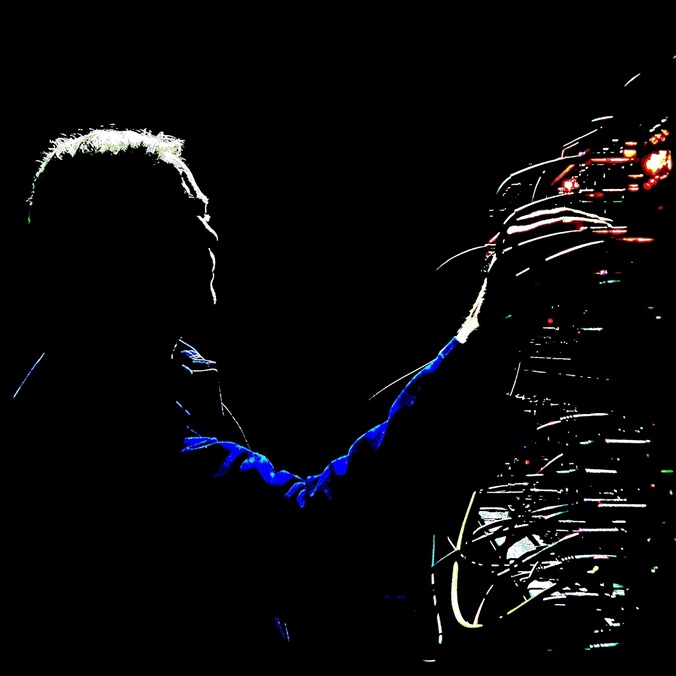 The pacey 'Hollywood Power' is driven by fat sequences, with claustrophobic radio announcer samples and cold string machines capturing the tension as the airwaves get taken over by dark forces.
Meanwhile, the brilliant 'Shame' with its cascading synths and noise percussion is equal parts THROBBING GRISTLE, THE HUMAN LEAGUE and again GOLDFRAPP.
The robotic tech house of 'Gone To LA' leads to the crystalline arpeggios of 'Trouble' where a wholly synthetic reimagining of BRIAN ENO's 'No One Receiving' is given an angel of death twist.
With a stuttering rhythmic passage and swimmy atmospherics, the deep bass driven 'Petrified Mind' sees Busch cross HEART with GAZELLE TWIN for the most American sounding track of the collection.
The deadpan 'New Dawn (1986)' has that air of finality about it, doomy and reminiscent of JOHN CARPENTER with rich synth tones that are complimented by Busch's eerie vocal presence of spoken and sung phrases.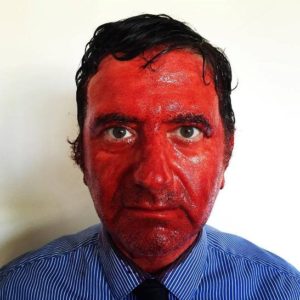 'Zombies 1985' is a wonderfully mutant mix of vintage synth collages and "Doris Day in outer space", as JOHN FOXX once described Tara Busch and her delightfully odd electronic pop sound. And with the recent passing of George A Romero, the modern day Zombie film's Godfather, this I SPEAK MACHINE album also now acts as a fitting tribute to his legacy with movies such as 'Night of the Living Dead' and 'Day Of the Dead'.
One of the best electronic albums of 2017? 'Zombies 1985' is definitely a contender and will satisfy the curiosity of those with a penchant for stranger things.
---
'Zombies 1985'
is released by Lex Records on 18th August 2017 in CD, vinyl LP and digital formats, available from https://ispeakmachine1.bandcamp.com/album/zombies-1985
https://www.facebook.com/ispeakmachine/
https://www.instagram.com/ispeakmachine/
http://lexprojects.com/i-speak-machine/
---
Text by Chi Ming Lai
24th July 2017