Troika from Russian: тройка "A group of three working together…"
Promising an evening of "triple synth sorcery", the Troika! tour reached The Shacklewell Arms in London as the line-up of KITE BASE, HANNAH PEEL and I SPEAK MACHINE each presented their own variations on the expansive theme of electronic music.
As HANNAH PEEL said recently: "although the music from each act is different, it does feel similar in a way".
First up was I SPEAK MACHINE, an audio / visual collaboration between musician Tara Busch and filmmaker Maf Lewis.
Producing brooding, unsettling soundtracks for various film projects, their approach has been inspired by Ennio Morricone and Sergio Leone, who used to discuss score ideas for scenes while scripts were being written for the classic Spaghetti Westerns.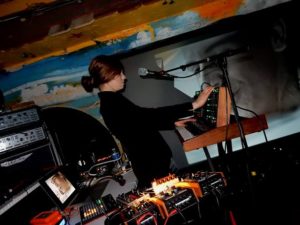 Armed with a Minimoog Voyager, Busch performed solo and showcased live soundtracks from a horror short 'The Silence'
, a digital book adventure 'Strata' and the soon-to-be-released, self-explanatory 'Zombies 1985'; the latter is musical collaboration with Benge of WRANGLER who was in the audience with his bandmates Stephen Mallinder and Phil Winter. The film itself even features GARY NUMAN's three daughters Persia, Raven and Echo in cameo roles!
But it wasn't just about weird, abstract collages set to arty cinema, there were songs too. With her operatic soprano stylings, Busch treated the crowd to bizarre but enjoyable covers of 'The Sound Of Silence' and 'Cars'. It came over like early GOLDFRAPP on acid, or "Doris Day in outer space" as JOHN FOXX once described her sound; Numanoids will either be fascinated or enraged when Busch opens for GARY NUMAN on his September 2016 tour.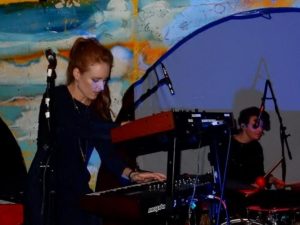 Throwing caution to the wind with a set comprising only of material from her soon-to-be-released sophomore long player 'Awake But Always Dreaming'
, HANNAH PEEL offered some emotive numbers dealing with the spectre of memory loss and dementia.
With a combination of piano-led, effects laced songs like 'Invisible City' and 'Tenderly' alongside more direct synthpop offerings such as 'Hope Lasts', she set the scene.
Augmented by drummer Daisy Palmer, a musician adept at a variety of percussive colours that complimented Peel's hybrid sound, new single 'All That Matters' utilised live arpeggios and a bridging jam to add a looser element to the usual rigid electronic format.
The crowd were in total silence for an impressively forlorn performance of Paul Buchanan's 'Cars In the Garden' on solo music box, but it was the progressive experimental overtures of 'Awake But Always Dreaming' and 'Foreverest' that startled all those present; the latter mutated into a powerful violin versus Schaffel workout. "Hot, sweaty and emotional" was what Peel had to say on the conclusion of her evening's work.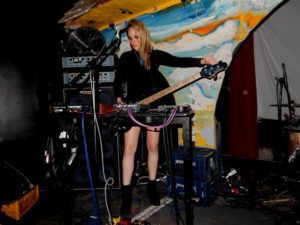 Following on, KITE BASE offered some gritty scissored bass action, accompanied by a DS Tempest drum machine and assorted programmed electronics.
Lead vocalist Kendra Frost recently collaborated with John Fryer on 'Warning Sign' for his BLACK NEEDLE NOISE project, after the studio legend heard KITE BASE's eerie cover of NINE INCH NAILS 'Something I Can Never Have', the original of which he co-produced.
KITE BASE started as a side project of SAVAGES bassist Ayşe Hassan and while that quartet's sound is distinctly conventionally driven, their association with producer TRENTEMØLLER has seen the band's various members experimenting with technologically derived textures.
Opening with their new single 'Soothe', Frost and Hassan offered plenty of feisty energy. On tracks like 'Miracle Waves', rhythmical stabs of NEW ORDER escaped while Frost's dark, brooding vocals haunted in a similar fashion to Christina Wood from the more overtly electronic duo KALEIDA. Closing with their debut song 'Dadum', the cacophony of voices and noise fused into a cascading wall of sound.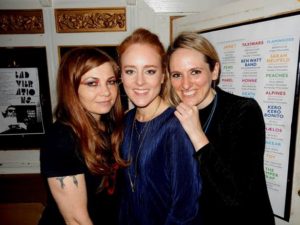 Too often, multiple line-up events comprising of disparate acts from conflicting genres have been the norm in the independent music scene in an attempt to appeal to as many as possible, happy that a small rotating door audience will keep the bar in business. But presented with one of the most eye-catching poster images of recent years, Troika! was an enticing evening of music where the venue was packed from start to finish.
It ultimately proved how a thoughtfully curated bill, featuring acts with appropriate artistic connections, can work.
---
KITE BASE's new single 'Soothe' b/w 'Daum' is released by Flashback London on 14th October 2016
HANNAH PEEL's new album 'Awake But Always Dreaming'
is released by My Own Pleasure 23rd September 2016
I SPEAK MACHINE tours with GARY NUMAN throughout September, the 'Zombies 1985' soundtrack will be released by Lex Records sometime in 2017
---
Text and photos by Chi Ming Lai
Troika! Poster by Garry Hensey
11th September 2016