Featuring JOHN FOXX & THE MATHS, I SPEAK MACHINE and GAZELLE TWIN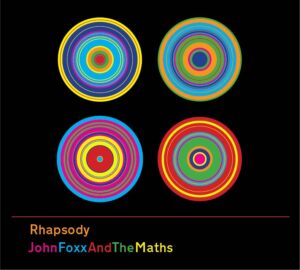 JOHN FOXX has been highly prolific of late and this month sees the release of two tasteful artefacts which has the electronic pioneer revisiting his past while continuing to look forward simultaneously.
Both also showcase the platform he has given in particular to rising female musicians within a synth scene so notoriously noted in the past for its boys with their toys stance. But now, the girls are allowed to play with those toys too!
The first of these is 'Rhapsody', 10 tracks recorded live at London's MemeTune Studios in late 2011 shortly after the JOHN FOXX & THE MATHS 'Interplay' tour. This series of shows was noted in particular for the addition of Hannah Peel's screeching electric violin on material from Foxx's 'Metamatic' and early ULTRAVOX! phases.
Featuring also Serafina Steer on bass and synths plus Foxx's Mathematical sidekick Benge on electronic percussion and synths, the wide scope of the material is given a thematic core by this highly competent quartet, each bringing in their individual skills for a sum greater than its parts.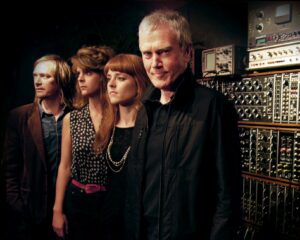 Foxx's collaborations with Louis Gordon may have revitalised his musical aspirations, but what the Benge partnership did was provide a depth of humanity which perhaps had not shown itself in Foxx's work since his ULTRAVOX! days. The addition of younger players such as Peel and Steer plus vital, energetic new material such as 'Catwalk' contributed to what was possibly Foxx's best ever live show, not a bad achievement considering the former Dennis Leigh is now in his fourth decade in the music industry.
Like Foxx's recording of 'The Omnidelic Exotour' from 1997, 'Rhapsody' is a closed set live recording with no audience. The beautiful instrumental take of 'The Good Shadow' with its pulsing sequences and eerie violin will have some recalling the intro of GARY NUMAN's 'Cry The Clock Said'.
Meanwhile the reworking of 'Hiroshima Mon Amour' retains the serene quality of the original with elements such as the sax are replaced by synth and Benge compliments percussively with Simmons thuds. The highlights though inevitably are 'The Shadow Of His Former Self', 'Just For A Moment' and 'He's A Liquid' where the violin of Hannah Peel wails to an enjoyable pitch bent frenzy!
Of course, a lot 'Metamatic' era material actually featured bass guitar so Steer's fluid four string, while not quite putting the funk into proceedings, gives a closer representation of the period's mechanised groove on songs like 'Burning Car'. Peel and Steer's elements combined with Benge's synthetic drums interestingly beg the thought of how ULTRAVOX might have sounded had Messrs Foxx, Currie, Cross, Cann and Simon stayed together to record 'Metamatic'? 'Rhapsody' is a great souvenir of the 'Interplay' tour although it could have done with being slightly longer; 'Plaza' and 'Watching A Bulding On Fire' would have been worthy inclusions but it's probably best to have the audience wanting more.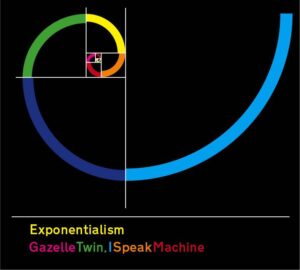 Meanwhile, on the 'Exponentialism' EP, two songstresses, who have supported JOHN FOXX & THE MATHS' live shows and contributed to latest album 'Evidence', are given an opportunity to glow in the darkness as I SPEAK MACHINE and GAZELLE TWIN premiere their vivid interpretations of Foxx's back catalogue. Both hit soprano ranges in their vocal capability and that automatically allows them to put their own stamp on some iconic work. GAZELLE TWIN told ELECTRICITYCLUB.CO.UK in 2012: "I prefer covering songs written or sung by men. Perhaps because it instantly allows me to create a new perspective on it."
So with I SPEAK MACHINE, the new electronic vehicle for American musician Tara Busch, she assumes the role of predatory female and her aggressive take on 'My Sex' is the complete opposite to Foxx's original detached tone of resignation. Unsettling and eerie, the new arrangement is tremendous. Meanwhile, 'I Want To Be Machine' is virtually rewritten by Busch with the Ballardian lyrics now accompanied by abstract synthetics and robotics that are well away from the early Bowie-esque folkisms of the 'Ultravox!' album's longest track. It's as if the roles in 'Demon Seed' have been reversed!
Hauntingly sedate, GAZELLE TWIN, the alias of Brighton based Elizabeth Walling, gives a stripped down rendition of 'Never Let Me Go' with a neo-acappella intro before it oozes into a collage of choral beauty reminiscent of Foxx' own 'Cathedral Oceans' trilogy. Appropriately sounding like she's drowning, GAZELLE TWIN's choice of 'He's A Liquid' as her second cover reflects the metaphysical fascinations of her own compositions like 'I Am Shell I Am Bone' and 'I Turn My Arm'. Sung from the female perspective, it highlights an ambiguous sexual angle to one of the highlights from 'Metamatic'.
There was once an 'In The City' fanzine special about the Foxx-led ULTRAVOX! entitled 'Past, Present and Future'. Both 'Rhapsody' and 'Exponentialism' show that more than 30 years after that publication, JOHN FOXX still very much represents the past, present and future of independently minded electronic music.
---
'Rhapsody' and 'Exponentialism' are released by Metamatic Records and both available as CDs or downloads from http://johnfoxx.tmstor.es/
JOHN FOXX & THE MATHS play a headline show at Brighton's Concorde 2 on 7th June 2013 with support from VILE ELECTRODES
http://www.johnfoxxandthemaths.com/
http://myblogitsfullofstars.blogspot.co.uk/
---
Text by Chi Ming Lai
14th May 2013