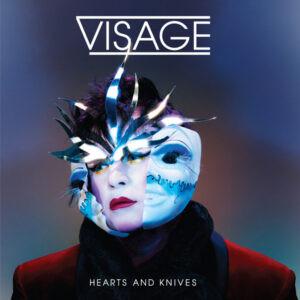 With the well received returns of ULTRAVOX and DURAN DURAN in the last few years, it was inevitable VISAGE would resurrect themselves.
Originally a synthesized collective comprising of Midge Ure, Rusty Egan, Billy Currie, Dave Formula and the late John McGeoch, it was fronted by the face of the New Romantic scene, Steve Strange.
But on this new album, only Strange remains although Formula co-writes 'Diaries Of A Madman', the only track to emerge from an aborted attempt to revive the brand as VISAGE II back in 2007.
Rusty Egan was involved in the early stages of 'Hearts & Knives', but departed due to creative differences while despite an announcement by Strange on German TV that he was working with Ure again, the diminutive Glaswegian has distanced himself from the project although it is known he had submitted a song on condition that it involved Egan.
The absence of the key musical driving forces that gave the world 'Fade To Grey', 'Mind Of A Toy' and 'The Damned Don't Cry' really exposes itself on 'Hearts & Knives'. Even an attempt to lob the iconic Compurhythm intro of 'Fade To Grey' onto 'She's Electric' to reference past glories cannot detract from the poor quality of this album.
The first two VISAGE albums were notable for their arrangements, counterpoints and musicality while layers of Midge Ure's backing vocals propped up Strange's lead monotone.  But like the disastrous third album 'Beat Boy' which saw Strange and Egan try to keep the VISAGE name alive after the departure of the ULTRAVOX and MAGAZINE crew, Strange's voice is laid bare and simply not strong enough for a collection of songs to be based around.
Bare is a description that could be used for the music too. The production is almost demo-like; the rhythmical base is particularly thin and while it is great to hear ex-ULTRAVOX guitarist Robin Simon again, the squawky nature of his interplay becomes irritating from being pushed too far up in the mix.
And despite claims that exclusively analogue synths are used, they're hardly noticeable with the assorted technicians seemingly unaware of VISAGE's history.
It's not all bad; 'Shameless Fashion' is unsurprisingly the single and could have come off 'Beat Boy' while 'Dreamer I Know' has unleashed melodic potential. But compared with ULTRAVOX's 'Brilliant' or DURAN DURAN's 'All You Need Is Now' though, 'Hearts & Knives' just doesn't cut it!
---
With thanks to Vicky Berry at Quite Great PR
'Hearts & Knives'
is released on 20th May 2013 by Blitz Club Records as a CD and download
Please visit http://www.visage.cc/ to obtain a free download of 'Shameless Fashion'
The new line-up of VISAGE play Hoxton Square Bar & Kitchen in London on 5th June 2013
http://www.facebook.com/therealvisage
---
Text by Chi Ming Lai
Artwork Photo by Peter Ashworth, Portrait Photo by David Levine
13th May 2013, updated 19th May 2015