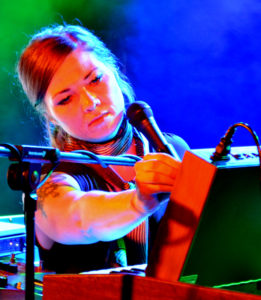 Those who arrived early for JOHN FOXX & THE MATHS' shows last year will have noticed the kooky songstress with a laptop, flute and Moog Voyager as the opening act. That lady is TARA BUSCH, American musician, producer and score composer.
JOHN FOXX himself described his first encounter with her thus: "Karen Carpenter appeared, along with Nico and Doris Day. Then Bob Moog wandered in". Since then TARA BUSCH has collaborated with JOHN FOXX & THE MATHS on the track 'Where You End & I Begin' from the new album 'The Shape Of Things', but she was already a seasoned hand before that as a member of DYNAMO DRESDEN who released the album Remember in 2004.
Going solo, she issued her debut album 'Pilfershire Lane' in 2009 while also undertaking remixes under her Analog Suicide brand for fellow enigmatic females such as ANNIE LENNOX, BAT FOR LASHES, POLLY SCATTERGOOD and the mysterious IAMAMIWHOAMI. She was then chosen by Michelle Moog to perform and participate in a workshop called 'Modern Day Sound Sculpting' at MoogFest 2010.
But it was her charity EP released in late summer of 2011 for The Bob Moog Foundation entitled 'Rocket Wife' that really put her on the map for synth enthusiasts. Ever wondered what happened to that other worldliness which was present on GOLDFRAPP's monumental 'Felt Mountain' album? Well, it has now landed on Planet Busch.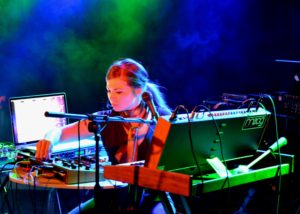 With a combination of 'Aqua Marina' vocals and the Sci-Fi sounds of the BBC Radiophonic Workshop's Delia Derbyshire, 'Rocket Wife' is simply breathtaking, sounding like Patti Page in outer space.
Meanwhile, additional EP track 'Calendura' is a beautiful Alpen waltz with a touch of 'Oompah Radar' about it while the very short 'Motor Crash' is gorgeously neo-acappella with a smattering of bubbling squelch games.
Busch said of her EP: "This is a homage not only to Bob Moog and his legacy, but to the effect the synthesizer had on my music, creativity, and life. What Bob did, most famously with the Minimoog, was to make the groundbreaking world of synthesis available to everybody, not just for the privileged few."
TARA BUSCH is also known for her enjoyable off-the-wall interpretations of songs such as MADNESS' 'Our House' and THE CURE's 'Let's Go To Bed' which appeared on the 'Perfect As Cats' tribute album.They're cover versions Jim, but not as we know it! So Busch's Five Year Mission? To synthly go where no woman has gone before…
---
'The Rocket Wife' EP is available to download from The Bob Moog Foundation website at http://bobmoogfoundation.bandcamp.com/album/the-rocket-wife-ep-by-tara-busch
---
Text by Chi Ming Lai
Photos by Mike Cooper
23rd February 2012