Alison Goldfrapp could be considered the most influential female music figure of the 21st Century so far.
Her sexy space age air hostess outfit accessorised by thigh length boots from the 'Wonderful Electric' DVD has become an iconic image while the distinctive electro glam GOLDFRAPP sound has been borrowed by pop princesses Rachel Stevens, Kylie Minogue, Christina Aguilera, Britney Spears and even rock bands such as MUSE!
She has become so influential in fact that in the ultimate back-handed compliment, the music press even gave Madonna the nickname "Oldfrapp"! The fairy godmother of modern electro has always cut a striking visual persona with photos of her playing keyboards in her smalls pre-LITTLE BOOTS, cuddling wolves dressed as a deviant Sally Bowles and strutting about the metropolis in a pink jump suit among the varied scenarios.
All this, despite her inherent awkwardness with regards live performance and interviews. While Alison Goldfrapp has obviously been the voice and face of GOLDFRAPP, her silent partner Will Gregory has been crucial to the chemistry.
A musician and producer of strong intellect with a proficient instinct for pop, classical and soundtrack music, he has been the stabilising element to the front woman's more art school eccentricities. When they first worked together in 1999, both were considered to have been around the musical block.
Goldfrapp was involved in well documented collaborations with ORBITAL and TRICKY while Gregory did a stint with TEARS FOR FEARS at the height of their commercial powers, playing sax in their live band and on the tracks 'I Believe' and 'The Working Hour'. The dreamboat duo have successfully managed to avoid being categorised, surviving both Trip-Hop and Electroclash, two early labels that confused journalists tried to lump them with!
Almost chameleon-like, GOLDFRAPP have changed styles with every album, making the audience work for their pleasure. From their serene but sinister cinematic debut 'Felt Mountain' to the futuristic glitz of 'Black Cherry', the X-Certificate KYLIE of 'Supernature' to the folktronica of 'Seventh Tree' and the more recent retro AOR of 'Head First', GOLDFRAPP have for the most part, been supreme despite these mood swings.
But by way of a goodbye to their tenure on EMI (via their original label Mute), GOLDFRAPP release a compilation called 'The Singles'. It is not a collection of their best work by any means or even a definitive singles document. As a snapshot to entice the curious to investigate their most glorious work via their albums, this is a worthwhile curriculum vitae, an indicator as to why their sound has been pillaged mercilessly throughout the world!
The superb 'Lovely Head' with its spine tingling whistle and electronically assisted banshee wails started it all in 2000. Will Gregory's mad Korg MS20 treatment on Alison Goldfrapp's sumptuously charged screaming was one of the most thrilling musical moments of the noughties. Made famous by a mobile phone ad featuring Gary Oldman and as the theme to indie flick 'My Summer of Love' starring Emily Blunt, the duo's stratospheric debut single had ENNIO MORRICONE's widescreen inflections but to accompany an ascent to the Matterhorn rather than a trek through a Spaghetti Western.
Surreally sexy, GOLDFRAPP's slower, more atmospheric numbers have always been one of their major strengths. Of those esoteric offerings, 'Black Cherry' and 'Utopia' are thankfully present. The former is still chillingly enticing while the latter is a seething ditty about a "fascist baby" and the science of genetic engineering… "my dog needs new ears" indeed.
'Felt Mountain' was a masterpiece of avant string laden Weimar that showcased Alison Goldfrapp's amazing vocal range from Callas to Bassey to Dietrich! A slow burner that eventually sold half a million, it was deservedly nominated for the Mercury Music Prize in 2001.
But despite that, the first of GOLDFRAPP's major direction changes occurred in 2003 with second album 'Black Cherry'. It upped the tempo and added a more forthright electronic template.
Deliciously wired like THE GLITTER BAND fronted by Kate Bush, the 6/8 rooted 'Strict Machine' became ubiquitous as incidental music to any TV documentary about the adult entertainment industry. Preceding it was that other filthy slice of Teutonic schaffel, 'Train'.
Its growling Polivoks riff was too discordant to have mainstream appeal but as visualised by its erotic promo video, it became popular with dancers of that ilk! After being beaten senseless by the efficient but monotonous four-to-the-floor club beats of the nineties, this was a statement of intent. GOLDFRAPP showed that this was not the only way!
Will Gregory himself said to Sound On Sound at the time: "I get freaked out when I think about us all sitting down at 10 in the morning in front of Logic set at 120bpm, 4/4. I think we all need something that's our own, that you feel is special…" And this was the sound that was to be latched onto by chart pop producers everywhere!
'The Singles' opens though with 2005's 'Ooh La La', the T-REX pastiche that is probably still the best known GOLDFRAPP tune having been featured in adverts, 'Hollyoaks' and the like. However, it was 'Some Girls' by Rachel Stevens that first put the icy glam electro sound into the UK Top 5 in 2004.
Although so obviously GOLDFRAPP-lite, many thought 'Ooh La La' was actually 'Some Girls' follow-up, much to dismay of Ms Goldfrapp! "I AM NOT RACHEL STEVENS!" she exclaimed!
However, 'Ooh La La' attracted many younger music fans who wanted to move on from KYLIE and the like for something more sophisticated. Parent album 'Supernature' ended up selling one million worldwide.
The fantastic 'Number 1' brought ROXY MUSIC into the 21st Century. Styled like lusty OMD with beautiful tones and buzzy noises combined to full counter melodic effect, the vocal delivery was almost like a female Bryan Ferry. Ms Goldfrapp was once filmed describing synth sounds by colours… this song seemed to feature all the colours of the rainbow.
'Number 1' was another proud pop moment, but with its Studio54 decadence and more T-REX referencing, something had to give and Alison Goldfrapp temporarily abdicated her electro queen crown for the confusing, acoustically flavoured 'Seventh Tree'.
From it, 'A&E' was outstanding, a paradoxically sweet tune with an unsettling narrative about a girl's attempted suicide. Also from 'Seventh Tree', 'Happiness' could have actually been one of their trademark 12 bar stompers but was toned down to a more drippy maypole dance to fit with the album's concept… REX THE DOG's rejected remix of the song was far better! One could respect the intentions of 'Seventh Tree', but 'Felt Mountain' it most certainly wasn't!
A return to synths and poptastic tempos with the 'Head First' album in 2010 coincided with a more relaxed and confident Alison, someone who was now comfortable in her own skin having come out in her personal life.
Lead single 'Rocket' was considered uninspiring by some observers, but it was a catchy MTV-styled disco tune featuring the brassy stabs from Laura Branigan's cover of Italo standard 'Gloria'. The gorgeous middle eight was angelic while the near lyrical banality of the chorus was utter genius, intended sexual innuendo or not! 'Believer' is the other 'Head First' representative but with the choice being restricted to single releases, then the ELO meets Billy Joel aping 'Alive' might have been a better choice as an example of accessible electro AOR for the masses.
But ultimately, this compilation is not for GOLDFRAPP fans. At 14 tracks, it is as short as possible so as not to bore potential punters and steers away from GOLDFRAPP's more obscure but splendid singles such as 'Human', 'Twist' and 'Pilots' (which incidentally was banned by the BBC in the wake of 9/11). In fact, there is no inducement for fans to purchase other than the two new songs included.
An opportunity for a deluxe set with a DVD of promo videos or bonus CD gathering the tremendous B-sides such as 'White Soft Rope', 'Gone To Earth', 'UK Girls', 'Beautiful' and 'Yes Sir' has been missed. But with the two unreleased numbers, 'Yellow Halo' is a lovely eulogy to Alison Goldfrapp's late mother and a close relative to 'A&E', while 'Melancholy Sky' is a dreamy ballad with that classic John Barry orchestrated film theme vibe; Will Gregory even breaks out the sax!
So are these two compositions an indication of where GOLDFRAPP are heading next? Certainly some other worldliness would be welcomed by many of their loyal audience waiting in anticipation at the Deer Stop. For this chapter in the GOLDFRAPP story at least, it ends as it started… with some marvellous cinematic soundscapes.
---
'The Singles'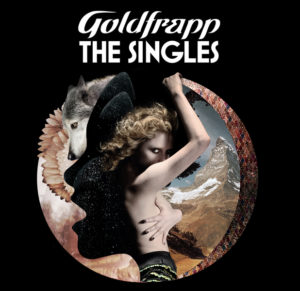 is released by Mute / EMI Records as a CD and download
https://www.facebook.com/Goldfrapp/
https://www.instagram.com/goldfrappmusic/
---
Text by Chi Ming Lai
21st February 2012, updated 8th January 2017