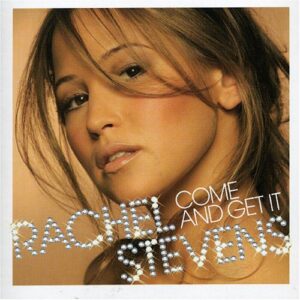 Released in October 2005 and boasting four Top 12 singles, the former SClubber's vastly underrated electro-oriented album 'Come & Get It' peaked at No 28 in the UK which in manufactured pop terms, was deemed a total disaster.
Initially at the time, Rachel Stevens' success seemed to be guaranteed; she was regularly in the media spotlight and also a popular lads mag pin-up.
So her second album, assembled by a team of top writers and producers including Richard X, Hannah Robinson, Xenomania, Pascal Gabriel, Paul Statham and Rob Davis (who co-wrote Kylie Minogue's 'Can't Get You Out Of My Head') seemed a surefire way of cementing it.
But one thing a pretty face never guarantees is sales. Lads mag readers generally don't buy music unless it is of the Mancunian monobrow rock variety while the G-A-Y audience are suspicious of any prospective pop divas who maybe have just had life a little bit too easy… Stevens' middle class drama school roots probably reinforced that!
And generally, young women prefer boy bands and just don't buy the records of other females if the artist is aesthetically more pleasing than themselves! The writers and producers, all experienced hands, probably foresaw that Stevens' pop career was likely to flop so used their contributions to the album as an excuse to experiment and have fun. The end result is a collection of pop songs bursting with inventive, fun and risqué ideas.
The album's launch single 'I Said Never Again (But Here We Are)' is a Rob Davis penned glam stomper with a touch of 'Antmusic'. The provocative lyrics certainly wouldn't have been allowed on CBBC: "I feel such a traitor – oh, I let you in my back door… rough love's so deceiving – I said never again but here we are!" All highly amusing if you appreciate the saucier pleasures in life! Rob Davis also pays tribute to his MUD roots with his other offering, reprising that schaffel beat on UK bonus track 'Every Little Thing'.
Richard X's GOLDFRAPP-lite production on 'Some Girls' has Stevens playing a wannabe who ends up on pop's casting couch: "Some girls always get what they wanna – all I seem to get is the other – this won't last for long not forever – the champagne makes it taste so much better!"…
Co-written by X with Hannah Robinson apparently in response to having one of his GOLDFRAPP remixes rejected and based on some real music industry anecdotes, it was 'Some Girls' that first put the icy glam electro sound into the mainstream consciousness, so much so that many thought 'Ooh La La' was actually the follow-up to 'Some Girls', much to fury of Alison Goldfrapp! "I AM NOT RACHEL STEVENS!" she exclaimed!
The Richard X led 'Crazy Boys' is another Frapper's delight featuring timpani coloured 6/8 time signatures and atmospheric electronics that recall Jean Michel Jarre's 'Oxygene Part II'… it could be BLACK BOX RECORDER with a Gallic twist although on 'Je M'Appelle', Ms Stevens actually gives the French language a go with an 'Allo 'Allo accent! Despite this, it does recall the comedic charm of SPARKS' 'Je M'Appelle Russell'!
'So Good' is brilliantly bouncy and tastefully engaged electro produced by Pascal Gabriel; and yes, it does sound like LADYHAWKE without the guitars. Meanwhile with his erstwhile partner Paul Statham from B-MOVIE, their heavenly co-write 'I Will Be There' features the sort of pulsing sequencers that drove NEW ORDER's dancefloor exploits.
Post-punk influences continue in abundance with a sample from THE CURE's 'Lullaby' forming the basis of 'It's All About Me'. A slice of wispy electro-soul a la Chaka Khan's 'Ain't Nobody' comes in the shape of 'Secret Garden' while 'Negotiate With Love' is squelchy Scandinavian synthpop with added Simmons drum sounds. These two have hints of both Annie and Robyn. Xenomania chip in the lovely mid-paced 'Nothing Good About This Goodbye' but it is their main event closer 'Funny How' that shines brightest.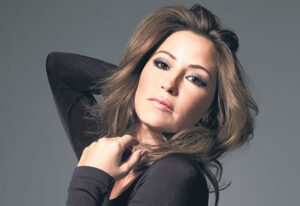 Apparently co-written by Stevens with the hit factory who later worked with PET SHOP BOYS, this is a perfect Princess Stephanie Eurodisco record in the vein of 'I'm Not Scared'. The best track on the collection, 'Funny How' should have been covered by GIRLS ALOUD and turned into a massive hit.
The gorgeous synthpop gems 'Love Is Pain' and 'Turn to Stone' from Cole and co's most recent album 'Out of Control' take their template from here.
'Come And Get It' is a superb album that can be appreciated on an intellectual level as well as a throwaway pop experience. Whether Miss Stevens is actually really singing is a moot point as each of the lead vocals on the album appear to be different; it could be any pretty poppet!
Rachel Stevens is the girl you should fancy but actually don't! Is her look too flawless? Is it because she always appears too pleased with herself? It is rumoured THE STREETS' 'Fit But You Know It' is actually about her! This aura may have actually hampered the potential of this album. Whatever, the craft and quality danceable electro on 'Come & Get It' delivered on the path paved by GOLDFRAPP and predicted what was to come with LADYHAWKE, LITTLE BOOTS and LA ROUX.
In its post-release reappraisal, All Music Guide said it was "a collection of thoroughly excellent electronic dance-pop songs" and "the definitive album of 2000s UK chart pop". The Guardian placed it in their '1000 Albums You Must Hear Before You Die' list. And LITTLE BOOTS later acknowledged 'Come & Get It' as an influence on her hit album 'Hands'. Like it or not, 'Come & Get It' really was forward thinking pop music!
---
'Come & Get It'
is still available as a CD or download via Polydor Records
https://www.rachelstevens.com/
https://twitter.com/MsRachelStevens
https://www.instagram.com/msrachelstevens/
---
Text by Chi Ming Lai
24th February 2011, updated 8th January 2017