Producer and remixer Richard Philips, better known as Richard X, began his musical career creating bootlegs or mash-ups.
This was an illegal creative practice of combining two existing and often incongruous records to make an entirely new track.
The fusion of disparate elements, where often the vocals of one recording from a particular genre were placed over the instrumental backing from another, became a fashionable practice in clubs; Belgium's 2 Many DJs were among one of the more notable exponents alongside Richard X.
Influenced by THE HUMAN LEAGUE and KRAFTWERK in particular, Richard X's first notable mash-up under the name GIRLS ON TOP was 'I Wanna Dance With Numbers' in 2001; it dropped Whitney Houston over KRAFTWERK and inspired by the apparent elitism of the electronica scene at the start of the 21st Century.
But it was when he placed 'Freak Like Me' by R 'n' B artist Adina Howard over TUBEWAY ARMY's 'Are Friends Electric?' for a bootleg entitled 'We Don't Give A Damn About Our Friends' that figures within the music business realised Richard X's Frankenstein vision might have commercial potential.
Ironically, one person who didn't was Adina Howard herself who refused permission for her vocal to be used on an officially sanctioned release.
Instead, the British female pop trio SUGABABES recorded a cover version of the mash-up produced by Richard X and the rest is history.
Since then, Richard X has been approached to work with many artists, but remains selective, declining most of what he is offered and often only working on individual tracks, thanks to his own artistic assertion that "I've always been about singles…"
Richard X created his own production umbrella Black Melody to oversee his work and even released a collection of demos by THE HUMAN LEAGUE as 'The Golden Hour Of The Future'
which had been shelved by Virgin Records back in 1981. Meanwhile as well as ERASURE, NINE INCH NAILS, GOLDFRAPP, MIRRORS, SAY LOU LOU and NEW ORDER, his productions and remixes have encompassed artists such varied as Will Young, Roísín Murphy, Rachel Stevens, Sam Sparro, Tiga, Jarvis Cocker and Lana Del Rey.
As a result of often working on just singular tracks with artists, Richard X has a large and diverse portfolio; ELECTRICITYCLUB.CO.UK lists eighteen of his most notable tracks, with a limit of one track per artist and presented in chronological and then alphabetical order…
---
SUGABABES Freak Like Me (2002)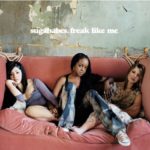 Richard X dropped 'Freak Like Me' over 'Are Friends Electric?' as a GIRLS ON TOP bootleg, a crossover hit was just waiting to be unleashed… enter SUGABABES, modern pop's equivalent of 'Charlie's Angels'. This was a period when Gary Numan was being sampled left, right and centre by the likes of BASEMENT JAXX and DJ Armand Van Helden, so this Diabolus In Musica urban hybrid no doubt helped bring him to a curious new young audience.
Available on the SUGABABES album 'Overloaded: The Singles Collection'
via Universal Music
---
RICHARD X vs LIBERTY X Being Nobody (2003)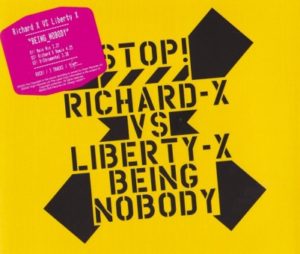 A huge fan of THE HUMAN LEAGUE, Richard X continued his mash-up magic, albeit in a more reproductive manner. When the appropriately monikered LIBERTY X came knocking, he took inspiration from the various versions of 'Being Boiled' and put RUFUS & CHAKA KHAN's funk classic 'Ain't Nobody' over the top, helped by the fact that both tunes ran at a very similar BPM of 103/104.
Available on the LIBERTY X album 'Being Somebody'
via V2 Records
https://www.facebook.com/libertyxofficial/
---
RICHARD X in collaboration with DEBORAH STRICKLAND-EVANS Lemon / Lime (2003)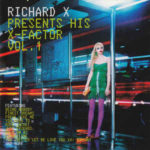 Deborah Evans-Strickland was best known for her deadpan vocal on THE FLYING LIZARDS' very unusual cover of 'Money (That's What I Want)'. For his debut solo album, Richard X dragged her out of retirement for a bizarre reinterpretation of 'Walk On By' as well as the Trans-Commuter Express job spec art piece 'Lemon / Lime'. Stern but strangely alluring in her posh Essex accent, Evans-Strickland came over like the scary Human Resources Manager who everyone is secretly attracted to.
Available on the RICHARD X album 'Presents His X Factor Vol1'
via Virgin Records
---
RACHEL STEVENS Some Girls (2004)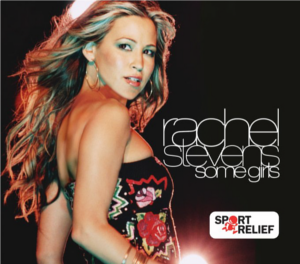 Co-written with Hannah Robinson and based on some real-life music industry anecdotes, Richard X's GOLDFRAPP-styled production on 'Some Girls' saw Rachel Stevens playing a wannabe who ends up on pop's casting couch. Driven apparently by having his GOLDFRAPP remixes rejected, it was 'Some Girls' that first put the icy glam electro sound into the mainstream consciousness before GOLDFRAPP themselves.
Available on the RACHEL STEVENS album 'Come & Get It'
via Polydor Records
http://www.rachelstevensofficial.com
---
NINE INCH NAILS Only – Richard X Remix (2005)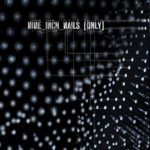 "There is no you, there is only ME!" exclaimed an angry and provocative Trent Reznor on 'Only', but Richard X smoothed things down, brought forward the chorus and took it down the discotheque, albeit a dark gothic one! With a frantic marimba line added and an increased dance tempo, this was one of Richard X's best crossover reworkings that still retained the original's heavy spirit of frustration expressed as part of Reznor's battle with alcoholism and substance abuse.
Available on the NINE INCH NAILS EP 'Everyday Is Exactly The Same'
via Nothing Records
---
LUKE HAINES Off My Rocker At The Art School Bop – Richard X Mix (2006)
Once referred to as the Adolf Hitler of Britpop by the music press, Luke Haines' memoir 'Bad Vibes: Britpop & My Part In Its Downfall' declared that BLUR's Damon Alban deserved far more to be nominated for that title! An installation of danceable pop terrorism by THE AUTEURS and BLACK BOX RECORDER leader with a full fat octave driven electro mix by Richard X, this gleefully satirised the Shoreditch club scene with a bitter attack on its array of poseurs.
Available on the LUKE HAINES album 'Off My Rocker At The Art School Bop'
via Fantastic Plastic
---
PET SHOP BOYS Fugitive – Richard X Extended Mix (2006)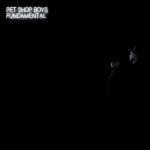 Although the 'Fundamental' album was produced by Trevor Horn, Richard X worked on and powerfully extended 'Fugitive' as a limited edition exclusive for the fittingly titled 'Fundamentalism' bonus album. PET SHOP BOYS' own post-9/11 song, Neil Tennant recently revealed in the extensive 'Fundamental: Further Listening 2005–2007' booklet notes:"It's about a terrorist, a terrorist whose ideology is that he believes that by killing the enemy he's going to go to heaven".
Available on the PET SHOP BOYS album 'Fundamental: Further Listening 2005 – 2007'
via EMI Records
---
ANNIE Songs Remind Me Of You (2009)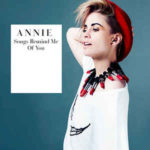 Richard X has worked on-and off with Anne Lilia Berge Strand since 2004 including her breakthrough song 'Chewing Gum'; 'Songs Remind Me Of You' was another fabulous tune from the X / Hannah Robinson songbook. Filled with high octane electronic dance flavours, "How does it feel…to hear your songs on the radio?" asked the Norwegian songstress wispily with an exquisite devenir a gris lilt over a classic chord structure inside a spiky synthesized mix.
Available on the ANNIE album 'Don't Stop'
via Smalltown Supersound
https://www.facebook.com/anniemelodymusic/
---
ANTHONIO Annie (2009)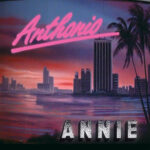 As a jokey publicity stunt for the Italo disco flavoured ANNIE single 'Anthonio', Richard X used its backing track and a new lyric by Hannah Robinson to create a brilliant tongue-in-cheek response to her tale of broken holiday romance. As a modern exponent of Italo, HEARTBREAK's charismatic vocalist Sebastian Muravchik amiably played the role of the disimpassioned Latin lover.
Available on the ANTHONIO single 'Annie'
via Pleasure Masters
http://lexprojects.com/sebastian-is-anthonio/
---
SAINT ETIENNE Method Of Modern Love (2009)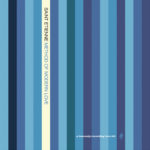 With some slight structural similarities to Kylie Minogue's 'The One' and recorded by SAINT ETIENNE for an updated singles compilation, 'Method Of Modern Love' was again written by Richard X with Hannah Robinson alongside Matt Prime. A long-time fan of the trio, it had only been intended for Richard X to remix the track 'This Is Tomorrow', but he ended up producing them as they opted for 'Method Of Modern Love' as a new single after hearing the demo.
Available on the SAINT ETIENNE album 'London Conversations: The Best Of'
via Heavenly Records
---
ROÍSÍN MURPHY Parallel Lives (2009)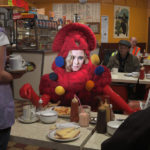 'Overpowered' was the second solo album from one-time MOLOKO frontwoman Roísín Murphy and a superb collection of soulful 21st century electronic disco. The Richard X helmed 'Parallel Lives' penetrated with some steady and deep sub-bass, providing a nice bonus to an album where Murphy had gloriously sounded not unlike Lisa Stansfield fronting PET SHOP BOYS on outstanding songs such as 'Primitive' and Cry Baby'.
Available on the ROÍSÍN MURPHY album 'Overpowered'
via EMI Records
https://www.roisinmurphyofficial.com
---
DRAGONETTE Pick Up The Phone – Richard X Remix (2010)
While 'Pick Up The Phone' from Canadian popsters DRAGONETTE was a summery upbeat tune, their usual Euro-leaning sound took a breather with electric guitars subbing for the usual synths. But this made things perfect for a superior Richard X remix to stick back in all the electronic dance elements that the band were actually best known for.
Available on the DRAGONETTE album 'Mixin To Thrill'
via Dragonette Inc
http://www.dragonetteonline.com
---
GOLDFRAPP Alive (2010)
From 'Head First', the poppiest album in the GOLDFRAPP catalogue, the Richard X assisted 'Alive' allowed Alison Goldfrapp to explore her Olivia Newton-John fixation with a tune that recalled 'I'm Alive', the latter's collaboration with ELECTRIC LIGHT ORCHESTRA for the film 'Xanadu'. The synth solo was big and fat with power chords plus a great middle eight to boot. With references to Billy Joel as well, 'Alive' sounded slightly more Oberheim than Korg…
Available on the GOLDFRAPP album 'Head First'
via Mute Records
---
THE HUNDRED IN THE HANDS Young Aren't Young (2010)
Hailing from Brooklyn, THE HUNDRED IN THE HANDS possessed a sultry new wave fusion with occasional gothic overtones. Despite the girl / boy duo having aspirations to be more like Warp Records label mates BROADCAST, Richard X produced a number of key songs from their self-titled debut album, adding a more accessible sheen. 'Young Aren't Young' was a dreamy NEW ORDER influenced number layered with the sort of frenetic guitar playing that would have made Bernard Sumner proud.
Available on THE HUNDRED IN THE HANDS album 'The Hundred In The Hands'
via Warp Records
https://www.facebook.com/thehundredinthehands/
---
SOPHIE ELLIS-BEXTOR Starlight (2011)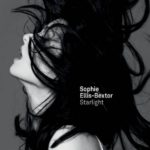 It's strange to think now but before she became a pop princess, Sophie Ellis-Bextor once fronted an indie rock band called THEAUDIENCE. Yet another Richard X and Hannah Robinson co-composition, the glitterball sparkle of 'Starlight' utilised a Linn Drum led rhythm section and sweeping synth strings for a dreamy electronic pop concoction. Alluringly finding "heaven in the dark", it was one of those catchy summer holiday disco anthems that Kylie Minogue wouldn't have objected to recording herself.
Available on SOPHIE ELLIS-BEXTOR album 'Make A Scene'
via EBGB's
---
MIRRORS Into The Heart – Richard X Radio Mix (2011)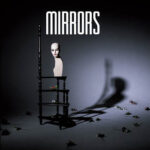 With a determined art for art's sake concept for their eventual 'Lights & Offerings' long player, the original sessions with Richard X were abandoned when MIRRORS chose to produce themselves, although he did contribute a Radio Mix for the reissued single 'Into The Heart'; less intense and claustrophobic than the quartet's album version, the majestic singalong proved that Synth Britannia influences were and still are nothing to be ashamed of.
Available on the MIRRORS single 'Into the Heart'
via Skint Records
https://www.facebook.com/theworldofmirrors/
---
THE SOUND OF ARROWS Lost City (2011)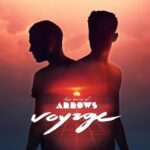 THE SOUND OF ARROWS are Stefan Storm and Oskar Gullstrand, a Swedish duo described by one observer as "Disney meets Brokeback Mountain". Like PET SHOP BOYS fed with Fox's Glacier Mints, the Richard X produced widescreen instrumental 'Lost City' was fittingly dramatic, although its main melodic theme may have been a bit too 'Top Gun' with synths for some listeners…
Available on THE SOUND OF ARROWS album 'Voyage'
via Skies Above
http://www.thesoundofarrows.com
---
ERASURE Sacred (2014)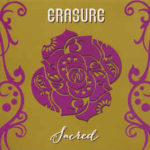 Produced by Richard X, 'The Violet Flame' saw ERASURE return to form with their fourteenth album after the disappointment of its predecessor 'Tomorrow's World' and express an infectious zest for the future with songs seeded via Vince Clarke's pre-recorded dance grooves. With 'Sacred', this was another classic ERASURE pop tune, although the bizarre phrasal spectre of 'Sweet Child O Mine' by GUNS N ROSES could be found in the verse of Andy Bell's vocal topline!
Available on the ERASURE album 'The Violet Flame'
via Mute Artists
---
NEW ORDER Plastic (2015)
For the Mancunians' first album of new material without estranged founder member and bassist Peter Hook, Bernard Sumner promised a return to electronic music. That was certainly delivered on with 'Plastic', a full-on throbbing seven minute electro number in the vein of Giorgio Moroder, solidly mixed by Richard X with blippy echoes of NEW ORDER's own 'Mr Disco'. Dealing with the issue of superficiality in relationships, it declared "you're like plastic, you're artificial…"
Available on the NEW ORDER album 'Music Complete'
via Mute Artists
---
NINA Beyond Memory (2016)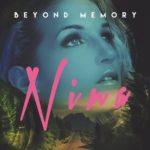 Produced by Richard X and Sunglasses Kid, a nocturnal warmth exuded from the hypnotic drifts of 'Beyond Memory', demonstrating how German songstress NINA's brand of pulsating electronic pop acted as a bridge between the sub-genres of synthwave and synthpop. With her vocals deliciously slicing the moonlit atmosphere with a superbly breathy chorus, 'Beyond Memory' reflected on the personal lifelong impact of past relationships.
Available on the NINA album 'Sleepwalking'
via Aztec Records
---
Text by Chi Ming Lai
7th May 2018