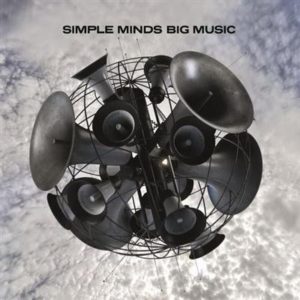 The term "The Big Music" was coined by Mike Scott of THE WATERBOYS, its title from the single from 'A Pagan Place'.
It helped define the progressing sound of not just THE WATERBOYS, but bands cut from a similar cloth during that period, including BIG COUNTRY, THE ALARM and HOTHOUSE FLOWERS. Scott described the style as "a metaphor for seeing God's signature in the world". SIMPLE MINDS, although a lot less traditional in nature than the aforementioned acts, conveniently fell under that umbrella due to their steady rise to stadium rocker status following their Philadelphia 'Live Aid' appearance in 1985.
Fast forwarding 30 years and now, Jim Kerr and co have re-claimed the name for this, their 16th album… so is the album worthy of such a title?  Initial impressions are that 'Big Music' is indeed a BIG sounding album, but this is in part due to heavily compressed electronic / programmed drums being used almost exclusively for most of the songs here – this seems a strange decision, especially as long-serving drummer Mel Gaynor is generally credited as being one of the better drummers around.
Although this production choice could be seen as an attempt to give the album more of a contemporary sound, none-the-less it is a surprise. So with Gaynor's signature drumming mainly missing, it is left to Jim Kerr, Charlie Burchill and keyboard player Andy Gillespie to mainly define the album's sound.
Album opener 'Blindfolded' is pretty much carried by Burchill's squally, almost Robert Smith-style lead guitar and certainly gives an anthemic, but not too overblown start to proceedings. 'Midnight Walking' is more bass driven with a delayed trance-style synth intro and reinforces a softer / understated / aged vocal style from Kerr, who in places on the album sounds now akin to Paul Buchanan from THE BLUE NILE.
The single 'Honest Town' is easily the standout track on the 'Big Music', having much more of an emotional connection with the listener than many of the other songs here, Kerr's yearning vocal underpinned by big chords and arpeggiated synths. Interestingly, CHVRCHES man Iain Cook was drafted in as a co-writer on this track and it would have been interesting to see his presence on some of the other songs here… a wasted opportunity perhaps?
Let's face it, the title track was never going to be an understated affair and in many ways, it harks back to the more bombastic, stadium-rock era of the band with the presence of wailing female backing vocals and more a live / real drum sound. The difference here is the addition of a resonant "pow-pow" synth drum sound which just about stops the track falling into self-parody territory. Curiously, just like 8 of the other tracks on the album, the song (which was initially touted as being a single) is faded out at the end before reaching its conclusion, a technique which (although a minor point), does give 'Big Music' a slightly dated feel.
'Human' despite sharing a title with a track by THE KILLERS, is pretty much as self-referencing as you'll get on this album, the "la, la, la, la" outro refrain deliberately echoing the band's most well known track 'Don't You (Forget About Me)' and will surely prompt a mass / stadium sing-along when the track gets debuted live on their forthcoming tour. 'Let The Day Begin' (a cover of THE CALL song), despite initially sounding like a distant musical cousin of 'Belfast Child', mutates into something akin to GOLDFRAPP's 'Strict Machine' with all the subtlety stomped out of it. Not entirely successful, but at least providing welcome relief from the 4/4 time signatures which preceded it.
Earlier single 'Broken Glass Park' helps lift proceedings towards the end of the album, with a sound which evokes the band's classic era more than any other track here. Mainly due to its melodic content and hooks, it is this song more than any that stays with you after the album has finished…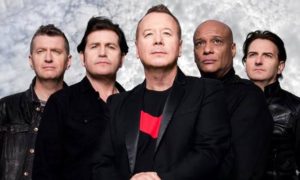 'Big Music' was undoubtedly made by the band for their fans in an attempt to reclaim some of their musical legacy back – and aside from the drum sound, it doesn't take too many risks.
There's certainly enough here to keep long-standing SIMPLE MINDS fanatics happy. 'Honest Town' and 'Broken Glass Park' certainly deserve to become a mainstay of their sets.
But upon hearing 'Big Music', many, will be tempted to delve back into their 'New Gold Dream' era when the term 'Big Music' felt far more fitting and appropriate. At the risk of using the old "Alan Wilder / DEPECHE MODE comparison", the holes left by the departure of keyboard player Mick McNeil and bassist Derek Forbes will probably never be truly filled – the bass playing here lacks the sheer inventiveness and the synth sounds are that little bit too digital to mention this album in the same breath as some of it's classic predecessors.
However on a more positive note, there is enough on this release that will certainly ensure that SIMPLE MINDS are not just seen as a water-treading nostalgia act and their 'Big Music' will certainly continue on for several years to come…
---
'Big Music'
is released as a CD, 2CD+DVD Deluxe Box, vinyl LP and download by Caroline Records
SIMPLE MINDS tour the UK extensively in Spring 2015. Please visit http://www.simpleminds.com/ for more details
https://www.facebook.com/simpleminds
https://twitter.com/simplemindscom
---
Text by Paul Boddy
22nd November 2014