The Desire In Me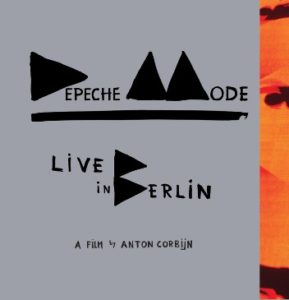 The long awaited DEPECHE MODE 'Live In Berlin' DVD has just been released in the UK on Sony Music. Contained in rather inconspicuous box, resembling more a CD than a DVD, it was very hard to find in UK stores even just a day after release.
This confirms the long proven fact, that, while the rest of Europe is busy holding rather popular DVD release parties, and their media shops are filled with the newest DEPECHE MODE release, the UK music stores struggle to put the DVD on the shelves, having to look for it for 30 minutes in the stock rooms, giving the preference to stuffed characters from 'Frozen'.
No hope for change here then that the UK music industry cannot recognise its biggest export, a band who sold almost two and a half million tickets on this 'Delta Machine' tour.
The package is certified 12, as it promises to "contain moderate sex references"… "Oooohhhhh" say the female DM fans, who cannot wait for Dave Gahan's booty shake and his half naked, sweaty, gyrating body. There are five discs included in the release, including 'Live In Berlin' DVD, 'Alive In Berlin' DVD, 'Live In Berlin' soundtrack CD 1 and 2 and 'Delta Machine' 5.1 Blu-ray Audio disc.
Anton Corbijn who is the man responsible for the film yet again, says in his quote on the back of the package that "'Alive In Berlin' is a record of DEPECHE MODE visiting Berlin for two concerts and the impact it has on fans following the band. Berlin is a special place in the hearts of DEPECHE MODE. Likewise, DEPECHE MODE has a strong following in the German capital and the film tries to capture the highlights of these concerts as well as that special connection through interviews with fans and bands alike".
There is also a 16 page booklet with stage drawings by Anton and photos of the band live. The first DVD is a film of the performances from the O2 World Forum in Berlin on 25th and 27th November 2013 by Anton Corbijn. 21 songs run over 130 minutes of footage and the oh-so familiar DEPECHE MODE butterflies in the stomach cannot be avoided upon seeing the Mute logo at the beginning, only this time it is shown after the Sony banner…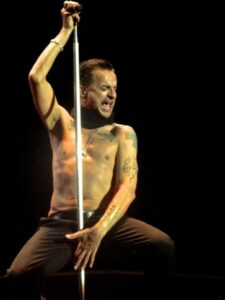 Indeed, with the very first sounds of 'Welcome To My World' and seeing the band just about to get on stage, the feeling grows with a promise of something amazing about to happen. The DEPECHE MODE live set up are the iconic trio plus two session musicians, piano and synthesizer player Peter Gordeno and the drummer Christian Eigner. The pair have been with the band for a while now and seem to constitute the staple DM live diet.
The sound is very balanced and visually the film is much easier to watch, then, say the 'Touring The Angel' DVD, which frankly, was impossible to follow due to poor editing and peculiar framing.
Even with the first notes of 'Welcome To My World', one can hear the clarity of the recording, to the point where sounds are heard that seemed to have skipped the ear during the shows; a promise of a rather exhilarating viewing experience indeed.
Dave Gahan, who himself admits that he takes on a different persona live, floats onto the stage floodlit with red and blue lights, greeted with familiar fan screams to the beefy synth sounds. It's a beautifully executed first track from 'Delta Machine', and (yeah) Dave's jacket comes off. 'Angel' follows, and it is here where one could question its suitability as a live track, especially with slowish 'Welcome To My World' preceding. Peter Gordeno stated in 'Alive In Berlin', that the gigs start moody and then take nice pace; this is indeed a very slow start with rather good, yet still measured 'Walking In My Shoes'.
For many, the gig still doesn't begin properly yet. Pleasant, yet still on the stagnant mode, 'Precious' starts with only the dog related projections to get you going (cat lovers yawn with boredom). However, overdrumming by Eigner (does he get paid by each time he hits the over-sized kit?) spoils the song altogether.
"Finally!" you hear the fans scream, upon hearing the first pulses of the iconic 'Black Celebration' and watching Dave undo his waistcoat; fantastic lighting and moods lift all around. And then… it NEVER starts! By far the worst live version of this superb song, it is great disappointment and a bit of a shock that such a hit could be turned into a plodder.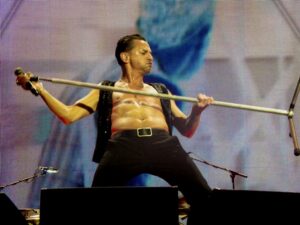 Just when you're about to fall asleep, 'Should Be Higher' comes on, which Dave himself describes in the 'Alive In Berlin' film as one he loved to perform live, as it became "chunkier" for him than the album version, something he had wanted to achieve during the 'Delta Machine' recordings. Fiery projections and exquisite vocals by Gahan lift the mood instantly and make the fans hope that there may be a gig after all. Indeed the audience reacts rather responsively to his interactions.
A few balloons in the air mark the start of 'Policy Of Truth' (stop those drum rolls Eigner, this isn't a rock concert!), a legacy of few last tours and a good laugh for the audience. Everything seems more up tempo and the crowd seem more engaged with this one. The projections remain plain compared with previous DM live tours. Corbijn admitted the set was simple for DM, yet still costly for touring, but DM manager Jonathan Kessler always found the projections an important part of the Mode extravaganza. Yet this time, they're more subdued.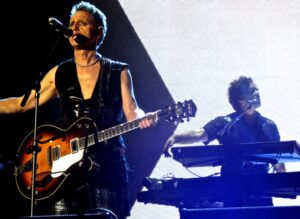 Dave is off on a break, with Martin coming on for his solo set. 'Child Inside' is a beautiful, atmospheric track with decent piano played by Gordeno and those vocals can easily extract tears from female part of the audience, transcending them into a floaty, soft mood, directed by Mr Gore's amazing voice. 'But Not Tonight' is the second "Martin song" and is being warmly greeted by the genius loving crowd. Some take it as an opportunity to get a beer however, to only return for "Dave's tracks".
Dave comes back on stage to support his buddy and gets the crowd going again. But the next tune is another lethargic one. This time it's 'Heaven', sluggishly dithering and making one wonder why songs like this are included in the set. Martin mentioned that in rehearsals the band try out what's good for live performances. Luckily 'Soothe My Soul', which comes next, is! The Gahan-Gore connection comes alive during the faster tracks. Dave states that he felt connected with Martin on stage and they worked very well together. The chemistry between the two has always been apparent, but for Gahan, this tour was special. It does show during the faster tracks, although Gahan seems to be loving his Eigner collaboration too, the latter drumming excessively again towards the end of the track.
A rather interesting, fresh version of 'A Pain That I'm Used To' follows, with beefy bass guitar played by Gordeno. This track is very representative of what Gahan says in one of the interviews with Corbijn, that the tour had a very celebratory feeling, where he had enjoyed the performances more then ever before and where feeling of completing something was apparent.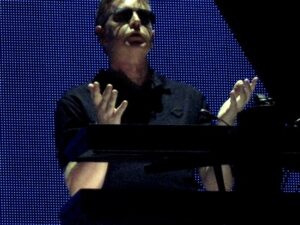 Peculiar on stage Tai Chi from Fletch opens 'Question Of Time', which thanks to Eigner sounds rockier than necessary. Eigner himself admits that he doesn't have a structure of playing and every gig is different. Many DM fans would indeed agree that less is more in this instance and some would love to see the drummer gone altogether. "Never mind", the fans scream, 'Enjoy The Silence' comes on, and being a huge crowd pleaser, this exceptional track is fully enjoyed by the audience and the band themselves.
Marvellous projections of scantily clad ladies being squeezed into the Delta triangles fuel the mood of this significant tune. The break in the song has become somewhat legendary, being different during each tour; this time it's very guitary and (again, too) drummy. Dave's vest comes off to Martin's guitar with more of Eigner banging away.
All recognise 'Personal Jesus', but the plodding intro is rather annoying and becomes tedious after a minute or so before exploding into the tune that the fans love. The crowd are fully responsive with arms up in the air at those very crucial moments, watching Gahan bigger then Jesus himself. "Berlin sing!" Dave shouts out and Berlin does sing before Dave says goodnight for the first time.
Everyone knows, however, that the encore is imminent. And what an encore it is; an excellent rendition of 'Shake The Disease' sung by the voice man, Mr Gore plus the most sensually satisfying version of GOLDFRAPP's remix of 'Halo', it being no second-rate sister to its original. Gahan has described it as "sparse and vocally challenging", and he's clearly up to the challenge with exquisite vocals and Martin finally taking his position behind a keyboard. Projections have been based in Berlin itself, with a BJORK look-a-like model wandering the streets of this amazing city. It's a very, very effective follow-up to Martin's song.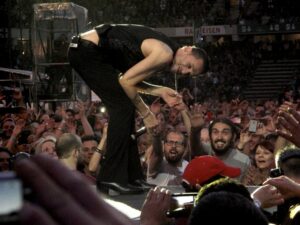 The beat is up again instantly with the ever-so-crowd-pleasing 'Just Can't Get Enough', sounding camp and being quintessential early Vince Clarke era Depeche. The audience are loving it, although uncertain about Christian Eigner's drumhead antics and Andrew Fletcher's laughable synth solo, which he gets it wrong more than right. And the balance on this DVD has been clearly altered to hear the crowd more over Fletcher's keyboard ability!
'I Feel You' evolves slowly, being another DM live favourite, but what's this? The projections are clearly done by a rap loving, hip hop fanatic who has never heard of DEPECHE MODE… it all resembles an iPod advert rather than resonating with the song. This totally pulls the audience away from the mood of this tune and makes them want recollect some more suitable visuals accompanying the track during the previous tours, like the one during 'Touring The Angel', with a tasteful glimpse of breast!
'Never Let Me Down Again' constitutes another live DM staple, by no means insignificant, but sounding rather sluggish at times though. It still gets the crowd going with the, now iconic, hands up in the air cornfield wave, started by Gahan 25 years ago in The Rose Bowl Pasadena during the 'Concert For The Masses'.
'Goodbye' closes the concert, making many fans wonder whether this actually is a "goodbye" from the band. Dave thanks the Berlin audience, appreciating the fact they've always been there for them. Even in the Berlin Wall times when no band wanted to cross The Iron Curtain, DEPECHE MODE travelled to Eastern Europe. Fletch muses "we took gambles in our career particularly to go and play Eastern Europe as we knew we had fans there".
The whole DVD experience is pleasant but it's a bit slow, as if it's middle aged music for middle aged people. Fletch seems to think they did not have one bad show on the tour; fans' opinions tend to differ with TEC's Chi Ming Lai disliking the Birmingham gig and many people criticising Munich. The question arises – "Do they still have it in them?". Well, DEPECHE MODE definitely still have it, Dave was on top form and vocally the strongest in years while the shows were generally superbly organised.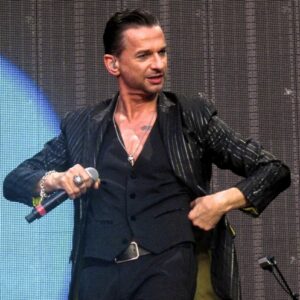 However, there's a distinct feeling of live DM being over-produced, lacking soul and trying their hardest to be the rock band they are not. The fans, who have grown to love the kings of electronica, do not want to listen to Eigner sweating his boxer shorts off as if he's in SLIPKNOT, or listening to over inflated ego of Peter Gordeno…
No, they come to watch those Basildon lads who made it big, thanks to hard work, correct management and all the other things that used to constitute the good, old DEPECHE MODE. They want to listen to Martin Gore, who is a self confessed addict of everything music and who told his friends to shoot him if he ever started to collect anything music unrelated.
They want to watch the best frontman there is – Dave Gahan, who seems to be getting better and better each tour. They even want to try and understand what Fletch's position is within the DM machine, apart from occasional kung-fu moves or banana cravings on stage. Will they ever get that again? Who knows? For now, the DVD and many photos and videos is all they have to remember this iconic tour.
There is some uncertainty however, as to why the concert has not been released on Blu-ray? As for 'Alive In Berlin', when the short interviews are extracted, you're left with the gig, which you get anyway on the main DVD, and 'Delta Machine' album which everyone has had for over a year. Just like with the 'Sounds Of The Universe' Box Set, this comes across as a money grabbing exercise, with Kessler rubbing his hands together again saying "we're gonna make lots of money, a load of money"!
Still, every self respecting DEPECHE MODE fan will have 'Live In Berlin' on their shelf, occasionally watching it and reminiscing about the good times. This writer certainly will.
---
'Live In Berlin'
is released as a 5 disc DVD / CD / Blu-ray Audio deluxe boxed set by Sony Music
http://www.facebook.com/depechemode
---
Text by Monika Izabela Goss
Live Photos by Keith Trigwell
20th November 2014