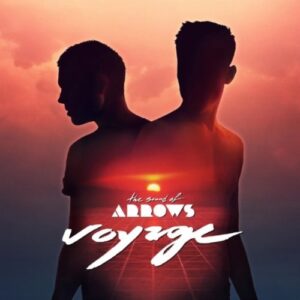 THE SOUND OF ARROWS are Stefan Storm and Oskar Gullstrand, a duo said by the influential website Popjustice to be "the HURTS you can dance to".
Their self made CGI assisted visual imagery has been described by Citylife as resembling "Disney meets Brokeback Mountain"! They hail from Gävle in Sweden, a town once named the most boring town in Sweden.
Boredom can be an amazing motivator and 'Into the Clouds' opening lines "I'm going to work my way out of this town, I'm going to be someone and know who I am" are quite a mission statement.
Following the accolade of Popjustice Single of 2009 for 'Into the Clouds', things went a bit quiet with THE SOUND OF ARROWS as they disappeared into London to record their debut album. Although signed to LA ROUX's management Big Life, a major reorganisation at Geffen Records minimised promotion of their 2011 singles 'Nova' and 'Magic'.
Meanwhile the album was delayed even though promo copies had been sent to a select few. Anticipating further problems on the way, THE SOUND OF ARROWS have taken an honourable plunge of releasing the album themselves. Within a corporate pop industry that still does not seem to know quality from quantity, this has been the smart move.
Slightly remixed by Richard X, the evergreen 'Into the Clouds' is still dreamy widescreen synthpop swathed in that beautiful Nordic melancholy. Indeed, Richard X makes his presence felt on five of the album's recordings. Also reworked by X is the poptimistic child-like chant of 'Magic', which was originally released on Stockholm indie label Labrador Records in 2008 and unexpectedly chosen by Geffen as a single.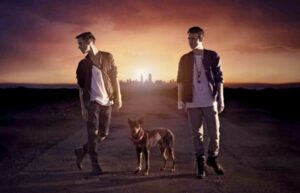 However, it's the new material that reinforces THE SOUND OF ARROWS much vaunted reputation.
So on the glorious 'Wonders', it sparkles with rave-like stabs and keeps a foot on the Pan-European dancefloor like while 'My Shadow' is a vibrant Gallic disco number with a beautiful melody that is exactly the type of killer song that was so absent from ERASURE's recent album 'Tomorrow's World'.
'Ruins Of Rome' starts like 'Vienna' for one of the album's more sensitive moments before a full fat Richard X production comes in with the magnificence of 'Longest Ever Dream'. Featuring a sweet guest vocal by ACTION BIKER aka Sarah Nyberg Pergament, this is the kind of modern electropop tune Andy McCluskey could have written for 'History Of Modern' had he been more honest with himself; the choral patches and the melodic templates are just so reminiscent of OMD.
One thing that stands out about 'Voyage' is its overall aural concept. Gorgeous interludes segue many of the tracks together like a Northern Lights update of 'Love Theme From Midnight Express' touched with VANGELIS' progressive sweeps. It's clear that Oskar Gullstrand understands his synths with a Korg MS20, Minimoog, Yamaha SK20 and Roland Juno 60 among them. Throughout, Stefan Storm has a whimsical quality to his vocal which suits the boyish sense of adventure. It's like PET SHOP BOYS fed with Fox's Glacier Mints.
The palette of the more down tempo 'Hurting All The Way' is impressive with military tattoo drums complimenting the bubbling synths and autotune, but as seems to be a regular occurrence these days, there is a mid-album lull.
'Conquest' is perhaps too much stereotypical mid-paced Europop while 'Nova' is the disappointment of the bunch. Underwhelming when released as a single earlier this year, it pales in comparison with the other tracks on 'Voyage' as it tries to please the club crowd. It's a shame that bearing this situation in mind, the more impressive After The Sun has been dropped.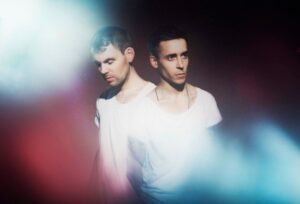 'There Is Still Hope' kisses with more of those VANGELIS moves but adds deep drones to recall ENO's 'The Big Ship' but at 121 BPM. Spread over eight minutes, as it builds, it even starts to turn into U2's 'Where The Streets Have No Name' with 100% extra electro free.
Instrumental closer 'Lost City' is fittingly thematic, maybe a bit too 'Top Gun' with synths for some but THE SOUND OF ARROWS do have a knack for these wordless wonders.
'Dark Sun', a gorgeous composition in the 'A Broken Frame' Mode proves this. Originally a free download, it is now one of the bonuses in the iTunes version of the package. Speaking of extras, the deluxe CD edition comes in a double disc package with an instrumental version of the album. This superbly stands up on its own with all the complex musical elements given a chance to shine.
Each sound has its own voicing with great air synth possibilities opened up. Even 'Nova' has more listening potential in this form. And the lengthy treat 'Longest Ever Dream' shows THE SOUND OF ARROWS at their most ambient, music for dreams… but this won't please the often impatient pop crowd.
Rather like with HURTS this time last year, THE SOUND OF ARROWS have shown that their musical subtlety and melodic textures are an essential and enlightening listen. But the elements with a slight pandering towards club culture are perhaps the less enjoyable parts of 'Voyage'. With the bonus tracks and 'After The Silence' plus lovely esoteric B sides such as 'And Beyond' available in their catalogue, 'Voyage' could have been an even more complete album experience.
Storm and Gullstrand shouldn't be afraid to exploit some of their more expansive soundtrack qualities rather than feeling the need to be pure pop. Over time and with experience, this intelligent electronic boy duo will learn and be able to refine their art further.
---
'Voyage'
 is available as a 2CD deluxe package including an instrumental version of the album and is released by Skies Above
www.facebook.com/thesoundofarrows
---
Text by Chi Ming Lai
12th November 2011