JOHN FOXX's first concert tour for several years captured the hearts of loyal electro heads and the curious alike.
Featuring the album 'Interplay', his most accessible and critically acclaimed body of work since 'Metamatic', the show delivered a mechanised charm while simultaneously adding a humanic warmth.
Ably assisted by Chief Mathematician Ben Edwards aka Benge with stylish synth girls Serafina Steer and Hannah Peel, classic and new songs were combined as the welcome live return of 'A New Kind of Man' and 'Hiroshima Mon Amour' blended in perfectly with the Trans-European dystopia of 'Watching A Building On Fire' and the futuristic folk of 'Evergreen'.
JOHN FOXX means different things to different people, so longtime followers stood side-by-side with the newly-converted. Tapio Normall remembers discovering the one-time Dennis Leigh as an impressionable teenager in Finland: "It is actually a small wonder that I started to like JOHN FOXX. Radio didn't play his songs, Finnish music magazines didn't write about him and where I lived, there were no English music papers available. My friend's sister had a compilation album called Modern Dance. It had 'Europe After The Rain' that was where I heard a JOHN FOXX song the first time. A few months later I saw the 'Dancing Like A Gun' video on TV and after that I was sure this is my thing".
Thirty years on, Tapio says: "Today I like JOHN FOXX more than ever and I've been lucky to meet him few times". Although arrays of vintage equipment were present during previous one-off shows at The Roundhouse and The Troxy, mobilisation for a European tour dictated a more practical rather than wholly artistic approach.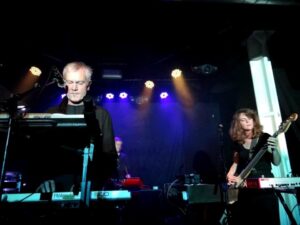 Foxx was leading his young crew from behind his Roland PC300 controller like a veteran ship's captain while in the engine room, Benge primarily played the distinctive Simmons SDS5 hexagonal pads over various Roland CR78/TR808 and LinnDrum patterns while occasionally turning to a variety of other devices.
The marvellous ARP Omni MkI string machine was delicately handled by Serafina Steer who also had an Alesis Micron at her disposal. It was April 2010 when PULP's Jarvis Cocker said her album 'Change Is Good Change Is Good' was "Probably my favourite album of the year so far". Since then, she has become a mainstay of JOHN FOXX's band. Stage left, new addition Hannah Peel had that ubiquitous female friendly modelling synth in the MicroKorg plus a Roland JX3P.
Martin Swan is a member of newish combo VILE ELECTRODES; an analogue synth expert who was part of the project team who curated the Oramics To Electronica exhibition at the Science Museum, he gave some interesting thoughts while at one of the London XOYO shows: "They've obviously slimmed down the set-up from before and I think they've made some very astute decisions about what it's important to take. It was interesting to see they're using virtual analogues onstage – the MicroKorg and Serafina's Alesis Micron – they were presumably picked specifically because they were small…"
He also added: "Most importantly however, it didn't seem to make a big difference sonically: Sound wise I don't think it affected the quality, although I think Benge was playing some stuff off his laptop… cheat ­ haha! They were obviously using some live pedals and grungy effects which always helps a lot to take the digital edge off modern synths"
He also has some thoughts about the transportation logistics: "In terms of touring with some of the older stuff, the JX3P that Hannah Peel used is a fairly sturdy beast. My main hope is that they have a decent flight case for the ARP Omni!" That particular antique is rumoured to be of at least 1976 vintage so would be expected to have a degree of fragility but according to Martin: "Maybe surprisingly, old kit often stands up to tours very well because it's made of wood and metal, rather than plastic! I'm not sure that some of the synths being made today will be on the road in 30 years time. I'm glad I'm not their roadie though…"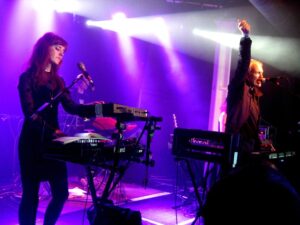 So this jaunt was a much more streamlined set-up with no film projections and focussing as a playing unit. Organic tensions were provided by Serafina Steer's bass guitar and the VU-like bowed embellishments of Hannah Peel.
A solo artist in her own right, in 2010 she released the Rebox EP on Static Caravan which included musicbox covers of synth laden classics such as 'Tainted Love', 'Blue Monday' and 'Electricity'.
With her own 'Organ Song' being sampled by OMD for 'Bondage of Fate' and her inclusion in the band line-up, Peel's reputation has certainly been enhanced by the endorsement of such Synth Britannia luminaries.
The live components came together like a fusion of LADYTRON and ULTRAVOX with Peel and Steer also providing Mira and Helen styled backing vox to compliment Foxx's own distinct tones. Meanwhile, Benge's analogue percussive snaps, Steer's bass and Peel's violin (particularly on the 'Metamatic'-era material such as 'Plaza', 'He's A Liquid' and 'Burning Car') indicated how these songs could have sounded had Foxx not parted ways with Messrs Cann, Cross and Currie back in 1979.
London's XOYO in Shoreditch played host to two shows presented by Artrocker magazine with different support acts on each night.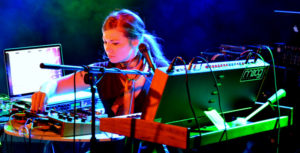 On the first date, TARA BUSCH, described by JOHN FOXX himself as a cross between "Karen Carpenter, Nico and Doris Day on a Moog" did exactly that as Richard Price found out: "She started her set with THE CARPENTERS cover Rainy Days & Sundays, it came across as nice and soft on gently played out synth".
Her set, which also included her marvellous Bob Moog Foundation charity single 'The Rocket Wife', impressed Tapio Normall: "I liked TARA BUSCH and her one woman show. Her gig reminded me of how THOMAS DOLBY started and look where he is now; in Suffolk. No really… TARA BUSCH's small scale live show was engaging thing to hear and see".
Meanwhile Brighton's GAZELLE TWIN aka Elizabeth Walling was a different kettle of fish altogether: "Wow, what can I say? Just dark but done well" said Richard Price, "she sings really well in an almost operatic style. The band had these finger LED lights on which worked very well in the almost total darkness of the act". Tapio Normall, who has just about seen it all on his musical travels, commented "she was maybe the strangest thing I have seen and I've seen some quite odd stuff! GAZELLE TWIN's most unusual look and haunting songs are something else. You don't confuse them with your average rock 'n' pop act"!
The second London gig featured the acclaimed XENO & OAKLANDER who have just released their third album 'Sets & Lights'. They were particularly impressive, literally fighting on stage to keep their array of vintage and virtual gear operating in unison. Tapio Normall remarked "they were a very appropriate support band. A friend of mine said they sound like early BERLIN. Is that true? I wouldn't know but my impression of XENO & OAKLANDER was positive".
VILE ELECTRODES lead singer Anais Neon noticed the platform Foxx had given female electronic musicians to perform, both in his band and as support: "In the past, girls in electronic music were often just a pretty face fronting someone else's music, so it's great seeing women on stage manning the synths (no pun intended) and being multi-instrumentalists just as well as their male counterparts".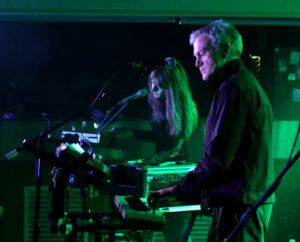 So have music fans finally cottoned onto the idea of female friendly synthesis? Anais certainly thinks the genre has been slow to respond: "For such a futuristic and forward thinking style of music, popular electronic music has really lagged behind guitar driven music in terms of girls being properly at the helm. Although women have long had a lead role in avant garde electronic music: think Daphne Oram, Laurie Anderson, Delia Derbyshire etc but, for some reason, popular electro missed the boat. More women and more synths, I say!"
And at the final London show, the tremendous reaction from the audience rose to being particularly ecstatic at the end. One thing that must be celebrated is how respectful and knowledgeable fans of JOHN FOXX are.
No inappropriate whooping during quiet sections of the show, chit-chat during the more esoteric material or lack of appreciation of the imperial, pioneering back catalogue. When the fanbases of several Synth Britannia-era acts are reduced to nostalgia freaks whose only interests are drunken singalongs to greatest hits and the lead singer's trouser content, JOHN FOXX is proof of how the elder statesman's role can be carried forward with dignity.
At the height of his powers by delivering possibly his best ever live set and new material that is equal to his most regarded work, JOHN FOXX is in an enviable position.
And as one of electronic music's father figures, rather than dismissing the new breed of synthesizer based artists for their apparent lack of integrity as some of his peers have done, Foxx has actually had them share the stage with him or become part of his band.
One thing that is not normally talked about with JOHN FOXX is his humanity; "He's a man with a very expressive face, you might say he's one of those people who has grown more distinguished as he's grown older. As a photographer I find this fascinating" said Mike Cooper, "Foxx was massively influential on electronic music's development, up there and in fact in earlier than some of the other Synth Britannia pioneers such as THE HUMAN LEAGUE, GARY NUMAN and THE NORMAL – 'Metamatic' had sounds, songs, and an aesthetic that would be influential on synthpop, minimal wave, EBM, industrial, and eventually techno…"
Continuing his ever prolific creative spurt of the last decade, available on this tour was the new JOHN FOXX & THE MATHS album 'The Shape Of Things' which features starker, reflective material that didn't fit into the overall pop concept of 'Interplay'. On it, 'Rear View Mirror' and 'Unrecognised' are perhaps the most immediate tracks with their pulsing hypnotics.
The deluxe edition includes a bonus CD of remixes with two highlights being Andy Gray's superb reworks of 'Watching A Building On Fire' and 'Interplay'. Also worthy of mention are XENO & OAKLANDER's take on 'Evergreen' and 'Where You End & I Begin', a collaboration with TARA BUSCH. So as this tour of JOHN FOXX & THE MATHS proves, the link between past, present and future in electronic music is the healthiest it has ever been.
---
Special thanks to Steve Malins at Random and all who contributed their valued recollections of the tour.
'The Shape Of Things'
' is released by Metamatic Records
http://www.johnfoxxandthemaths.com/
http://playstudios.carbonmade.com/
---
Text by Chi Ming Lai
Photos by Richard Price and Mike Cooper
16th November 2011