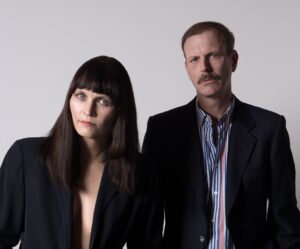 If Jane Birkin had been backed by minimal electronics from Serge Gainsbourg, then they probably would have sounded like XENO & OAKLANDER.
Already veterans of seven albums, Liz Wendelbo and Sean McBride's new long player 'Vi/deo' continues to expand on the duo's multi-sensory exploration of synaesthesia, inspired by perfumes, celebrity culture and vintage technology such as Roland's SH101, RS09, System 100 and TR808 alongside a Serge modular system and ARP sequencer.
Although recorded at their Southern Connecticut home studio, 'Vi/deo' exhibits hints of authentic Europeanism in the form of Italo and French disco-noir courtesy of Wendelbo's wispy Franco / Norwegian charm.
She said: "The title of the album 'Vi/deo' is a reference to the Latin meaning of the word, 'I see'. I'm really interested in the way senses influence each other: colors that are sounds that are scents that are tastes. Synaesthesia is a fascinating effect: how music can trigger different senses all at once, a note can have a color, a sensation, a scent."
In a period when short and sharp eight track albums have been prevalent, XENO & OAKLANDER push the definition boundaries in an engaging seven song offering. With an unexpected industrial introduction and those textures later being inter-dispersed throughout, 'Infinite Sadness' plays with simulated slapped bass over a tense machine beat to provide a melancholic but vibrant start.
Meanwhile, the catchy electro-disco of 'Poison' has its rhythmic syncopation offset by the uneasy feel of a supernatural drama. Expanding on a European disco theme, the wonderful 'Afar' is the best song on 'Vi/deo', alluringly presented en Français for an infectious if bittersweet dancefloor experience.
Like it was tailor made for an Autumnal drive along the Côte d'Azur, 'Technicolor' exhibits a moody cocooned squelch in its widescreen setting with pretty synth melodies complimenting Wendelbo's almost whispered tones.
The harder edged 'Gain' offers a boisterous bounce to proceedings laced with some accelerated keyboard jabs, while the more steadfast 'Movie Star' captures the innocence of an enthralling visit to the cinema and being hypnotised by the lead. Closing with 'Rain Garden', the cacophony of blips and a solid staccato synthbass provide the backbone for an airy uptempo conclusion.
If you have any of XENO & OAKLANDER's previous releases, then 'Vi/deo' will undoubtedly appeal. Flirtatious and perhaps less icy than previously in the aural equivalent of Gauloises smoke filling a Parisian night club, while the vocal style will continue to be polarising for some, the album's dancier template may possess crossover potential to more synthpop-inclined audiences.
---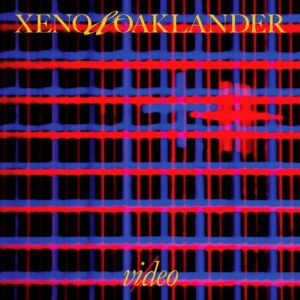 'Vi/deo' is released by Dais Records in various coloured vinyl LP formats as well as CD and digital, available from https://xenoandoaklander.bandcamp.com
https://www.xenoandoaklander.com
https://www.facebook.com/xenoandoaklndr
https://twitter.com/XenoOaklander
https://www.instagram.com/xenoandoaklander/
https://www.daisrecords.com/collections/xeno-and-oaklander
---
Text by Chi Ming Lai
20th October 2021