SOFT METALS are a snappy new duo comprising of Patricia Hall on vocals / synths and Ian Hicks on synths / drum machines / programming / sequencing.
Originally from Portland, Oregon but now resident in Los Angeles, on first impression they may be considered part of the Minimal Wave, but perhaps have a more immediate sound than say XENO & OAKLANDER.
Compared with other North American duos, they are maybe also a bit shinier than the more gothic CRYSTAL CASTLES.
But that's not to say SOFT METALS don't have much weightier influences as their affectionate cover of THROBBING GRISTLE's 'Hot On The Heels Of Love' proves. They released their first EP The Cold World Melts in 2010.
Armed with an arsenal of cool vintage synths such as the Sequential Pro One, Micromoog, Korg Mono/Poly and Roland Juno 60 as well as modern ones such as the Dave Smith Mopho, SOFT METALS aren't afraid to occasionally crossover into pop. '
Eyes Closed' is probably the highlight from their promising debut album, elements of ORBITAL and Derrick May creeping into the rugged squelch 'n' bleep framework. Meanwhile, the marvellous 'Voices' is five and a half minutes of synthetically charged joy, dripping with cute and bubbly romance.
The brilliantly titled 'Psychic Driving' has Hicks' soundtrack hypnotically pulsing away while his riffs and Hall's angelic tones complement this delicious ditty. The widely processed chorals on 'Celestial Call' add a humanic touch to an atmospheric beat instrumental while 'The Cold World Melts' is their calling card, industrialised European electronics and a slightly unsettling vocal sent into a melodic dreamlike state like a less Teutonic GINA X.
With 'Do You Remember?', there's wonderfully doom laden but appealing electronic disco a la SECTION 25's 'Looking From A Hilltop'. At times, Patricia Hall flirtatious demeanour even sounds like DOT ALLISON in her ONE DOVE days.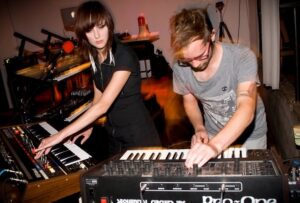 Throughout the collection, the Roland TR family of Rhythm Composers happily clatter away for an enjoyable percussive template, proving that darkness can be fun and without necessarily the need to practicce witchcraft.
Although several of their other tracks are a touch repetitive, SOFT METALS are ideal for those who like to listen to music in an unlit room, but happily tap their foot incessantly at the same time while unsure whether to get up and dance!
---
'Soft Metals' is available now on Captured Tracks as a CD and download
https://www.facebook.com/SOFTMETALS
https://twitter.com/SoftMetals
https://www.instagram.com/metauxmous/
http://soundcloud.com/soft-metals
---
Text by Chi Ming Lai
6th December 2011