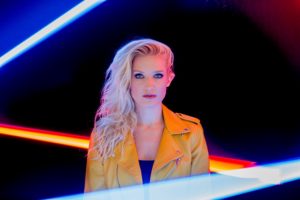 In modern electronic music terms, London-based Berliner NINA is the crucial link between synthpop and synthwave.
With a musical palette shaped by a love of QUEEN, DEPECHE MODE, DAVID BOWIE, ALPHAVILLE, KRAFTWERK, NENA, CHROMATICS and LADYHAWKE, she released her first single 'Take Me Away' in September 2011 on Aztec Records.
After a second single 'We Are The Wild Ones', NINA achieved her breakthrough with 'My Mistake' in 2014; the song was picked up by Mercedes-Benz the following year for a worldwide TV and radio advertisement campaign. Meanwhile, opening slots on tours for acts like DE/VISION and ERASURE gained her further momentum.
After a long gestation period, with the singles 'Beyond Memory' and 'One Of Us' acting as tantalising teasers, NINA's debut long player 'Sleepwalking' is finally about to be unleashed.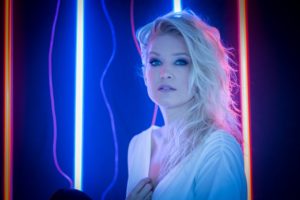 Trailed by the album's title track, it is a wonderfully moonlit pop number with a Eurocentric sensibility that will also act as perfect to soundtrack a West Coast night drive.
NINA kindly spoke about the making of her 'Sleepwalking' album and how she has applied various life experiences into her evolving artistic expression.
Your debut album has been a long journey, but you're there at last…
I know it's been a long time coming but I'm a perfectionist and I didn't want to release something that was only halfway there. The whole songwriting / recording process takes time. And Oscillian, who is our main producer, is based in Sweden, so it does slow things down a little. But we're all very proud of the finished product.
Previously released songs 'Beyond Memory', 'One Of Us' and 'Counting Stars' are on the album while 'My Mistake' and 'We Are The Wild Ones' are not; was it a difficult process to decide which of the older songs to include to provide a familiarity point for those who are curious, while keeping it fresh for your loyal following which you've gained over the years?
Absolutely, some tracks are quite old now and I feel like I've matured and moved on since then. Those singles are still available in digital stores worldwide. But our team has changed, so we tried to focus on the newer tracks we wrote, which fans love just as much.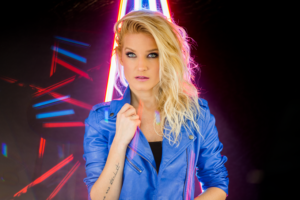 It's a very melodic album, both vocally and instrumentally…
Yes, it's all about the melodies for me. We like strong harmonies for most sections of the songs. Lots of dynamics, and interesting arrangements too, and it needs to be something you can sing along to and remember. I guess this is where my love for pop comes into the equation!
The album features four different producers but you've managed to get a continuity running throughout…
We were very adamant about the sounds and the vibe we wanted for this album. It had to all sound coherent and I'm glad we achieved that. All producers involved have that strong 80s synth influence that I was after.
How would you describe each of the creative dynamics when working with Oscillian, Richard X and Sunglasses Kid?
For this album, we mainly worked with Oscillian. He's based in Sweden, so he flew to London and I went to Sweden to record vocals over the years, but a lot of it was done over the distance, on long skype calls! It's a very organic process with him, and we inspire each other a lot. We're already working on my second album.
Richard X is a legend and really understands how to make a great song, he's had so many commercial worldwide hits, and the quality of his production is world-class.
Sunglasses Kid used to be my neighbour in North London and we're both signed to the same label / publisher, so we met a few times. We also tend to play a lot of the same synthwave festivals. A collaboration seemed like the natural thing to do! Two great songs came out of that, 'Beyond Memory' and '80's Girl'.
The atmosphere is very filmic, how much have you been influenced by film soundtracks, in particular by say Giorgio Moroder and Vangelis?
Yes, I think that's because of the dynamics in my songs. In some way I think both Moroder and Vangelis influenced my music, as they were pioneers in this genre. We're looking at releasing the album instrumentals as a deluxe digital version, as a lot of fans have been asking for them.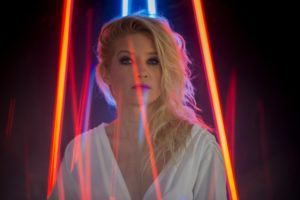 Did you have any particular go to synths to get the colours and textures you desired for this?
Oscillian mainly used soft synths like the Oberheim OB-X and Korg PolySix for the album. And I used my Roland Gaia.
I'm also a big fan of detuned analogue synth sounds, so we included some of those sounds too.
You've described the album as being more personal than your past work?
It certainly is. 'One Of Us' is about me being bullied in High school, '80s Girl' is about my mum and her struggle of being a single mum in Berlin in the 80s and 'Beyond Memory' is about one of my past relationships and how I got my heart broken. I think it's important to keep your work personal and evolve as an artist. I do love writing narratives too but it always comes back to something I can relate and connect to.
The 'Sleepwalking' title track is vibrantly neon lit but there's real emotion in there.
Yes, the beat is pretty uplifting but when we wrote the lyrics, we were thinking about how we subconsciously become protectors of the ones we love and care about, almost as if we were a hunter in a trance, or sleepwalking. It also talks about how people can dramatically change throughout a relationship.
The serene ballad 'Diamonds In The Rough' is very heartfelt, that could have come from a Brat Pack movie, in fact you can visualise Rob Lowe and Demi Moore 😉
It's my favourite track of the album. A very good friend of mine wrote most of the lyrics. It's about falling in love for the first time. I actually played this track at my mum's wedding in Las Vegas a couple of years ago. Those were a very emotional few days, as we're very close and this song represents the true essence of happiness you can find with someone.
Which were your favourite Brat Pack movies and was there a particular actor or actress you could relate to the most?
My favourites are 'The Breakfast Club' and 'Mannequin'. I'm a huge Andrew McCarthy fan. I can mostly relate to Molly Ringwald in 'Sixteen Candles'. I get all shy and awkward when I like someone. That movie is hilarious.
What's next for you?
I have a few shows lined up this year to promote the album, which I'm very excited about. We've also started to work on my second album, which we're hoping to release early next year. I won't take 5 years this time! Promise 🙂
---
ELECTRICITY CLUB.CO.UK gives its warmest thanks to NINA
Special thanks to Laura Fares at Aztec Records
'Sleepwalking'
is released by Aztec Records on 16th March 2018, pre-order the CD or pink vinyl LP from http://www.ninasounduk.com/store/
NINA plays Zigfrid von Underbelly in London with PARALLELS on SATURDAY 31ST MARCH 2018, tickets available from https://www.eventbrite.com/e/parallels-nina-live-dj-sets-by-futurecop-she-ra-tickets-42901658014
She also appears at Retro Future Fest II on SATURDAY 28TH JULY 2018 at 229 in London alongside VINCENZO SALVIA, VHS DREAMS, WAVESHAPER, PLAYER ONE, THE DEPARTMENT and many more, tickets available from http://www.wegottickets.com/f/11337
https://www.iloveninamusic.com/
https://www.facebook.com/iloveninamusic
https://twitter.com/iloveninamusic
https://www.instagram.com/ninasounduk/
---
Text and Interview by Chi Ming Lai
Photos by Katie Knight-Adams
5th March 2018