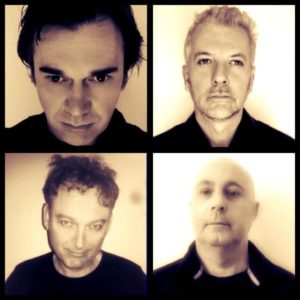 Named after an Andy Warhol painting, Mansfield's B-MOVIE made their recorded debut with their 'Take Three' EP via the Lincoln-based indie label Dead Good in 1980.
Comprising of Steve Hovington (vocals + bass), Paul Statham (guitar), Rick Holliday (keyboards), and Graham Boffey (drums), the quartet followed it up with a five track 12 inch release 'Nowhere Girl' which not only featured an early version of the title track that would become their signature song, but also an embryonic take on 'Remembrance Day'.
B-MOVIE's synth dominated new wave brought them to the attention of Stevo Pearce, founder of Some Bizzare Records. He included them in his 'Futurist' chart for music paper Sounds and subsequently became the band's manager. Their song 'Moles', alongside contributions from then-unknown bands such as DEPECHE MODE, SOFT CELL, BLANCMANGE and THE THE, was included on the now iconic 'Some Bizarre Album' released in early 1981.
Along with SOFT CELL, B-MOVIE were signed to Phonogram Records but unlike Messrs Almond and Ball, the quartet were unable to secure a major chart entry, despite releasing magnificent re-recorded versions of 'Remembrance Day' and 'Nowhere Girl' as singles.
The struggle for success coupled with internal tensions led to Boffey and then Holliday departing the band by the end of 1982.
After severing ties with Stevo Pearce, Hovington and Statham soldiered on with a revolving door line-up of session musicians in tow and finally released an album in 1985 on Sire Records entitled 'Forever Running'.
With the album being something of a disappointment, Hovington and Statham went their separate ways with the guitarist becoming a successful songwriter, first in partnership for several albums with BAUHAUS singer Peter Murphy and latterly, with artists as diverse as DIDO, RACHEL STEVENS, THE SATURDAYS and SIMPLE MINDS!
Over the years, B-MOVIE's music has attained a reverential cult status, particularly in the US with Nebraska electro-rock combo THE FAINT notably using 'Remembrance Day' as the basis for their own 'Southern Belles in London Sing' in 2004. At around the same time, B-MOVIE reformed with their original line-up and issued a brand new album 'The Age Of Illusion' in 2013.
Last year, there was the release of a third long player 'Climate Of Fear'. A concept album of sorts, one of the poignantly titled highlights 'Another False Dawn' was a timely reflection on the world's political environment.
With B-MOVIE playing further live shows this year, Steve Hovington, Graham Boffey and Paul Statham all kindly took time out to chat about the band's past, present and future…
What was the impetus to reform B-MOVIE in 2004?
Paul: Friendship first, then the offer to play at the 'Blow Up' club night. Also the sense that the original line-up had never actually recorded an album together and on getting back together, our respective careers allowed this to happen.
Graham: Paul's correct. We have too long a history together not to jump at the chance to play together again. Playing music becomes a way of life, sort of, so it was great to be playing again.
Steve: Ditto
You obviously found the experience positive as you're still here?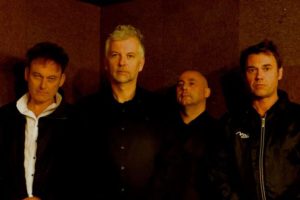 Paul: Hahaha! It's most definitely positive. We have known each other for so long and have an instinctive feel for what we all do best when we are playing together. Of course, we never change and when we are good, we are fucking awesome and when we are bad… well… another story!
Graham: The years roll back and we're as juvenile as we ever were.
You've released two albums since your reformation, the most recent one 'Climate Of Fear' indicates there might be a politically themed concept?
Steve: It's a sort of concept album (I'm a prog rocker at heart!), this human being (me) struggling to cope with the sensory overload of the info age like on the title track. The last album 'Age of Illusion' also had a similar theme. In fact, B-MOVIE have always been politically aware as opposed to political. The subject matter of 'Remembrance Day', 'All Fall Down' and even 'A Letter from Afar' probably cost us a play or two on the Simon Bates radio show. The lyrics articulate an unease and anxiety about the world. I can't ignore what's happening in the world but do in a subtle, tongue-in-cheek way that doesn't beat people over the head.
'Corridors' from 'Climate Of Fear' is classic B-MOVIE?
Paul: Difficult to tell as a classic is many years in the making before we can tell if it stands the test of time! Classic guitar solo though!
Steve: Yes, I think it maybe. It's another one about the mind and trying to find peace with yourself. I think it ends quite optimistically with a sweet melody that signifies the light. And there's that guitar solo too!
Is 'Feeling Gothic' inspired by anything particular?
Steve: It's about revealing your true nature. By day you conform, by night you are whatever you want to be. There's always been a dark, Gothic twist to our music. 'Nowhere Girl' has connected with people all over world who don't conform. I sometimes think of our music as 'outsider rock' and come at things from that angle.
Has any of the creative motivation for 'The Age Of Illusion' and 'Climate Of Fear' albums been driven by the general dissatisfaction of the debut album 'Forever Running'?
Paul: Personally not for me. It was so long ago and I've been extremely lucky to continue recording a lot of albums in between (about 20 of them). Although getting rid of the 'producer… session man' mentality that was on that album was indeed a blessing.
Graham: I didn't play on 'Forever Running' so have no history with that. My motivation was being able to be creative together and almost complete some unfinished business.
Steve: No, not really, as Paul says it was so far in the past to have any relevance. We were motivated by a shared passion to make new music. The long hiatus meant we returned to fresh to a place where we had left off. Playing together again as the original line-up was inspiration enough. None of it was forced, it was a natural progression.
Of course, it started off promisingly with the Dead Good releases, the 'Some Bizzare Album' and those acclaimed Phonogram singles?
Paul: Very promising… that would be on our school reports!
Graham: Or possibly not living up to potential?
Steve: Yes, we were the band most likely to succeed according to the press! It might be a tad arrogant but perhaps we were just too good! Perhaps we weren't throwaway enough to get played on daytime Radio 1? We got a bit fixated on having chart success and the notion of success and failure that comes with that, when perhaps we should have taken our own path, recorded that album and been ourselves more?
Your contemporaries like SIMPLE MINDS, A FLOCK OF SEAGULLS and TALK TALK were having hits in 1982, and it looked like 'Nowhere Girl' was going to be your breakthrough Top40 single but it was not to be, despite radio play. What do you think happened?
Paul: It sounded too good!! Seriously that song hasn't dated… there is a dispassionate and icy feel that maybe didn't grab the younger fans like DEPECHE MODE jigging about to 'New Life' and it took SIMPLE MINDS five albums to break. TALK TALK mutated into a great art project for Mark Hollis and we fell apart as we were a little juvenile in how we dealt with each other. A proper manager would have helped bat us into shape and grow up a little but we had Stevo… he loved chaos and chaos ultimately destroys!
In hindsight, did the split of the original band shortly after ultimately stall momentum, or was it something (or someone) else?
Paul: Absolutely!
Graham: I'd obviously have to agree 😉
Steve: Yes. It felt like game over. We were 21!
'A Letter From Afar' was a promising electronic single produced by Jellybean when you signed Sire Records, why did you not continue this direction?
Paul: We were dropped by Sire and the need to actually begin to live a life took over. It was down to Steve and myself, living together with very little money or support and we both needed to move on and try different things.
Apart from the odd compilation licence for 'Remembrance Day' and the 12 inch of 'Nowhere Girl', the Some Bizzare era tracks have yet to be made available in the digital age. Is there a contractual issue?
Paul: Possibly due to Stevo and numerous deals, the contracts are so complex and a lot of those companies now no longer exist, so getting to the bottom of it all is a thankless task.
Steve: It'll happen one day – but probably not in my lifetime!
The 'BBC Radio Sessions 1981-84' released in 2001 on Cherry Red plugged the gap, with the majority of the songs not featuring on 'Forever Running'. If a debut album had been completed in 1982, what songs do you think would have made the tracklist?
Paul: It would have been a brilliant album. It would have stood the test of time as have the songs we still play. Definitely 'Remembrance Day', 'Nowhere Girl', 'Marilyn Dreams', 'Welcome To The Shrink', 'Polar Opposites', 'All Fall Down', 'Disturbed', 'Love Me', 'Escalator', 'The Devil In Me'!! All would have been on my 1982 choice.
Graham: 'Scare Some Life into Me' would be in with a shout too.
Steve: Agree with all of those. We also recorded some demos of new songs around the time of 'Remembrance Day' which are still in a vault somewhere. I'd love to hear them but again may have to hire Inspector Poirot to track them down.
At the time though, it was like 'Polar Opposites' was always the bridesmaid, never the bride?
Paul: Yep… a shortened version with great production would have put us in 'classic' post punk GANG OF FOUR type 'pop'.
Steve: It would have made a great single or album opener. Still, the Peel session version is pretty perfect.
Where do you want to take B-MOVIE now?
Paul: I'm not sure what's coming next. Steve is always writing good stuff for B-MOVIE. I did a lot co-writing on 'Age of Illusion' but very little on 'Climate of Fear'. Both are very different albums so maybe it will again be led by Steve, or Rick or Graham.
Graham: I think we can continue to make great records and who knows, this time next year we could be number one in the hit parade. Is that what the kids call it these days?
Steve: Yes, I'm always writing new stuff and we're on a bit of a roll now, so would be a shame not to keep it going. I have in mind an EP called 'Illuminations' but I haven't told the rest of the band yet 🙂
---
ELECTRICITYCLUB.CO.UK gives its warmest thanks to B-MOVIE
'Climate Of Fear' is available on CD, vinyl and download via Cleopatra Records from https://b-movie.bandcamp.com/album/climate-of-fear
B-MOVIE play the 'Like Totally 80s Festival' with A FLOCK OF SEAGULLS, BERLIN and MEN WITHOUT HATS on Saturday 13th May 2017 at Huntington Beach in California
https://www.facebook.com/B.MovieMusic/
---
Text and Interview by Chi Ming Lai
29th April 2017