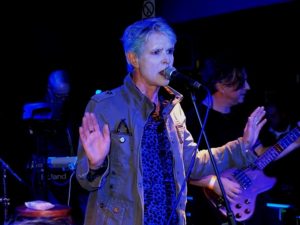 London's Dingwalls played host to a fabulous double header featuring two veteran cult bands who emerged from the post-punk era.
The colourful BLUE ZOO, managed by the JAPAN and WHAM! svengali Simon Napier-Bell, achieved a No13 hit with 'Cry Boy Cry' in 1982.
Meanwhile, B-MOVIE appeared on the 'Some Bizzare Album' alongside DEPECHE MODE, SOFT CELL, BLANCMANGE and THE THE.
However, the Stevo managed B-MOVIE were sadly unable to secure a major chart entry, despite being on the cusp with the magnificent singles 'Nowhere Girl' and 'Remembrance Day'. B-MOVIE reformed in 2004 with their original line-up of Steve Hovington (vocals + bass), Rick Holliday (keyboards), Graham Boffey (drums) and Paul Statham (guitar) and released a poignantly titled new album 'Climate Of Fear' in 2016.
Opening with a track from it called 'Feeling Gothic', it was perhaps a nod to Paul Statham's career in between the two phases of B-MOVIE as a sideman to Goth icon Peter Murphy of BAUHAUS fame.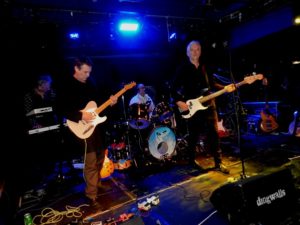 Indeed, Statham maintained a successful musical career co-writing and producing songs for a variety of diverse acts including DIDO, DOT ALLISON, KYLIE MINOGUE, RACHEL STEVENS, SARAH NIXEY, THE SATURDAYS and LOST BOY! aka Jim Kerr
As well as that, he was part of synthpop trio PEACH who released their only album 'Audiopeach' on Mute in 1997, a long player which also featured some of the last vocal recordings made by the late Billy MacKenzie.
Next came 'Moles' from the 'Some Bizarre Album' followed by one of B-MOVIE's best songs 'Polar Opposites'. Although both were delivered at a less frantic pace than the original versions, the band were tight with Hovington's simple, repetitive basslines locking in with Boffey's drums and Statham's rhythmic six string while Holliday displayed a fabulous display of ivory gymnastics which at times verged on Rick Wakeman.
While B-MOVIE were often seen by their first major label Phonogram as a band to do battle with DURAN DURAN, 'Welcome To The Shrink' showed that perhaps they had more in common with ECHO & THE BUNNYMEN, only more synth laden.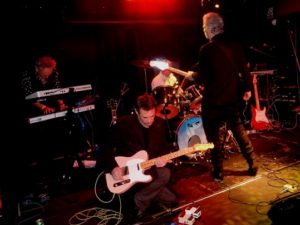 Meanwhile 'Another False Dawn' dedicated to Donald Trump was a reflection of how B-MOVIE continue to be in touch politically, just as they had been with earlier songs like 'Mediterranean' and 'Blind Allegiance' .
The band took a short break to rest Paul Statham's broken shoulder (occurring during an accident while jogging!) so Steve Hovington treated the audience packed into Dingwalls to a solo acoustic take of the 1980 vintage 'Swinging Lights'.
Returning to play some of their newer material, the marvellous 'Corridors' captured the classic template of B-MOVIE as a prototype of THE KILLERS, with Hovington's voice as resonant as ever. An extended 'Nowhere Girl' gave Holliday another chance to flex his fingers while the evergreen 'Remembrance Day' wrapped the set nicely with a song that is still sadly relevant, 35 years on. Just quite how these two songs were never massive hits remains a mystery and evidence that chart success is certainly no indicator of quality.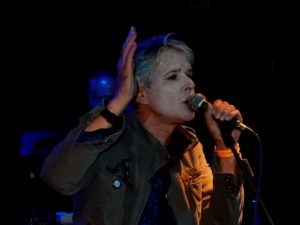 While B-MOVIE have actually marginally slowed down the tempo in a live setting, BLUE ZOO seemed all set to make up for lost time and partied like it was 1982.
Reforming more recently in 2011, the vivacious and colourful Andy O was joined by two of the original band Mike Ansell (bass) and Micky Sparrow (drums) plus two new recruits Tom E Morrison (guitars) and Graham Noone (keyboards). Sparrow in particular kept the audience entertained with his Essex boy banter while sipping on a can of Carlsberg.
Beginning with 'Funganista', one of their first new songs in 33 years, it was a lively set from BLUE ZOO that comprised one part Ziggy and two parts Thin White Duke with a sprinkling of Romo fairy dust. The band even went back to their origins as an art pop combo named MODERN JAZZ with an airing for their first single 'In My Sleep (I Shoot Sheep)', while 'In Love & In Life' from their Yugoslavian only second album 'For All I Really Care' also got dusted off.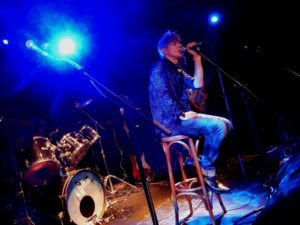 Meanwhile Andy O was if nothing, a passionate and charismatic performer. Still in fine voice, there was still that suitably raspy Bowie-esque timbre to add a darker edge.
Taking time for a breather, Andy O sat on a stool for an atmospheric rendition of 'Love Moves In Strange Ways' while 'Cry Boy Cry' inevitably instigated a heightened level of crowd participation with the frontman reprising variations of his 'Top Of the Pops' moves from back in the day.
Finishing the main set with the funky 'I'm In Reverse', another track from the MODERN JAZZ days, it was a brilliant synth assisted funk-out recalling KING's 'Won't You Hold My Hand Now', a fine indicator of the greater fame BLUE ZOO could have achieved. Returning for an encore with the ASSOCIATES flavoured near hit 'I'm Your Man', BLUE ZOO concluded with a congregation singalong cover of 'All The Young Dudes' "for Dave…"
On the weekend of what would have been DAVID BOWIE's 70th birthday, it was all highly appropriate and very touching.
It was a well attended evening so for BLUE ZOO and B-MOVIE, it was an opportunity for some people to recognise what they might have missed back in the day… most people embrace the opportunity to catch-up with lost friends and tonight was a wonderful opportunity to get re-acquainted again and make new connections.
---
The reconfigured reissue of BLUE ZOO's debut album '2 By 2' is released by Cherry Pop, available from http://www.cherryred.co.uk/product/2-by-2-expanded-edition/
https://www.facebook.com/Blue-Zoo-142532685791097/
B-MOVIE's new album 'Climate Of Fear' is released by Cleopatra Records, available from https://b-movie.bandcamp.com/album/climate-of-fear
https://www.facebook.com/B.MovieMusic/
---
Text by Chi Ming Lai
11th January 2017