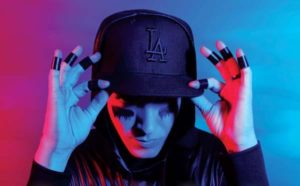 After the linear (and more uptempo) Speak & Spell driven single 'LAX', 'Love Like Lies' sees a return to a more musical approach from AESTHETIC PERFECTION AKA Daniel Graves.
'Love Like Lies' hinges around a tough sounding synth riff and utilises Grave's melodic vocal rather than its predecessor's gruff Industrial alter ego one.
Its central "You can rely on me, I don't know, if I can rely on you" lyric showcases a more humanistic approach and will ring true with anybody who's ever been plagued by the insecurities of a relationship and whether it will ever truly be a 50:50 one.
Musically the track explores a similar electronics meets emotional vibe that Graves mined with his NECESSARY RESPONSE album 'Blood Spills Not Far From the Wound' albeit with a smattering of hardcore vocals thrown in.
When Graves spoke to ELECTRICITYCLUB.CO.UK back in 2014, his parting words were prescient "I think I'm finished with albums for a while. People's attention spans have been destroyed by the instant gratification world of the internet. Twitter. 144 characters or less. More to say? Can't be bothered. 3 years waiting for an album? Forgot about you. Techno guys know what's up. Singles and EPs. Stay relevant. Stay in the public eye. It's a shame, but I'm just here to give you what you want. Right?"
Daniel Graves kindly spoke to ELECTRICITYCLUB.CO.UK about his new approach to marketing AESTHETIC PERFECTION and the challenges of moving with the times and staying financially solvent in a market that has changed drastically in the 10+ years that the act have been making music.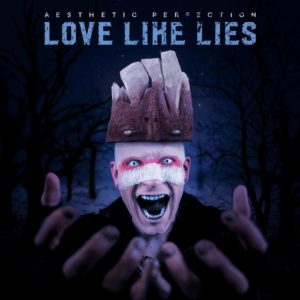 You seem to be primarily focusing on singles now rather than albums, what is your rationale behind that?
The way we consume music today has changed a lot since I was a kid. We don't sit in our rooms for hours on end listening to every note of our favorite band's album anymore.
We listen to Spotify playlists while browsing Facebook and Amazon. We listen to Pandora stations while driving. We simply don't have the time or the attention spans to digest 10 new songs in one sitting. This isn't a bad thing, it's just reality.
But why should I cling to a business model that doesn't represent reality? Why am I going to spend years working on 10 new tracks when people are only going to listen to the 2-3 singles? Why should I disappear for years on end to create an album when I can constantly release new material? I can be in your newsfeed every few months, not every few years.
Forgetting just the awareness factor, albums bind you thematically and sonically. Albums need coherence. If I just release standalone singles the sky is the limit in terms of what I can justify trying. I can release a dance song like 'LAX', then I can release something completely different a couple months later… and that's what you're getting with 'Love Like Lies'. I am unbound by labels. I am unrestricted by artistic continuity. I am free.
AESTHETIC PERFECTION has been releasing material for over ten years now, if you compare (for example) the release of 'Love Like Lies' with some of your very earliest singles, how much have things changed?
If you look at the man I was in 2005 and the man I am today and you'll see two completely different people. AESTHETIC PERFECTION is simply a reflection of who I am at a certain moment in time. The band changes because *I* change. My tastes, my worldview, everything… This is just the natural progression of growing older. It's part of the human experience.
People mistake my artistic evolution as somehow disavowing my past. That notion couldn't be further from the truth. Who I am now is without question a product of who I was then. I'm always mindful of that. But I can't go back to writing the music I did in 2005 the same way I can't go back to being the man I was in 2005. It's impossible, and to attempt to do so would be inauthentic.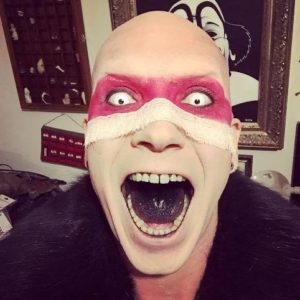 What was it that persuaded you to make 'Love Like Lies' available on cassette as part of the package?
Anyone who knows me knows I LOVE absurd shit. A cassette single seemed pretty absurd so I went for it. They all sold out, btw!
You're probably the first artist I've seen being positive about Spotify and you posted recently that your income from the streaming site was the third biggest earner in terms of the different formats. Why is your viewpoint different to most acts?
Let me be perfectly clear: Spotify should pay artists more. Especially independent artists like myself. Bigger labels have more clout and can negotiate better deals for their artists. I, on the other hand, have no such negotiating power. But let's be real here. No matter what, I don't ever see the selling of music as being as profitable as it once was. Today, as an artist, you're not selling your artwork, you're selling an identity, and with that you're building a community.
My art is the language I use to speak to people and build that community, it's not a direct source of income. I have a roof over my head and food on my table because what I create inspires that community to buy a T-shirt, to buy a concert ticket, to hire me for a DJ gig, commission a remix or something like that. The biggest failing of artists today is not understanding or respecting the importance of building their own communities.
'Love Like Lies' has a really strong remix package behind it, do you have a particular favourite mix and why?
It's definitely a tie between CHVRN and MXD BLD. CHVRN for its great vibe and MXD BLD for its infectious dance groove.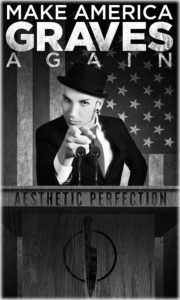 With the huge amount of political turmoil going on (on both sides of the Atlantic), you couldn't resist producing a 'Make America Graves Again' T-shirt. Will a future AP single see you tackling a subject matter with more of a political nature?
Absolutely not. The whole point of the 'Make America Graves Again' campaign was to make clear the political neutrality of my art. Personally, I don't like political music. It puts an expiration date on it.
Is a kid in 20 years going to understand or even care about all the anti-Bush songs from the early 2000s? Do I understand or care about the Vietnam protest songs from the 60's? No. I think music should be relatable no matter who you are, where you come from or when you were born. Art should speak to the essence of what it means to be human.
For me, it's a way to connect and relate to people I might never have found common ground with. It should cross political and cultural divides, not create them. Yeah, I know, we've all got our beliefs and our wars to wage, but I'll do that as a private citizen, not as an artist. Truth is, a Christian Republican in Michigan understands love, loss, jealousy, fear and anger the same way an atheist Liberal in Stockholm does. That's what *I* want to address with my work. The things that tie us all together. The things that make us human.
---
ELECTRICITYCLUB.CO.UK gives its warmest thanks to Daniel Graves
'Love Like Lies' is available now as a four track download bundle with three remixes from:
http://aestheticperfection.bandcamp.com/album/love-like-lies-single

The 'Industrial Pop' 2017 North American Tour with SOLAR FAKE + NYXX includes:
The Hideout – San Diego, CA (Jan 19), La Antigua Bodega de Papel – Tijuana, MX (Jan 20), The Surly Wench – Tucson, AZ ( (Jan 21), The Perch – El Paso, TX ((Jan 22), The Launchpad – Albuquerque, NM (Jan 24), Elysium – Austin, TX (Jan 27), The Amp Room – San Antonio, TX (Jan 28), The Church – Dallas, TX (Jan 29), Siberia – New Orleans, LA (Jan 31), The Orpheum – Tampa, FL (Feb 2), Drunken Unicorn – Atlanta, GA (Feb 3), Fallout – Richmond, VA (Feb 5), Ivy City Tavern – Washington, DC (Feb 7), Alchemy – Providence, RI (Feb 9), Dead of Winter Festival – Amityville, NY (Feb 10), Voltage Lounge – Philadelphia, PA (Feb 11), Mr. Small's Funhouse – Pittsburgh, PA (Feb 12), Evening Star Concert Hall – Buffalo, NY (Feb 13), Venue Event Center – Cincinnati, OH (Feb 14), Coalition – Toronto, CAN (Feb 15), Small's – Detroit, MI (Feb 16), Reggies – Chicago, IL (Feb 17), Crack Fox – St. Louis, MO (Feb 18), Club Underground – Minneapolis, MN (Feb 19), Lookout Lounge – Omaha, NE (Feb 20), Riot Room – Kansas City, MO (Feb 21), Oriental Theater – Denver, CO (Feb 23), Area 51 – Salt Lake City, UT (Feb 24), The Eclipse – Boise, ID (Feb 25), Highline – Seattle, WA* (Feb 28), Analog Cafe and Theater – Portland, OR*(Mar 1), Brick and Mortar – San Francisco, CA* (Mar 3), Complex – Los Angeles, CA* (Mar 4) *without SOLAR FAKE, Mar 3 + Mar 4 includes NIGHT CLUB
The 'Industrial Pop' 2017 European Tour with WILLIAM CONTROL + ARMY OF THE UNIVERSE includes:
Sala Salamandra – Barcelona, ES (Apr 08), The Fleece – Bristol, UK (Apr 12), Ivory Black – Glasgow, UK (Apr 13), Ruby Lounge – Manchester, UK (Apr 14), Islington O2 – London, UK (Apr 15), Het Oude Badhuis – Antwerp, BE* (Apr 16), Kulttempel – Oberhausen, DE* (Apr 17), Underground – Cologne, DE* (Apr 19), Subkultur – Hannover, DE* (Apr 20), Markthalle – Hamburg, DE (Apr 22), Musik und Frieden – Berlin, DE (Apr 26), Moritzbastei – Leipzig, DE (Apr 27), Escape Metalcorner – Vienna, AT (Apr 28), Melodrom – Kaufbeuren, DE (Apr 29), Das Bett – Frankfurt, DE (Apr 30) *without ARMY OF THE UNIVERSE
Please visit http://www.aesthetic-perfection.net/ for more information
https://www.facebook.com/aestheticperfection
---
Text and Interview by Paul Boddy
10th January 2017, updated 21st Janaury