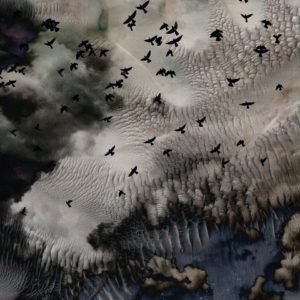 With their brooding form of electro, the Hungarian duo BLACK NAIL CABARET impressed the fans of darker synthpopia while previously supporting established acts such as COVENANT, CAMOUFLAGE and DE/VISION.
Straight from the Hungarian capital Budapest, Emese Arvai-Illes on vocals and Sophie Tarr in charge of keyboards, came into existence in 2008 with a surprising darkwave cover of RIHANNA's 'Umbrella'. Their debut album 'Emerald City' was aired in 2012, with a twisted gothic trance pop of 'Hangman' and the single 'Veronica'.
The follow-up to the first opus was 'Harry Me, Marry Me, Bury Me, Bite Me', showcasing the pair's sonic leap forward into darkness with a synth noir gem 'Satisfaction'.
And now, just in time for the New Year, comes the third long player, the pigment missing 'Dichromat'. Tarr departed earlier in 2016 so this could be considered Emese Illes-Arvai's first solo record, partnered by Krisztian Arvai on keyboards and production.
'Dichromat', which is a term transcending a two-dimensional colour defect, describes the band's intention to avoid colour and view the subject of the songs in a more matter-of-fact manner.
With this in mind, BNC go back to analogue equipment and champion the use of hardware over soft synths, with the opening 'Sister Sister' being a true testament to the theory of musical rawness being best depicted, when created on analogue. Continuing with the vintage sounding 'CO', it is harsh and very monochromatic, especially when accompanied by the almost vintage voice of Arvai-Illes.
'Comfort Zone' is everything but; punctuated with piercing electronica and nearly shouted out lyrics, while 'Decay Avenue' screams with the decapitation of human existence. Perhaps 'Therapy' is the answer, transcending the aura to a dance induced pluripotent mechanism.
'Session' enters with minimal synth fluctuations a la KRAFTWERK, developing into a GAZELLE TWIN-like concoction of sounds; the vocal, periodically laced with the tonality similar to that of FIFI RONG's during "breathe in, breathe out", is as marked as ever.
'Freak Of Fancy' underlines the black and white feel and 'Lower The Shutters' plays within the boundaries of hardware. 'Orgasm' is monogamously analogue, à la the latest outing from APOPTYGMA BERZERK, but with words.
While everyone experiences 'Minor Panics', BLACK NAIL CABARET float above the hard beats with a soft, ballad-like melody, arpeggiated to perfection. 'We Like To Suffer' has a notion of masochistic existence in mind, powered by interesting bass and Mode-esque sequences.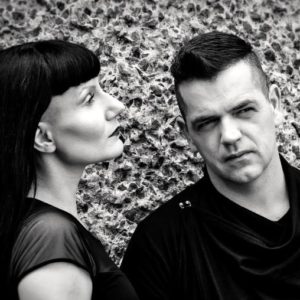 Everything needs to end well, except it doesn't: the closing 'Soon' depicts the drama of emotional distress, over haunting cries and the uncertain instability of human survival.
Still, deceptively uplifting and loaded with a surprising danceability factor, the tracks on 'Dichromat' remain dark and capably soulful.
So "BLACK NAIL CABARET deliver another round of refreshingly contemporary dark pop music, intertwined with a smattering of 80s gothic, and electronic nostalgia" – the avoidance of colour has certainly achieved the desired effect of rawness, yet roundness.
---
'Dichromat' is released by Basic Unit Productions and available as a CD or download from https://basicunitproductions.bandcamp.com/album/dichromat
http://www.blacknailcabaret.com/
https://www.facebook.com/bncband/
---
Text by Monika Izabela Trigwell
Photo by Raphael Preston
23rd December 2016